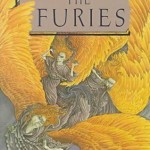 Experts in autocracies have pointed out that it is, unfortunately, easy to slip into normalizing the tyrant, hence it is important to hang on to outrage.  These incidents which seem to call for the efforts of the Greek Furies (Erinyes) to come and deal with them will, I hope, help with that.  Even though there are many more which I can't include.  As a reminder, though no one really knows how many there were supposed to be, the three names we have are Alecto, Megaera, and Tisiphone. These roughly translate as "unceasing," "grudging," and "vengeful destruction."
Back in the day, when white supremacy was considered an aberration, not main stream, a fellow called Gordon Winrod took it to lengths considered extreme  then – and now and forever, I hope!  He set up a cult at a compound in Ozark County, Missouri.  The Ozark County Times:
Winrod was pastor of Our Savior's Church and had been linked to the Christian Identity Movement. For years he published 'The Winrod Letter' a newsletter that was chock full of anti-Jewish rhetoric. Winrod claimed law enforcement, government and most business leaders were Jews, and he often referred to the court system as the 'Jewdiciary.'
Not content with suckers who joined his cult voluntarily, Winrod kidnapped six of his grandchildren from their homes in 1994 and 1995  In May 2000, authorities raided his compound.  The kidnapped grandchildren were then aged between 9 and 16 (doing the math, the youngest can have been no older than four when kidnapped.)  These children locked themselves in a bunker.  However authorities were able to talk them in surrendering.
Winrod was convicted and sentenced to 30 years.  After serving ten of the 30, he was released in 2012.  Apparently, for five years he lived quietly with a daughter and son-in-law.  However, recently the granddaughter who escaped being kidnapped wrote on Facebook  that he is now starting up again, this time on a property in Kulm, North Dakota, which some family members purchased for him.
If I may digress for a minute, it must be really something else to be a member of that family.  With the financial support he is getting, there are clearly some members who are in agreement with him.  But there are also some who emphatically are not.  A family that puts the "dys" into "dysfunctional" – because it can't be "fun."  The granddaughter who escaped, Shannon Maresh, appears to have been brought up by sane parents, and took to Facebook to make sure that the people of Kulm, ND are forewarned:
Edgeley and surrounding area friends: I'm not sure if you remember the years of my life where my parents were afraid to leave me alone for fear I would disappear. You may have even been concerned about your own children. This fear even extended to the school. My siblings and cousins disappeared and I quickly became an only child. My family was shattered. The man responsible was Gordon Winrod. He and his followers have one creed: to hate everyone who doesn't believe as they do and follow Gordon Winrod's teachings. We, you…us? We are all 'blood sucking Jews,' whatever that means. The point is, he and his followers fully believe that if you aren't one of them it is not wrong to steal, cheat, lie, or kill you. Well, he is back. He was released from jail after being convicted of kidnapping and brainwashing. He is now setting up shop in the old Kulm school. Hide your kids. Hide your wives. And whatever you do, don't drink the Cool Aid. Seriously though. This man is a predator and his followers are dangerous.
Tisiphone, I think this one is for you.  Take reinforcements.
While we are on the subject of hate groups, I just had to include this, even though there is no action at this point, because the KKK members involved are so awful.
A Florida jury found two prison guards guilty Tuesday of plotting to kill a black man who was a former inmate in retaliation for a fight with another prison guard. The three guards were all members of the KKK.

According to the Tampa Bay Times, the Columbia County jury found David Elliot Moran, 49, and Charles Thomas Newcomb, 45 guilty of conspiracy to commit first-degree murder. A third guard, Thomas Jordan Driver, who was also involved, plead[ed] guilty in March.
What makes this story so poetic is that they didn't want to do the killing themselves, so they approached someone else in the Traditionalist American Knights of the Ku Klux Klan to hire to do it for them.  What are the odds that the man they approached was an undercover FBI informant?  Of course, this project has blown his cover, but he probably feels it was worth it.
"These men had positions of trust, which they violated when they conspired to kill a former inmate, and we worked closely with law enforcement partners to ensure they are held accountable for their crimes," said Special Agent in Charge James Spero of Homeland Security.

Driver gave a photo of the former inmate to the informant and they discussed whether they should shoot the man or inject him with insulin to make the death look like an accident. The FBI made it look like the homicide was carried out and even took photos of the man who had been taken into protective custody.

When a cellphone photo was shown of the fake murder scene the men said that they were happy and shook the FBI informant's hand "in gratitude."
They are facing up to thirty years in prison.  Sic semper omnes.  At that, Megaera, you might just want to sit in when the sentencing hearing is held (you'll have to follow up; the date is not yet set) and encourage the maximum.
I just can't get off the subject of hate today, so here is one more story about something involving hate which shouldn't happen to a dog.
"[A] Phoenix, AZ woman was shocked when her neighbors' dog turned up at her door with a Nazi swastika painted on its head."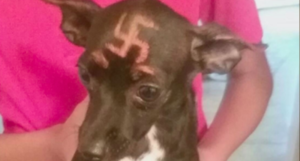 Since the woman in question is of Hispanic heritage, and her adopted children are racially mixed, she naturally reacted with fear.  In fact, she was scared enough that she apparently didn't want to speak to the media – a cousin did that for her.
Her oldest child knew what the symbol stood for immediately.  The younger two started asking questions, which she found tough to answer.  Recent violence associated with this and related symbols dod not make it any easier.
Police investigated, and were told that the owners painted it "as a joke."  Well, it isn't funny.
Carlos Galindo-Elvira — regional director for the Anti-Defamation League in Arizona — told KPNX that he understands the homeowner's fear.

"Certainly, it brings fear, and there is a cause for concern. This is a symbol used by neo-Nazis, by skinheads and by white supremacists," Galindo-Viera said. "To find a dog in your neighborhood with that symbol on its head could be scary."

[The homeowner's cousin] said the family is still uneasy, "We don't know where this is headed. It could've been a joke to the kids. If it is, where is it going to lead next?"

"It's not a joke. It's not funny," Galindo-Elvira said. "It's hurtful, and it can become harmful."
The owners of the dog are youthful, which may lend credence to the idea that they thought it was a joke.  The police said the dog did not appear to be neglected or abused.  I, and several people commenting on the story, are still concerned as to the paint itself being abusive, but there's not enough evidence to be sure the paint is harmful.  Being such a neutral color, it's possible it's not highly chemical.
Alecto, since forever humor has been a blessing to humans, but it has also been used to be hurtful and to mask evil.  Perhaps you can teach these "kids" some ways to use it better.
The Furies and I will be back.
Cross posted to Care2 here.