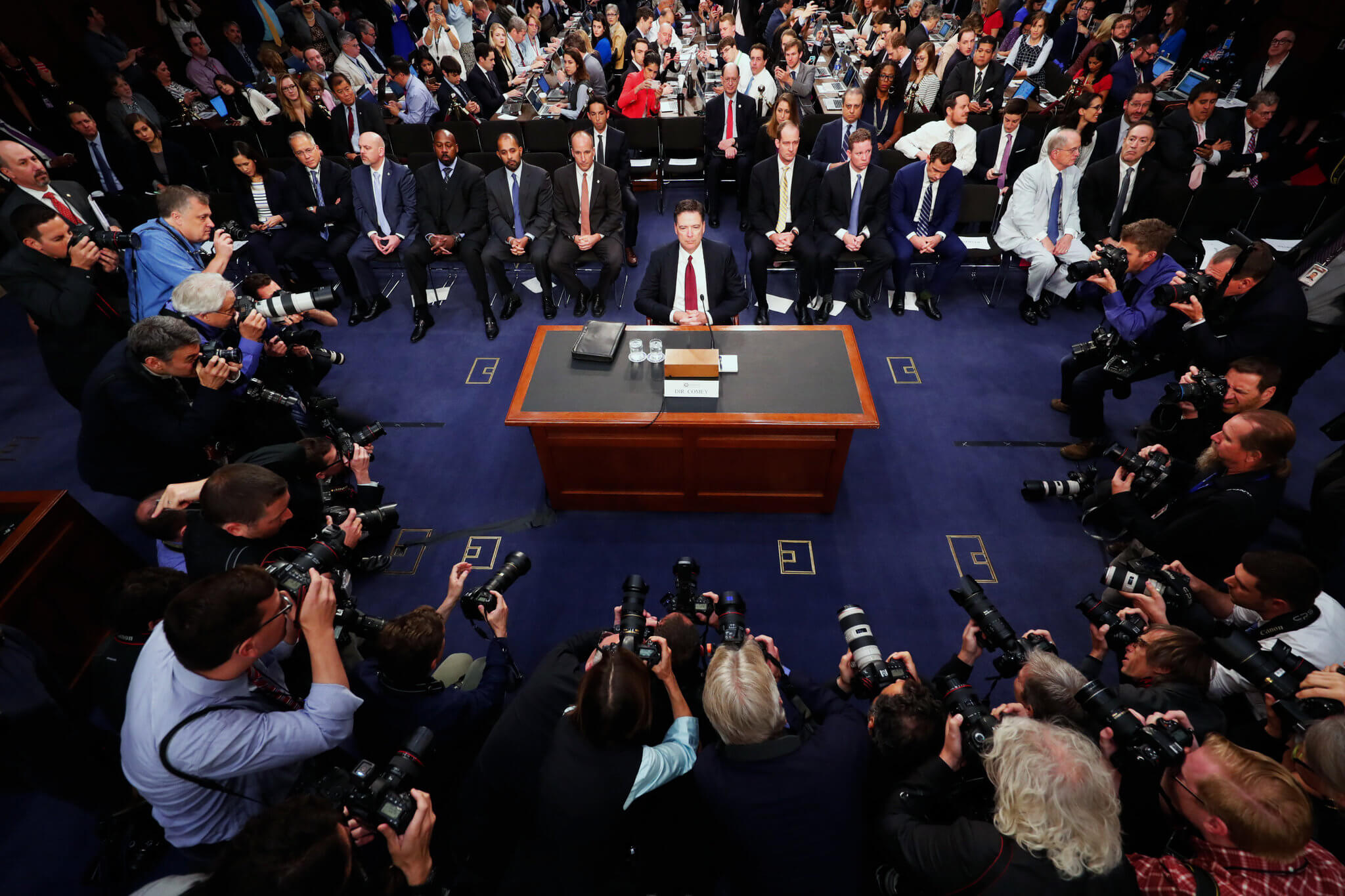 The lonliest man in the world in a room full of people.
I don't know what people were waiting for most, James Comey's testimony before the Senate Select Committee on Intelligence, or Trump's reaction to it. Of course, to get the second, you must have the first. They are part and parcel.
While James Comey was giving testimony under oath to the Senate Select Committee on Intelligence on Thursday 08 June 2017, Trump was speaking at the Faith and Freedom Coalition conference in Washington, DC. According to the Washington Post,
"… just as Comey was wrapping up his public hearing, Trump recited Isaiah 1:17, which states: "Learn to do right, seek justice, defend the oppressed. Take up the fatherless, plead the case of the widow."

Then the president added in his own words: "The entrenched interests and failed bitter voices in Washington will do everything in their power to try and stop us from this righteous cause, to try to stop all of you. They will lie, they will obstruct, they will spread their hatred and their prejudice, but we will not back down from doing what is right."

"Because as the Bible tells us, we know the truth will prevail," he added. "Nothing worth doing ever came easy. . . . We know how to fight better than anybody, and we never give up. We are winners, and we are going to fight."
I am sorry, but when did Drumpf or a pseudo Christian ever heed the true meaning of scripture? Righteous cause? Drumpf was playing the audience like a maestro plays the violin, and they bought itlock, stock and barrel.
From The NY Times, these highlights from The Senate hearing:
'Lies, plain and simple'

Mr. Comey said Mr. Trump lied to the American public when he said that the F.B.I. was in disarray and that agents had lost confidence in Mr. Comey.

"Those were lies, plain and simple," Mr. Comey said in brief opening remarks.

Mr. Trump made that claim when he fired Mr. Comey last month. Mr. Comey said he was confused and concerned by Mr. Trump's changing explanation for why he fired him.

'We know how to fight,' Trump says

Mr. Trump, appearing at a meeting of faith leaders and politicians in Washington as Mr. Comey testified across town, railed against the media and his political opponents.

"We know how to fight better than anybody and we never, ever give up — we are winners and we are going to fight," he told hundreds of supporters at the annual Faith and Freedom Coalition's Road to Majority Conference at the Omni Shoreham Hotel.

Mr. Trump recited Isaiah 1:17, then continued by saying that "entrenched interests" in Washington "will lie, they will obstruct, they will spread their hatred and their prejudice, but we will not back down from doing what is right."

"We know the truth will prevail," he added. "Nothing worth doing ever came easy."

A short time later, Mr. Trump's personal lawyer, Marc E. Kasowitz, issued a statement denying Mr. Comey's testimony that the president pressured him to drop his investigations into the Trump campaign's possible collusion with Russia. He also said Mr. Trump never demanded "I need loyalty, I expect loyalty" as Mr. Comey testified on Thursday.

"Contrary to numerous false press accounts leading up to today's hearing, Mr. Comey has now finally confirmed publicly what he repeatedly told the president privately: The president was not under investigation as part of any probe into Russian interference," Mr. Kasowitz's statement said. "He also admitted that there is no evidence that a single vote changed as a result of any Russian interference.

Mr. Trump watched part of the hearings with the lawyer, and Mr. Kasowitz's statements tracked closely with emails and talking points issued by the Republican National Committee, who think the former director hurt himself by acknowledging he leaked a memo detailing his private interactions with the president.
Click through for more highlights. You can also read a transcript of the hearing at NY Times. It is decidedly faster than listening to the three plus hours of testimony, although the nuance of tone and body language is lost.
Rachel Maddow provides some analysis of the day's proceedings.
So, who were the winners and losers after Comey's testimony?
The Hill — I have provided the first "winner" and the first "loser". Click through for the remaining winners and losers. So Trump, who has the big L on the forehead now? You do!
WINNERS

Former FBI Director James Comey

Comey rode into the Thursday hearing on a wave of positive press. He figures to go back to civilian life on the same high.

Comey's seven-page opening statement was praised for its prose and will be remembered for its portrayal of excruciating personal interactions involving a president at war with his FBI director.

Comey's reputation for being "politically savvy" will grow after he revealed that he engineered the appointment of a special counsel to investigate Russia by sharing his notes about conversations with Trump through an intermediary to The New York Times — for the express purpose of getting the counsel picked.

There will definitely be some blowback for Comey, who had criticized leaks while serving as FBI director. His admission of sharing the notes underlines his image as a Washington player — and perhaps not in a completely complimentary way.

Trump attorney Marc Kasowitz ripped Comey at a presser after the hearing, criticizing the leak as improper and insisting that Trump never asked for his loyalty.

Yet the bipartisan praise he won from senators on the Intelligence panel will make it more difficult for critics to tar him.

And Comey's reputation as someone who looked out for an independent FBI is unlikely to be shaken.
LOSERS

President Trump

There was much to be relieved about after Thursday's hearing if you were Trump or his staff.

The legal case against Trump didn't grow from Comey's testimony, which included no new bombshells.

There is still no evidence that Trump campaign officials colluded with Russia, and Comey would not say that the president sought to obstruct justice by asking him to "lift the cloud" over his administration and the investigation into former national security adviser Michael Flynn.

Comey also said Trump was not under investigation while he was at the FBI, validating public remarks by the president.

Still, it's never a good day when an FBI director accuses you of being a liar and defaming the federal law enforcement power.

Overall, it was another bad day in politics for Trump, who has had many of those in recent weeks.

The Comey drama and the Russian probe are badly hampering Trump's ability to govern. The president's job approval rating hit a new low this week and his agenda has stalled in Congress.

Comey's testimony will only thicken the "cloud" of controversy that Trump, according to the former FBI director, really wanted to see lifted.
Trump's reaction to Comey's testimony the following day as reported by
Reuters
:
President Donald Trump called James Comey a "leaker" on Friday, the day after his former FBI director accused him in a U.S. Senate hearing of lying and trying to quash an investigation into former national security adviser Michael Flynn.

"Despite so many false statements and lies, total and complete vindication … and WOW, Comey is a leaker!" Trump tweeted in his first comments since Comey appeared before the Senate Intelligence Committee on Thursday.
If I had to sum up the activities in Washington in ten words or less, I think I'd use a headline from CNN:
James Comey just went nuclear on Donald Trump.
I am sure that when TomCat is up to it, he will provide more analysis of Comey's testimony and where he sees this circus going.