I went to Lucia's house for an English lesson but she wasn't there. I waited a bit in my car until I saw her walking up the hill with Simon and Regina in tow. The minute Simon saw me, he started running towards me with a big smile on his face, calling my name. Lucia had to let go of the harness so he wouldn't get hurt. I got a big hug and all was right in the world. Other than that, a very ordinary day with beautiful weather. This weekend is supposed to be warmer than usual and dry. Good for the Alzheimer's walk on Sunday.
Short Takes
The Guardian — An Oklahoma court has stunned local prosecutors with a declaration that state law doesn't criminalize oral sex with a victim who is completely unconscious.
The ruling, a unanimous decision by the state's criminal appeals court, is sparking outrage among critics who say the judicial system was engaged in victim-blaming and buying outdated notions about rape.
But legal experts and victims' advocates said they viewed the ruling as a sign of something larger: the troubling gaps that still exist between the nation's patchwork of laws and evolving ideas about rape and consent. …
But several legal experts declined to fault the appeals court, saying instead that the ruling should be a wake-up call for legislators to update Oklahoma's laws.
Michelle Anderson, the dean of the CUNY School of Law who has written extensively about rape law, called the ruling "appropriate" but the law "archaic".
"This is a call for the legislature to change the statute, which is entirely out of step with what other states have done in this area and what Oklahoma should do," she said. "It creates a huge loophole for sexual abuse that makes no sense."
So, will this Republican state amend its laws to close the loop hole? I think the answer to that lies in the word "Republican". There is a petition on Care2 — Oklahoma: Stand United Against Rape
"The bill that will stop this kind of injustice in the future is named for this young victim. "Justice for J.W. Act of 2016" aims to include unconscious persons in the list of those who can't give consent for sexual acts. The bill's author, Representative Scott Biggs, said: "I am horrified by the idea that we would allow these depraved rapists to face a lower charge simply because the victim is unconscious.""
This young woman, indeed all women, should not have to be victimised by a rapist and then victimised by the law.
Truth-out — …House Judiciary Committee hearing room on April 21, when nine members of Congress, their staff and 200 activists gathered to address the present crisis in US democracy: voter suppression and the manipulation of US elections.
In 2016 – the first presidential election since the US Supreme Court's gutting of the Voting Rights Act – a slew of new malicious laws and tactics are disenfranchising millions of Americans, even as the private control of US vote-counting technology has come under renewed scrutiny in a primary season marked by allegations of fraud and election rigging. …
"The most dangerous thing in our democracy right now is the fact that partisan, for-profit corporations using secret proprietary software provide the voting hardware and the software to register us to vote, count our votes and report election results," Fitrakis said. "I want to know why these private companies who are not using open-source software are counting our votes, registering our votes and then doing the central tabulation."
I find it interesting that there are some Republicans seemingly breaking with the party and look at voter suppression and the manipulation of US elections. Or am I not reading this correctly? Everybody should be very concerned about the level of voter suppression. It should be one citizen, one vote . . . and no, corporations are not people and money is not free speech. Can the Congress have this in place for the November 2016 general election?
Raw Story — Stephen Colbert mocked Ted Cruz for selecting Carly Fiorina as his running mate after suffering another round of devastating primary losses.
"That is bold," Colbert said. "After Tuesday's huge wins by Clinton and Trump, Bernie Sanders saw the writing on the wall and laid off hundreds of staffers. Meanwhile, Ted Cruz saw the writing and covered it up with a 'hang in there, baby' poster."
Of course he mocked them! And now there is more reason — Mike Pence of Indiana has endorsed Cruz. When will they learn?
Politico — The word "Lucifer" lit up the Internet in the past 24 hours — after news surfaced that former House Speaker John Boehner used the name to describe his former congressional colleague and GOP presidential candidate Ted Cruz.
Nice to see that Agent Orange has not lost his acerbic touch in retirement.
My Universe —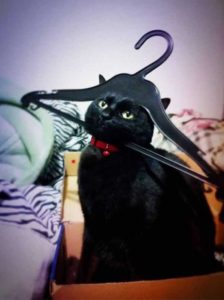 I have some hang ups!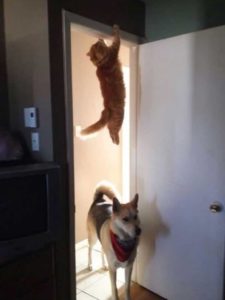 I'm hiding from the dog!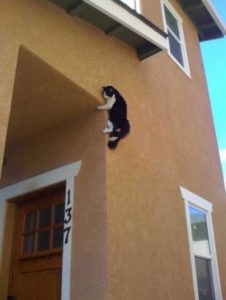 Will somebody get me a ladder please!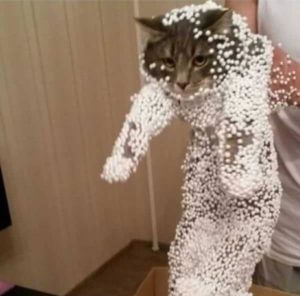 Working in the packaging department!