It's another busy day with lots of chores, including preparing my grocery list for the week, paying bills and getting prescriptions refilled.  Are you going to watch the show tomorrow night?
Jig Zone Puzzle:
Today's took me 3:31 (average 5:05).  To do it, click here.  How did you do?
Fantasy Football Report:
Here's the news from our own fantasy football league, Lefty Blog Friends.
Scores: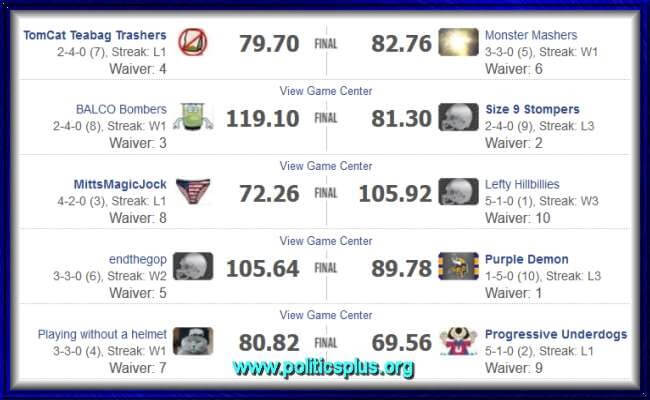 Patty Monster monster-mashed my poor kitty dingles!
Standings: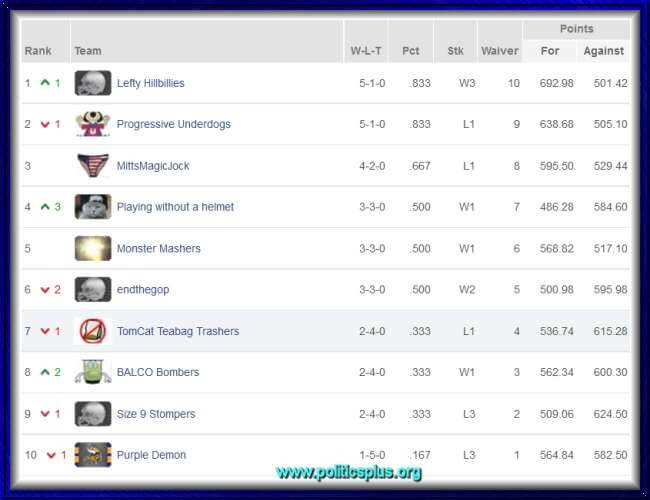 Congrats to Vivian and Rob, who are leading the league.
Short Takes:
From Multnomah Democrats: Last Day to Register to Vote (Oregon)
Tuesday, October 18, 2016 (All day)
Event Sponsor:
Oregon Secretary of State
October 18th is the last day register to vote for the November 8th election. Registration cards postmarked by this date or online registrations submitted no later than 11:59 PM on this date are valid. Register or check your registration status here: http://sos.oregon.gov/voting-elections/Pages/my-vote.aspx
If you are an Oregonian and not yet registered click the link NOW. If you have committed a crime, Oregon still allows you to vote.
From YouTube (Real Time Channel): Ann Coulter: In Trump We Trust
Barf Bag Alert!!
Two things about the Coultergeist have not changed. It is still full of shit. It still has its Adam's apple.
From The New Yorker: Trump's suggestion that both Presidential candidates submit to a drug test has sparked fears that such a test would reveal that he is not on drugs.
In interviews conducted across the country, voters said that they would be "alarmed" and "distressed" to learn that the billionaire's statements and actions were the product of a mind unaltered in any way by a controlled substance.
"It never occurred to me that Donald Trump might not be on drugs," Carol Foyler, an accountant from Toledo, Ohio, said. "That would be terrifying."
Harland Dorrinson, a mechanic from St. Petersburg, Florida, said that the chilling possibility of Trump not being on drugs was a strong argument against submitting the candidates to drug testing. "If it turns out that he isn't on anything, this is something that the American people shouldn't have to find out," he said. "We've suffered enough this election."
Andy has a great point. We've speculated what drug he might be on, but the possibility that he is the way he is, without benefit of addiction, is even more appalling!
From NY Times: Russia's main English-language satellite network complained on Monday that its British bank was abruptly closing its accounts. The network, which reported on the decision, called it a British-government-sanctioned attempt to interfere with freedom of speech.
It was the latest controversy for the network, RT, originally and still commonly known as Russia Today. [Republicans delinked] The broadcaster presents itself as an alternative to the Western media, but critics call it a Kremlin-financed mouthpiece that seeks to create an alternative to reality.
Kudos to the Bank!  Putin's propaganda network helped convince Bridiots that it was safe to cast a protest vote for Brexit.  Now they are telling Americans to cast a protest vote for Stein, because Putin wants to elect Trump.  Sadly, Jill Stein has colluded with their scheme in exchange for the majority of her TV coverage.
Cartoon: