I'm writing for tomorrow, day 167.  I must have been pretty tired, because I slept a couple hours later than normal.  Then, after doing my research, I basked in the sun for a half hour again.  Tomorrow is a Holy Day in the Church of the Ellipsoid Orb.  My Broncos will be worshiping with the Brewer Birds, and the service will be televised locally, so you know I'll be meditating tomorrow afternoon.
Jig Zone Puzzle:
Today's took me 5:03 (average 5:13).  To do it, click here.  How did you do?
Short Takes:
From Demos.org (Hat-Tip: JL A from Care2): On Tuesday, Montgomery County [MD] Council unanimously enacted a public financing bill that will both encourage participation from small donors in the county and allow civic-minded individuals to run for county office without needing big contributions. Starting in 2015, the county will match small donations from in-county donors for candidates who opt in to the program, demonstrate local public support, and agree to accept only individual donations between $5 and $150.
The matching funds are stepped to encourage contributions from the greatest number of donors. For example, as the County explains:
Matching public dollars for County Executive candidates would be $6 for each dollar of the first $50 of a qualifying contribution received from a County resident, $4 for each dollar for the second $50 and $2 for each remaining dollar received up to the maximum contribution.
So, if an in-county donor contributed $150 to a participating candidate for the county executive office, the candidate would receive $600 in matching funds. But, if four donors each gave only $25, the candidate would still receive an additional $600.
I support 100% public financing for all elections. Money is NOT Speech!!
From Daily Kos: …I guess the thing that the family of the confirmed Ebola patient can be grateful about is that our modern health "experts" didn't nail their door shut and position a wagon outside for body removal.
Please read then discuss:
Move Family From Ebola Patient's Apartment, Says Judge
Okay, a quick summary – the domestic partner of the Dallas Ebola patient has been confined to her apartment, where the patient took ill, with one child and 2 nephews in their twenties. All right, seems reasonable, right?
Until you read the entire article and discover that health officials shut them all inside with contaminated linens and no provisions for them to have sustenance – like FOOD!…
Click through for more. The federal response to the Ebola virus is thoroughly efficient, because it is being managed by Democrats. On the other hand, Texas' response exemplifies Republicans' fitness to govern.
From Upworthy: We need to get big money out of politics. If you don't know about the Citizens United case and why it should be overturned through a constitutional amendment, it's time to become educated. The danger of giving so few people so much power can no longer be ignored. How few, you may ask? Hear the shocking figure in this speech by Sen. Elizabeth Warren. Our system is teetering, poisoned by corporate lobbyists armed with checkbooks from multimillionaires. We can either let it topple, or we can save it by acting.
While I concur with Elizabeth in supporting this Amendment, I say so with the caveat that that the chances of obtaining the required 67% supermajorities in the Senate and the House, and subsequent ratification by 3/4 of the state legislatures asymptotically approach zero. The only viable solution is to replace the fascist five Injustices of SCROTUS (Republican Constitutional VD).
Cartoon: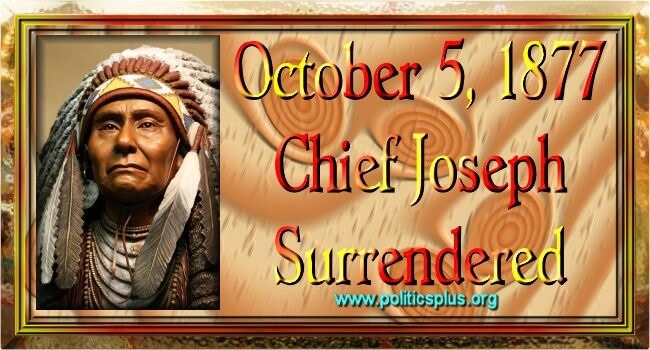 "Tell General Howard I know his heart. What he told me before, I have it in my heart. I am tired of fighting. Our Chiefs are killed; Looking Glass is dead, Ta Hool Hool Shute is dead. The old men are all dead. It is the young men who say yes or no. He who led on the young men is dead. It is cold, and we have no blankets; the little children are freezing to death. My people, some of them, have run away to the hills, and have no blankets, no food. No one knows where they are – perhaps freezing to death. I want to have time to look for my children, and see how many of them I can find. Maybe I shall find them among the dead. Hear me, my Chiefs! I am tired; my heart is sick and sad. From where the sun now stands I will fight no more forever."  – History Place  An American Tragedy