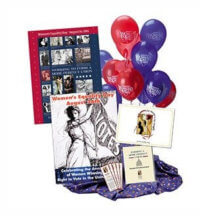 Actually, I'll mention two days you probably didn't know about – with a tip of the hat to Lona the Napster.
First – August 26 was designated by Congress as Women's Equality Day by Congress in 1971 at the behest of Bella Abzug (remember her?) The date was chosen because it was the day in 1920 that Congress certified the Nineteenth Amendment, giving women the right to vote (and incidentally to hold public office).
Second – August 26 is also National Dog Day. National Dog Day was founded in 2004 by Animal Advocate Colleen Paige, who chose August 26 because it was the date that her family adopted her first dog "Sheltie" when she was ten. Colleen is also the founder of National Puppy Day, National Mutt Day, National Cat Day, and other national days to bring attention to, and encourage adoption of, animals. I hadn't planned to include this, but when I learned that more Americans are aware of National Dog Day than are aware of Women's Equality Day, I thought I had better mention it, before someone else did, and get it out of the way.
Back to Women's Equality Day, which is what the column is really about, it was, as I said, created in 1971, by a joint resolution of Congress:
Joint Resolution of Congress, 1971
Designating August 26 of each year as Women's Equality Day

WHEREAS, the women of the United States have been treated as second-class citizens and have not been entitled the full rights and privileges, public or private, legal or institutional, which are available to male citizens of the United States; and

WHEREAS, the women of the United States have united to assure that these rights and privileges are available to all citizens equally regardless of sex; and

WHEREAS, the women of the United States have designated August 26, the anniversary date of the certification of the Nineteenth Amendment, as symbol of the continued fight for equal rights: and

WHEREAS, the women of United States are to be commended and supported in their organizations and activities,

NOW, THEREFORE, BE IT RESOLVED, the Senate and House of Representatives of the United States of America in Congress assembled, that August 26th of each year is designated as Women's Equality Day, and the President is authorized and requested to issue a proclamation annually in commemoration of that day in 1920, on which the women of America were first given the right to vote, and that day in 1970, on which a nationwide demonstration for women's rights took place.
The responsibility for keeping it going seems to have (appropriately) fallen to/been adopted by the National Women's History
Project, a non-profit educational organization, which, among other achievements, got March designated as National Women's History month. They produce and provide resources for educators, speakers for groups, guides for historic site tours, and – well, you name it. They offer an on-line trifold brochure in color about the Day and detailed instructions on how to print it.
Mrs. Abzug spearheaded the Day as a celebration of women getting the right to vote, but it has become more general in focus, and, while you may notice the brochure has a voting quiz, they also pick a different theme each year to highlight, connected to women's history in general rather than just voting. This year the theme is "Working To Form A More Perfect Union: Honoring Women in Public Servide and Government." A very appropriate theme for 2016. Last year, Time magazine developed and published the graphic on the right for National Women's Day, which is, alas, still pretty accurate.
But I also want to mention two other organizations who work every day to make it easier for women to vote.
We probably know each major party has a GOTV effort in place this very important year. But the American Association of University Women, along with their other projects, is providing non-partisan GOTV skill training free through webinars, specifically aimed at registering women in the milliennial generation, through their "It's My Vote: I Will Be Heard" initiative. This program also includes providing voter guides, and goes beyond that to training participants how to create their own voter guides if none are available which are specific to their area. Yes, they have "University" in their name, but they are far from an elitist group. They are envisioning holding these drives on campuses, but that's because they are timing this set of webinars with back-to-school. I can't imagine them being upset if someone wanted to hold a drive in, say, a mall, nor if someone signed up a male or two while registering women.
Then of course, probably the grandmamma of all organizations which pair women and votes – it was founded, by Carrie Chapman Catt, six months before the Nineteenth Amendment was ratified – is the League of Women Voters.
The League began as a "mighty political experiment" designed to help 20 million women carry out their new responsibilities as voters. It encouraged them to use their new power to participate in shaping public policy. From the beginning, the League has been an activist, grassroots organization whose leaders believed that citizens should play a critical role in advocacy. It was then, and is now, a nonpartisan organization. League founders believed that maintaining a nonpartisan stance would protect the fledgling organization from becoming mired in the party politics of the day. However, League members were encouraged to be political themselves, by educating citizens about, and lobbying for, government and social reform legislation.
To this day the League concentrates on educating voters on issues rather than on candidates. It is committed to being grassroots and non-partisan. And it does register voters. Last spring, League volunteers registered nearly 15,000 high school and community college students throough 350 registration drives. They are looking to repeat or expand on this on National Voter Registration Day, which will be Tuesday, September 27.
However, the league does not stop at educating and registering. It does get involved in fighting on issues. Money in politics and defending the environment are the biggest, but there are some others as well. You might be surprised how many others. Click thrugh to the site and scroll down for a look.
Cross posted to Care2 at http://www.care2.com/news/member/101612212/4007182