I'm writing for tomorrow, day 129.  I'm still running behind schedule, and am writing late in the day, but at least I found some better material.  Tomorrow is a Holy Day in the Church of the Ellipsoid Orb, but the Broncos  meditation will not be televised, so I won't get to watch them ride Cowboys.
Jig Zone Puzzle:
Today's took me 2:17 (average 4:12).  To do it, click here.  How did you do?
Short Tales:
From NY Times: After 50 days of fighting that took some 2,200 lives, leveled large areas of the Gaza Strip and paralyzed Israel's south for the summer, Israeli and Palestinian leaders reached an open-ended cease-fire agreement on Tuesday that promised only limited change to conditions in Gaza and left unresolved the broader issues underpinning the conflict.
Hamas, the militant Islamist faction that dominates Gaza, declared victory even though it had abandoned most of its demands, ultimately accepting an Egyptian-brokered deal that differs little from one proffered on the battle's seventh day. In effect, the deal put both sides back where they were at the end of eight days of fighting in 2012, with terms that called for easing but not lifting Israeli restrictions on travel, trade and fishing in Gaza.
As long as Israel prevents Palestinians in Gaza from conducting normal commerce, I see no chance for success. Those people will not be content to live under a permanent state of siege.
From NY Times: The trail to Rick Perry's indictment began with way too many drinks and a drunken-driving arrest for Rosemary Lehmberg, the Travis County district attorney, that was captured in embarrassing detail on videotape.
But the conflict between Republicans who control state government and the Democratic district attorney's office has been playing out for years, forming a complicated back story to the unfolding legal drama known as the State of Texas v. James Richard "Rick" Perry.
Mr. Perry's powerhouse defense team filed a motion on Monday to dismiss the felony indictment, asserting that the 64-year-old governor and prospective 2016 presidential candidate was constitutionally empowered to seek Ms. Lehmberg's resignation. Mr. Perry contends Ms. Lehmberg was unfit to remain in office after berating deputies and kicking a cell door after a drunken-driving arrest in April 2013. She served about half of a 45-day jail sentence.
Mr. Perry and his lawyers have had substantial success in the court of public opinion, contending that the charges represent an overreach that has more to do with politics than the law. But Mr. Perry's critics note that the grand jury indictment was secured by a special prosecutor who was appointed by a Republican judge and has no clear political leanings or ties to the Travis County courthouse.
Perry is so full of it that Rachel Maddow dedicated a Debunktion Junction to him.
Those who cannot open MSNBC videos can see this on YouTube.
Did she nail him, or what?
From Politicus USA: Gallup has super bad news for Republicans. There is a link between high disapproval of congress and high voter turnout. Republicans have done a great job not only creating record high disapproval levels, their obstructionism combined with wasting money and alienating rhetoric sustained those high levels of disapproval. If you're a Republican, you may be tempted to believe your mission was accomplished. The only problem is high levels of congressional disapproval also means high voter turnout at election time. We all know what that means in Republican land.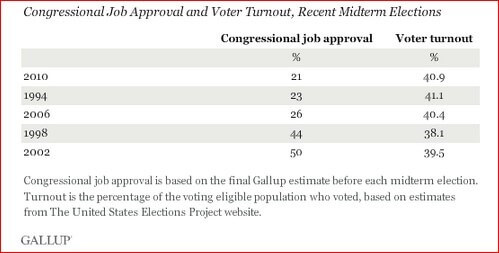 That's about the best news I've heard all week!
Cartoon: