The good news is that I got enough sleep.  The bad thing is that I slept through many tasks and am now running way behind.  Pardon my brevity, please.
Jig Zone Puzzle:
Todays took me 2:32 (average 4:51).  To do it, click here. How did you do?
Fantasy Football Recruiting:
We still need two new players for Lefty Blog Friends, our fantasy football league.  How about you?  For more information, click here.
Short Takes:
From Daily Kos: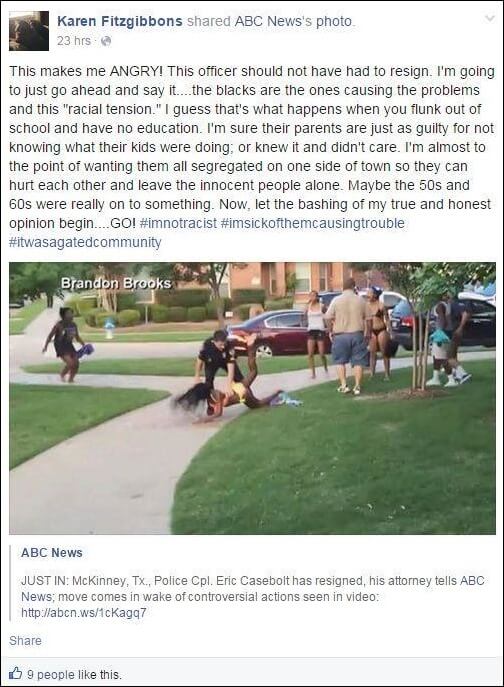 UPDATE: Karen Fitzgibbons was just fired.
Yes, that's a real post from a real elementary school teacher in Texas responding to the mess in McKinney. Karen Fitzgibbons, an elementary school teacher at Bennett Elementary School, had the nerve, the racist gall, the ignorance, to log into Facebook and post:
"I'm going to just go ahead and say it … the blacks are the ones causing the problems and this 'racial tension.' I guess that's what happens when you flunk out of school and have no education. I'm sure their parents are just as guilty for not knowing what their kids were doing; or knew it and didn't care. I'm almost to the point of wanting them all segregated on one side of town so they can hurt each other and leave the innocent people alone. Maybe the 50s and 60s were really on to something. Now, let the bashing of my true and honest opinion begin….GO! #imnotracist #imsickofthemcausingtrouble #itwasatagedcommunity"
Among TX Republicans, Fitzgibbons is what they call a moderate.
From NY Times: A month and a half after six officers were charged in Mr. Gray's death, policing has dwindled in some of Baltimore's most dangerous neighborhoods, and murders have risen to levels not seen in four decades. The totals include a 29-year-old man fatally shot on this drug corner last month. Police union officials say that officers are still coming to work, but that some feel a newfound reluctance and are stepping back, questioning whether they will be prosecuted for actions they take on the job.
What's going on here is that Baltimore police are shirking their duties to punish the community, because their brother officers have been charged for their criminal acts. Police have long believed that being above the law is their right for protecting the community from criminals. It's shameful.
From USA Today: A former Republican campaign operative was sentenced to two years in prison Friday in what the Department of Justice says is the nation's first criminal prosecution for illegal coordination between a candidate's campaign and an outside group.
Prosecutors said Tyler Harber's case should serve as a warning to others as the 2016 campaign heats up and an array of super PACs and other outside groups spring to life to help individual presidential and congressional candidates.
Harber, 34, admitted this year that he helped create a super PAC and used it to buy $325,000 in advertising to help Virginia 2012 congressional candidate Chris Perkins. Harber also managed Perkins' unsuccessful campaign.
Federal law bars candidates, who face strict contribution limits, from coordinating their spending with outside groups, which can take unlimited sums.
Can America afford to jail all the Republicans that deserve to be in the cell with Harber?
Cartoon: