It has been sometime since I last posted an Open Thread.  I have wanted to but just could not wrangle enough time to get it done before the issues became old news.  I have been working at this and a second piece all day, kept company by my 3 cats.  I did not even do my feature, "My Universe", in the interests of my time.  Now I will post this to Care2 and start on TomCat's offerings.
Short Takes
Washington Post — Shortly after Democrat Doug Jones wrested back one of ­Alabama's solidly Republican U.S. Senate seats for the first time in more than two decades, President Trump offered an optimistic and forward-looking assessment on Twitter, congratulating Jones on his "hard fought victory."
But by Wednesday morning, as Trump watched the unflattering portrait of the loss unfold on television, the president grew piqued at the notion that he, somehow, was responsible.
"I won Alabama, and I would have won Alabama again," Trump said, according to a senior administration official. …
The president himself spread the blame. He faulted his former chief strategist, Stephen K. Bannon, for selling him what one outside adviser described as "a bill of goods" in urging him to support Roy Moore, and he faulted Moore himself for being an abysmal candidate.
In the lead-up to Tuesday night, he had also groused about Senate Majority Leader Mitch McConnell (R-Ky.), saying he had been too aggressive in trying to push out Moore.  …
A senior administration official, however, argued that Trump often acts as his own senior strategist and the White House doesn't necessarily need an official political cranium.
There is the biggest problem — Trump does not listen to advice and consider it thoughtfully — Trump only listens to himself.  The next big problem, he gets lousy advice, whether he takes it from himself or from an adviser.
Open Media — Bell is desperate to censor Canada's Internet. First they tried through NAFTA.1 Now they're at it again through the CRTC.
Their radical proposal for website blocking with no court oversight would result in sweeping Internet censorship and put Canada's robust Net Neutrality rules at risk.2
Shaw has come out in support of the proposal.3 But Telus and Rogers are still on the fence.4 If we can get them to come out against this proposal we can split Big Telecom on the issue, and significantly weaken Bell's position.
Tell Telus and Rogers to oppose Bell's censorship plan and stand up for Net Neutrality.
Canada, like the US, is fighting against telecoms which are threatening net neutrality.  Click HERE to bring up the letter to Telus and Rogers, 2 of the big 4 telecoms in Canada who have not yet expressed support for Bell's position.  If you can help us with your signature, that is great!  Thanks
Newsweek  — The 25th Amendment to the Constitution may define the conditions for suspending a president's authority, but it does not constrain the reasoning behind it.
As written, the amendment states that if a president "is unable to discharge the powers and duties of the office," the vice president and a majority of the Cabinet can suspend him. Historically, such an inability was attributable to illness or medical problems, but, in light of President Donald Trump, I offer we expand our interpretation: Medicine aside, it is clear Trump is unfit to serve, and lawmakers must invoke the 25th Amendment against him.
Fears of physical disability were certainly foremost in bringing about the amendment. Going back to at least the 1890s, when President Grover Cleveland had surgery to remove a cancerous growth on his jaw, the country had been in jeopardy of being governed by a chief executive who had lost his physical capacity to lead the nation. In 1919-1920, when a stroke immobilized Woodrow Wilson, and his wife largely ran the executive branch, Americans worried about finding a way to overcome temporary or permanent presidential incapacity.
Franklin Roosevelt's tenure in the White House added to the sense of urgency about replacing a disabled president. By 1944, it was clear to people around Roosevelt that his health was in decline and that he might not live out a fourth term, which proved to be the case.
Ten years later, in the midst of the Cold War, when Dwight Eisenhower served in the Oval Office and suffered a heart attack that temporarily sidelined him, the need to do something about presidential health became more compelling, or so it seemed to the country's governing authorities. With Lyndon Johnson in the White House, and questions swirling about his rationality in response to the stalemated war in Vietnam, political leaders from both parties saw the wisdom of passing the 25th Amendment.
Years later, in 1981, after Ronald Reagan had been shot and temporarily incapacitated, and then in 1998, when I revealed John F. Kennedy's hidden medical problems that surely would have barred him from the presidency in 1961, people were all the more convinced that we could no longer turn a blind eye to a presidential candidate's or a sitting president's ability to conduct the affairs of state.
In all this, however, nothing was explicitly said about questions of personal temperament to acquit one's presidential duties. There were glimmerings of this concern not only with LBJ but even more so with Richard Nixon during the Watergate crisis in 1973-74. Rumors about Nixon's excessive drinking, as the crisis engulfed him, raised fears that the country was in jeopardy of dangerous presidential actions. The country had to wait until Nixon's taped conversations reached the public 30 years later before it understood the extent to which Nixon's irrationality had put the nation in peril. In a drunken stupor, he had slept through an unauthorized decision by Secretary of State Henry Kissinger and White House chief of staff Al Haig to raise the country's defense condition (or DEFCON) in response to a Soviet threat to interfere in the Yom Kippur War between Israel and its Arab neighbors.
The rise of Trump to the presidency now brings the question of presidential competence back into focus. Trump's stumbling performance in his first 11 months represents a new low in the history of the modern presidency. It cannot be chalked up to medical disability, at least not at this juncture, but Trump is vulnerable under the amendment anyway.
We have all said it here at Politics Plus — Trump is unfit to be POTUS.  In my opinion, mental illness is a medical disability, and clearly, Trump has mental health issues that should lead to his ousting under the 25th amendment.  I am not a psychiatrist nor a psychologist, so my opinion does not count. 
NBC News — Matthew Petersen, the judicial nominee who was widely ridiculed last week after a video went viral of him struggling to answer basic legal questions at his Senate confirmation hearing, withdrew from consideration on Monday.
Petersen, a member of the Federal Election Commission, said in his resignation letter to President Donald Trump that it "become clear to me over the last few days that my nomination has become a distraction — and that is not fair to you or your Administration."
Trump nominated Petersen or a seat on the U.S. District Court for the District of Columbia, which carries a lifetime tenure.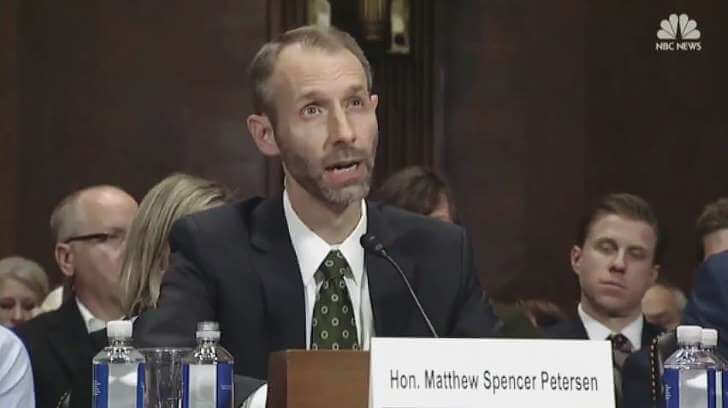 The brightest thing this oaf has done is to withdraw his name from consideration.  One thing that annoys me however is that his announcement is made as a "so I am not a distraction to the work of the administration" rather than the truth . . . "I am not qualified to hold such a position."  He really looked like an incompetent fool in the interview.
Common Dreams — A United Nations independent expert presented a searing indictment of the wealth gap in the United States, saying that "contrasts between private wealth and public squalor abound" and that the Republican tax plan "is essentially a bid to make the U.S. the world champion of extreme inequality."
The recent statement by Philip Alston, U.N. Special Rapporteur on extreme poverty and human rights, follows his two-week visit to Alabama, California, Georgia, Puerto Rico, West Virginia, and Washington D.C.. Based on the fact-finding mission, he said, "The American Dream is rapidly becoming the American Illusion as the U.S. … now has the lowest rate of social mobility of any of the rich countries."  …
He added: "at the end of the day, particularly in a rich country like the USA, the persistence of extreme poverty is a political choice made by those in power. With political will, it could readily be eliminated."
Doing so requires "democratic decision-making, full employment policies, social protection for the vulnerable, a fair and effective justice system, gender and racial equality, and respect for human dignity, responsible fiscal policies, and environmental justice." "Currently," Alston said, "the United States falls far short on each of these issues."
So much for American exceptionalism.  Trump campaigned on "Make America Great Again", but what he and Republicans are doing is stealing the country's future and its hard fought for reputation built over the decades.  For many of us on the outside looking in, it has been apparent what is happening, and I dare say, we all have our thoughts on this.  For myself, it all comes down to power and greed, power and greed that is systemic in many institutions.
Posted to Care2 http://www.care2.com/news/member/775377582/4080848  (open in new window)