It only broke the record by 12° yesterday.  Today is worse.  AC helps, but it's falling behind.  I have collected the data for the Monthly Report, but I'll put off writing it until tomorrow.  Does anyone have a spare blizzard?
Jig Zone Puzzle:
Today's took me 3:38 (average 5:52).  To do it, click here.  How did you do?
Short Takes:
From YouTube (GQ Channel): Trump's Threats Are Getting Out of Control | The Resistance with Keith Olbermann
I've noticed that, in the last couple days, Congress has ignored their Fuhrer. Is it the beginning of the end? RESIST!!
From Daily Kos: Lt. Col. Amy McGrath (Ret.) has launched a Congressional bid for Kentucky's 6th district and her introductory ad is phenomenal. McGrath is a former Marine fighter pilot who flew 85 combat missions in Iraq and Afghanistan. She was inducted into the Hall of Fame at the Aviation Museum in Kentucky in November 2016. She'll be facing Republican Andy Barr in Kentucky's 6th District, which Barr narrowly won in 2012.
What a great ad! Bought Bitch Mitch supports her opponent. Isn't that enough reason to support her?  Also, she has brass cojones!  RESIST!!
From NY Times: Two close associates of Pope Francis have accused American Catholic ultraconservatives of making an alliance of "hate" with evangelical Christians to back President Trump, further alienating a group already out of the Vatican's good graces.
The authors, writing in a Vatican-vetted journal, singled out Stephen K. Bannon, Mr. Trump's chief strategist, as a "supporter of an apocalyptic geopolitics" that has stymied action against climate change and exploited fears of migrants and Muslims with calls for "walls and purifying deportations."
The article warns that conservative American Catholics have strayed dangerously into the deepening political polarization in the United States. The writers even declare that the worldview of American evangelical and hard-line Catholics, which is based on a literal interpretation of the Bible, is "not too far apart'' from jihadists.
It's a blessing to see authentic Christians calling out Republican Supply-side pseudo-Christians within their own denomination. The Fuhrer likes the pseudo-Christians and hopes to grope the nuns.
Cartoon: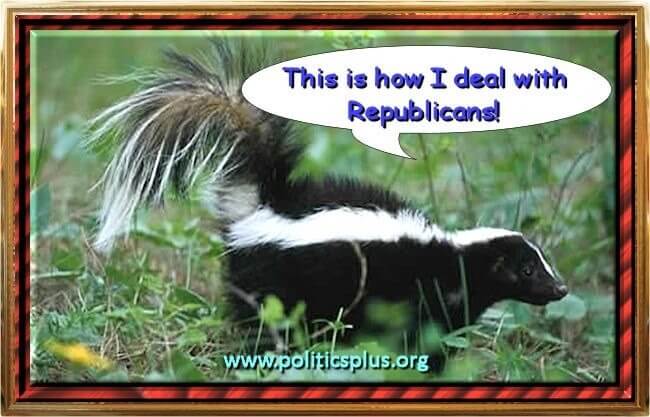 Cousin Pole Cat knows what he's doing!