It's already been a very busy day, as I have been working since early this morning, changing the poll, preparing the graphics and collecting all the data I will need for tomorrow's Monthly Report, and researching today's articles.  Needless to say, I'm getting tired.
Jig Zone Puzzle:
Today's took me 2:52 (average 5:01).  To do it, click here.  How did you do?
Short Takes:
From NY Times: President Obama poked fun at Hillary Clinton's lack of appeal among young people Saturday night, joking at the annual White House press corps dinner that Mrs. Clinton was like an aging relative who cannot figure out how to use Facebook.
"Did you get my poke? Is it on my wall?" he said, imagining Mrs. Clinton trying to use the popular social media site. "I'm not sure I'm using this right. Love, Aunt Hillary."
Policies aside, when it comes to the White House Correspondents Dinner, Obama stands heads and shoulders over every other President in my lifetime.
From Think Progress: On Thursday, 98 members of Congress wrote a letter to House Speaker Paul Ryan (R-WI) and the Chairman of the Select Investigative Panel on Infant Lives, Rep. Marsha Blackburn (R-TEN), asking that they disband the panel and end the investigation into Planned Parenthood's fetal tissue research.
The investigation into Planned Parenthood's fetal tissue practices began last summer, when a heavily edited video surfaced claiming that the organization was "selling aborted baby parts." Conservatives, especially former Presidential candidate and current Ted Cruz "running mate" Carly Fiorina — called for a formal investigation into Planned Parenthood's practices.
But the claims made in the video have been repeatedly debunked, and in January, after a three-month-long investigation, a Texas Grand Jury decided not to indict Planned Parenthood. Instead, the jury moved to indict the videographers who were responsible for the video in the first place.
However, the select panel has continued to operate, going after not only Planned Parenthood, but also the scientists who are researching fetal tissue as they search for cures for diseases such as Parkinson's and Multiple Sclerosis.
That the basis for the investigation has been proven to be devoid of factual basis does not matter to Lyin' Ryan and his misogynist Republican cronies. They simply want a platform from which to broadcast lies,
From Daily Kos: A group of the nation's most important defenders of LGBT rights have written to ask the Obama administration to pull federal education funding from states that pass laws legalizing transgender discrimination in their schools.
It was sent by the American Civil Liberties Union, GLBTQ Legal Advocates & Defenders, Lambda Legal, National Center for Lesbian Rights, and Transgender Law Center. A Justice Department spokesperson told BuzzFeed News, "The department has received and is reviewing the letter." […]

"We are talking about official discrimination required by the state," said [ACLU LGBT Project director James Esseks], arguing North Carolina should lose federal education funds. "This is something that is egregious and demands a different kind of response."
This isn't an idle threat. The Obama administration has been aggressive in enforcing transgender rights in individual districts; a law like North Carolina, that requires public schools to engage in discrimination specifically barred by the federal government, states must either choose to follow the state law or the federal one. That runs afoul of the $4.5 billion of education funds that North Carolina could otherwise expect to get from the federal government; we can only presume that the North Carolina legislature will then have to cover the cuts with the proceeds of their personal swear jars.
This sounds to me like a perfectly reasonable response to states where bigoted Republicans have written discrimination in schools into the law.
Cartoon: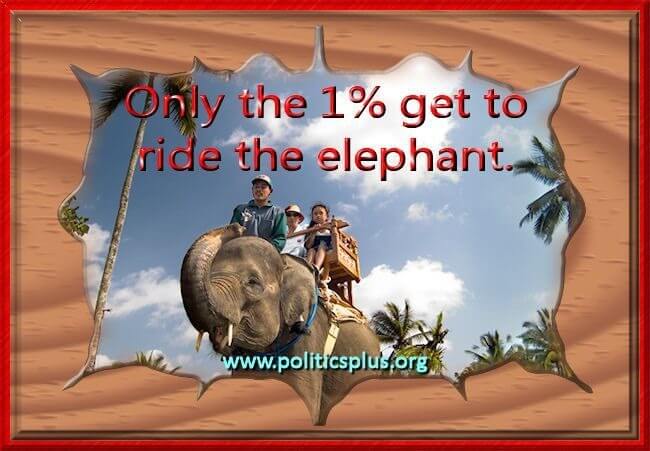 The Republican elephant rides the rest of us.