Wendy will be here in about 90 minutes to de-stink the sticky TomCat, help with chores, and celebrate New Years Eve with steak and taters  Later, Wendy is going out for an evening of ribald debauchery, and I'm splitting my time between Ellipsoid Orb meditations and ZZZZZzzzzz.
Jig Zone Puzzle:
Today's took me 4:04 (average 5:59).  To do it, click here.  How did you do?
Short Takes:
From YouTube (MSNBC Channel): Lawrence O'Donnell on Donald Trump's Very Bad Year
We are proud to wish a Crappy New Year to Fuhrer Drumpfenfarten and every Republican in the Reich! RESIST!!
From Huffington Post: 2017 was a huge year in news: The United States got a new president. North Korea made major advances in its nuclear program. Women around the world toppled their sexual abusers with the #MeToo movement. And everyone is suddenly talking about bitcoin again.
It was also a bizarre time ― a lot of weird stuff went down in the U.S. and beyond. Here are six of the strangest news stories from the past year.
Comey In The Curtains
*sigh* Where to begin with this one?
James Comey was the director of the FBI until May, when President Donald Trump fired him in a stunning and highly controversial move. Under Comey, the bureau had launched an investigation into possible collusion between the Kremlin and Trump's campaign. Comey later testified that the president pressured him not to investigate certain members of his team, which Trump denies.
Unsurprisingly, it turns out they didn't have the greatest relationship during their few months together.
According to a later New York Times interview with Benjamin Wittes, a friend of Comey's and the editor-in-chief of the Lawfare blog, the FBI director went to notable lengths to avoid interactions with his boss. Comey, who is 6 feet 8 inches tall, reportedly told Wittes that in January 2017 he attempted to blend into the curtains at a White House gathering so that Trump wouldn't notice him. Apparently his dark blue suit matched the fabric.
"He thought he had gotten through and not been noticed or singled out and that he was going to get away without an individual interaction," Wittes told the Times.
But Trump not only spotted him; the president gave him a pat on the back.
I shared one of the six. Click through for the other five. RESIST!!
From NY Times: Republicans' 2018 Resolution: Bipartisanship. Will It Last?
Senator Mitch McConnell sounded downright magnanimous in anticipation of 2018, eager to work closely with Democrats even though he had cut them out of virtually every big-ticket deliberation during 2017.
"We're going to be looking for areas of bipartisan agreement because that's the way the Senate is," Mr. McConnell, the majority leader, said this month as Congress fled town for the holidays.
The truth, as Mr. McConnell well knows, is that he has little choice. The certification of Doug Jones's victory as the new Democratic senator from Alabama and his imminent arrival in Washington mean Mr. McConnell will be presiding over a Senate split 51 to 49 between Republicans and Democrats, a margin providing him scant room to maneuver. It will be almost impossible for congressional Republicans to do anything meaningful without at least modest support from the Democratic side.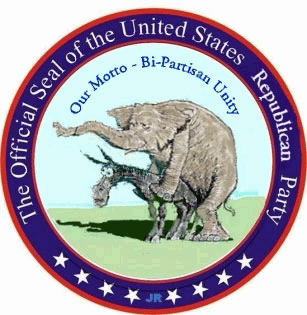 Need I say more? RESIST!!
Cartoon: