I'm writing for tomorrow, day 44.  This is my only article.  I'm still mostly down, and having to fight the Care2 Glitch Monster last night cut into my sleep.  What's going to be your Christmas storm back east is coming in and it's going to be a nasty one.
Jig Zone Puzzle:
Today's took me 4:31 (average 5:47).  To do it, click here.  How did you do?
Short Takes:
From NY Times: Following months of secret negotiations with the Cuban government, President Obama on Wednesday announced sweeping changes to normalize relations with Cuba, a bold move that ends one of the most misguided chapters in American foreign policy.
The administration's decision to restore full diplomatic relations, take steps to remove Cuba from the State Department list of countries that sponsor terrorism and roll back restrictions on travel and trade is a change in direction that has been strongly supported by this page. The Obama administration is ushering in a transformational era for millions of Cubans who have suffered as a result of more than 50 years of hostility between the two nations.
Mr. Obama could have taken modest, gradual steps toward a thaw. Instead, he has courageously gone as far as he can, within the constraints of an outmoded 1996 law that imposes stiff sanctions on Cuba in the pursuit of regime change.
"These 50 years have shown that isolation has not worked," Mr. Obama said. "It's time for a new approach."
I fully support Obama's decision to do this. Needless to say, Republicans are using this as an occasion to promote hate.  See below.
From Media Matters: Right-Wing Media React Angrily To Agreement With Cuba
Triple Barf Bag Alert!!!
Revoltin' Bolton
Limbarf
Bush's Brain (Jeb's too!)
Dang!!  I hope three barf bags were enough!
From Think Progress: The wealth disparity between upper and middle income Americans has hit a record high, according to a new Pew Research Center Report. On average, today's upper-income families are almost seven times wealthier middle-income ones, compared to 3.4 times wealthier in 1984. When compared to lower income family wealth, upper income family wealth is 70 times larger.
It has come to the point where only the top 10 percent of Americans are seeing their wealth grow while the bottom 90 get less and less of the pie each year. The driving force of this wealth chasm are the top 0.1 percent, who have seen their share of the nation's wealth grow the most over the past decades, from 7 percent in 1979 to 22 percent today. In fact, the top 0.1 percent are now worth more than the entire bottom 90 percent of the U.S. population, according to the report, which adjusts for the shrinking size of the American family so as to enable comparisons across time periods.
Republicans are succeeding at one of their two main goals.
Cartoon: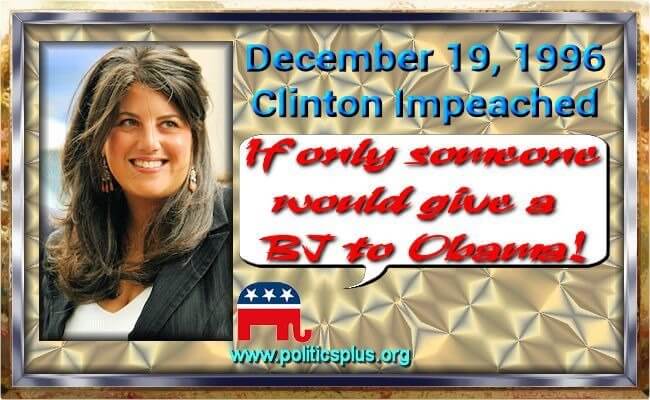 When GW was pResident, we hired a gal to give him a BJ for impeachment purposes.  She couldn't find it.