Well tomorrow is the 9th birthday of my two boys — Primo and Winnie. We will have fresh roast chicken breast — their favourite —for dinner. Of course they'll share the chicken with their sister and me, but only because I am the one who controls the chicken. Here in Metro Vancouver, spring has really sprung — the fruit trees are all blooming, the daffodils, narcissus and forsythia are all out along with the tulip trees. Tulip flowers are not quite out in bloom yet. This year our spring is very late as our winter was colder, longer and much snowier than usual.
Short Takes
Evening Standard — Donald Trump has demanded he is transported in the Queen's gold carriage on his state visit to the UK – leaving security chiefs with a 'monster' operation to plan.
The White House has made it clear that the President expects the traditional state welcome of a carriage procession down the Mall with Her Majesty.
But security officials in London have warned that it would prove difficult to secure the area and will require an operation far greater than any other recent state visit.
According to a report in The Times, President Trump is adamant that he want the procession to be a part of his State visit – due to take place in October – despite his predecessor opting for a less traditional vehicle. …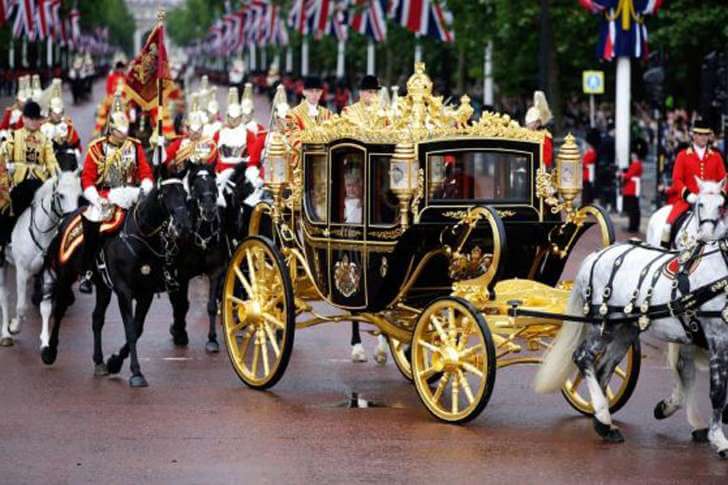 Thousands protested against the President's state visit when it was announced in January and 1.8 million people signed a petition calling for the invitation to be retracted.
I have to admit that I was really piqued at Drumpf's audacity to "demand" the gold carriage and a parade down the Mall in London during his visit to Great Britain next October. I am not a monarchist as such, but Drumpf on a state visit to Britain is, in my mind, out of the question. If he wants to visit Theresa May and the government, that's up to them. But The Narciccist-in-Chief has no business visiting the Queen. If he does visit her, there will be some sort of gaff . . . after all, look what happened with Shinzo Abe during his vrecent isit to the US.
CBC — It took them long enough to get cracking.
Now the new administration of U.S. President Donald Trump will likely pull off one of the smallest White House Easter Egg Rolls in decades as it continues to be beset with staffing shortages, reports of infighting and general tumult.
The free event drew 37,000 Egg Roll lottery winners last year and regularly attracts at least 30,000 to the South Lawn of the presidential home in Washington, D.C.
This year, an aspirational turnout of 20,000 is projected to attend Monday, according to the New York Times. …
"If the Egg Roll is not organized, if it's not welcoming, that will send a message about the White House itself." …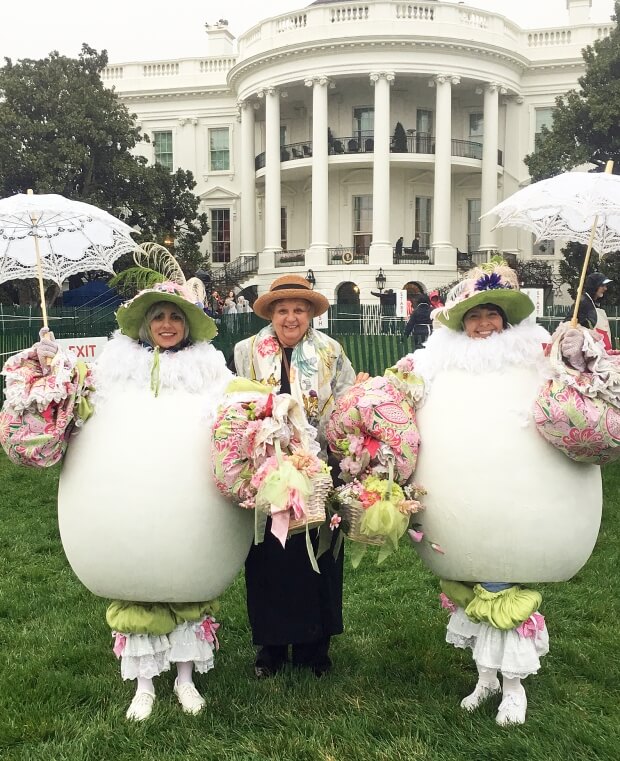 Cecilia Glembocki, executive director of the Virginia Egg Council, poses between two egg ladies at a White House Easter Egg Roll. (Courtesy Cecilia Glembocki)
"People are always especially fascinated by the first one of a new administration because it reflects the style, interests, tastes, the vision of the first lady," Bates says. "Will Mrs. Trump have a big, gaudy, circus-like event?"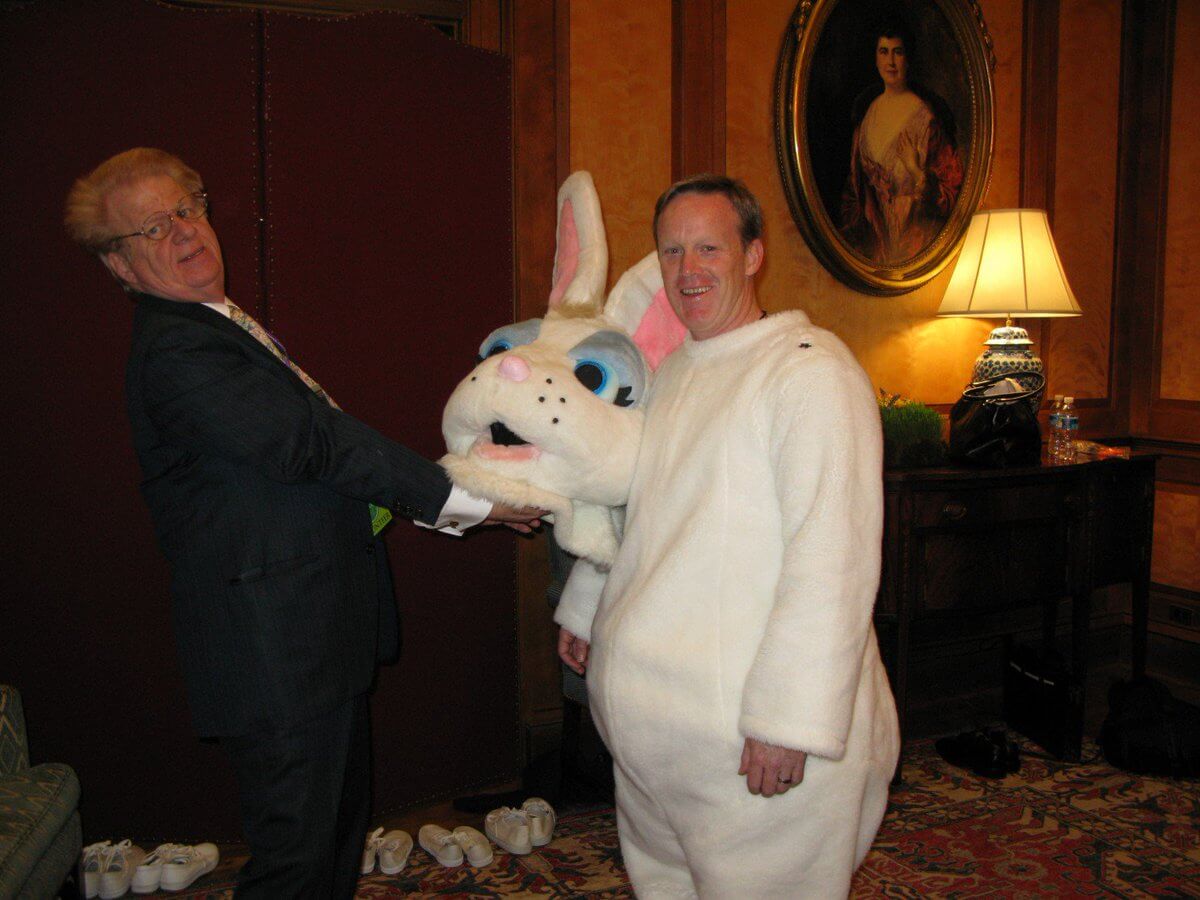 White House press secretary Sean Spicer played the part in 2008 during the last Easter Egg Roll for then-president George W. Bush.
Yet another SNAFU for the Drumpf administration. If Sean Spicer plays the Easter Bunny, it will be a promotion for him — from blithering, incompetent idiot to Easter Bunny! Easter at the White House — another great mess from the Drumpf administration.
RobertReich.org — What's the "Trump Doctrine" of foreign policy? At first glance, foreign policy under Trump seems inconsistent, arbitrary, and devoid of principle.
A few weeks ago, even before the airstrike on Syria, Trump communications director Mike Dubke told Trump's assembled aides that international affairs presented a messaging challenge because the Trump administration lacks a coherent foreign policy. "There is no Trump doctrine," Dubke declared.
I think Dubke is being grossly unfair. Of course there's a Trump Doctrine. You just have to know where to look for it.
The Trump Doctrine began to emerge when Trump issued his travel bans (both the first and second) on predominantly Muslim countries.
But he notably excluded predominately Muslim countries where Trump has business interests.
So under what might be called the First Principle of the Trump Doctrine, people living in a predominantly Muslim country have a chance of entering the United States only if their country contains an edifice with Trump's name on it.
Click through for the other 3 principles that Robert Reich lays out. From my armchair, it is clear that Drumpf has no idea what he is doing in foreign policy . . . nowhere else either. I remember during the 2012 election, Romney campaigned on being a successful businessman and he knew how to run the government like a business. But government is NOT business and demands a lot of skills that don't necessarily get a work out in business, especially not business as practised by the likes of Romney and Drumpf. Planning and organisation seems to be anathema to the Drumpf administration, and Drumpf's flip-flops rival Romney's in numbers. Drumpf's only guiding principle seems to be GREED.
My Universe
Müzik sevdalısı, dünya tatlısı evladım benim 😊😺🎹♩

Posted by Sarper Duman on Tuesday, March 7, 2017