Last week I had a small but thoroughly enjoyable meeting with five of my guys.  The prison fouled-up the turnout, so ten were not released for it.  We discussed the importance of maintaining an ongoing personal inventory, and using it as a tool to recognize when we are wrong, admit it, make amends, and learn from it.  As always, I could not be more proud of them.  It was very hot, as the Activities section is over the kitchen.  I feel tired and sore, but I did get some good sleep last might.  Today is a grocery delivery day, so I have some cleaning to do in preparation.  The forecast high is 95° and will not dip below 90° until 8/3 at the earliest, so the next heat wave is officially here.
Jig Zone Puzzle:
Today's took me 3:22 (average 5/26).  To do it, click here.  How did you do?
Short Takes:
From Upworthy: Changing austerity measures starts with changing how we value our own work.
Like the frog in the pot that didn't know it was boiling until it was too late, some of us have gotten used to these things. But some of us haven't and aren't willing to. Like Agnes Török, who filmed this moving poem that puts into words the frustrations so many of us have felt.
Her words are inspiration for those of us who've internalized economic disparities as our own character failures.
This hero truly understands Republican tinkle down policies. Kudos.
From The New Yorker: In what critics are calling a desperate attempt to draw the media's attention away from Donald Trump, the other fifteen candidates for the Republican nomination have released a joint sex tape.
The tape, including such luminaries as former Arkansas governor Mike Huckabee, Texas senator Ted Cruz, former Florida governor Jeb Bush, and New Jersey governor Chris Christie, appeared briefly on major news Web sites before an avalanche of viewer revulsion demanded it be taken down.
According to Carol Foyler, a viewer who happened to catch the tape during its brief appearance on the CNN Web site, the video contained images "I may never be able to get out of my mind."
"I couldn't believe that these people would participate in such a thing," she said. "Except maybe Santorum."
Dang Andy! Lindsey Poo was a bottom.  I have no doubt that Frothy was the man on dog, but do we need to change a name from "Upchuck Huck" to "Buttf*** Huck"?

From Washington Post: Openly gay Americans can now legally marry, serve in the military (as long as you're not transgender) and, as of Monday, lead a Boy Scout troop.
So what can't they do? In fact, there are still several things gay Americans can't do that straight Americans might take for granted.
We did some research and talked to the Human Rights Campaign's legal director, Sarah Warbelow, to find out what openly gay Americans are still fighting for.
1. Give blood
This prohibition is specifically for gay and bisexual men, whom the federal government prohibited from donating blood in 1983, during the AIDS epidemic.
The Obama administration recently lifted the ban, but with one very important caveat: A man can only donate blood if he hasn't had sexual relations with another man in the past year. The ruling was disappointing to LGBT rights groups.
"That's really unrealistic to ask people," Warebelow said — "especially those who are in long-term relationships."
2. Be protected from housing discrimination in 28 states
In 28 states that don't include sexual orientation in their housing discrimination laws, gay and lesbian Americans can be denied an apartment to rent, a home to buy or obtain a mortgage on the basis of their sexual orientation.
In the 30 states that don't ban housing discrimination based on gender identity, transgender Americans face the same possibility.
3. Be protected from business discrimination in 28 states
In 28 states, gay and lesbian Americans can get kicked out of a restaurant, be refused services by a hairdresser or asked to leave a shopping mall. That number's even higher for transgender people, who don't have similar protections in 32 states.
The federal government also has no law prohibiting LGBT discrimination in public spaces and services.
In the states and cities that do have anti-discrimination laws — including about a dozen cities in Indiana — some conservatives have successfully pushed for a religious freedom bill to give extra legal protections to service providers who refuse LGBT Americans.
Click through for the other four. The battle against the Republican Reich for LGBT equality has just begun.
Cartoon: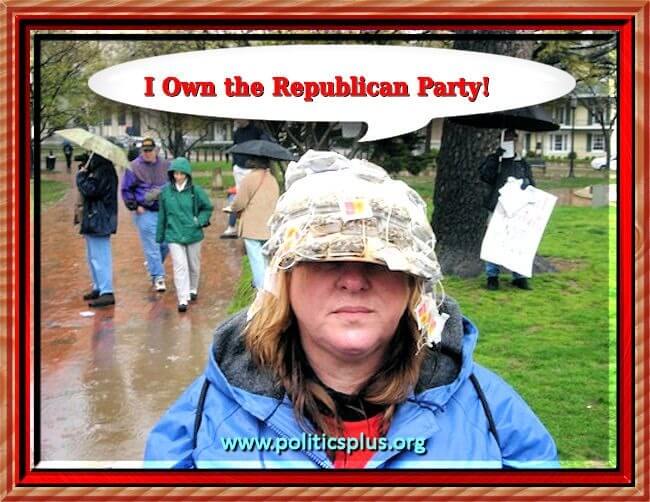 Where InsaniTEA rules supreme.