Almost every week, Republicans join a competition to see who can say the most outlandish things, and in the process, they push the envelope on just how awful InsaniTEA can become. I trust that you will believe it, when I tell you that last week was no exception. There is no doubt that the RNC has brought out the crazies!
Alternet — Thursday was a night of troubled sleep throughout the land. In his long-awaited keynote speech, Republican nominee Donald Trump managed not just to confirm all of our worst fears about him, but to amplify them, make them 10 times darker and bigger, make them huuuuuuge! He got the fear job done. Better than anyone in the entire history of the country has gotten it done!
Let us just review what an amazing accomplishment this was. Rudy Giuliani kicked things off, commanding everyone to be much more terrified about crime, ISIS immigration and Black Lives Matter. Chris Christie roused the crowds with chants of "lock her up," and "guilty as charged!" Ted Cruz delivered his same lizard-like stump speech, the one everyone assumed they'd be spared after he dropped out of the race. The accumulating horror was enhanced by the realization that the slick-backed Trump sons have themselves acquired a taste for politics and now feel qualified to bash teachers and environmental regulations, celebrate gun culture and espouse other tired conservative talking points.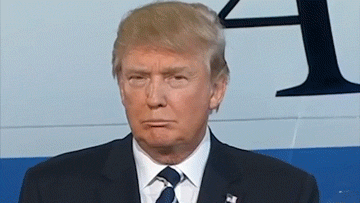 Thanks to Nameless for providing the picture.
But Trump took the crown! He patted his Ivanka on the butt, and then surpassed them all in 75 minutes of continuous bellowing horribleness. The moon was nearly full. A smoldering heat dome would come to blanket much of the country. Darkness descended. And the next day, the mainstream media sunnily gave him credit for his shout-out to the LGBTQ community.
Fear works, and we are genuinely afraid. …
2. Rep. Steve King doesn't even bother to disguise his racism.
It's very possible that Iowa rep Steve King has zero concept of white supremacy. It is simply the water in which this fish swims in. So perhaps it should not have been too much of a surprise this week when the rabid anti-immigrationist, tea partying congressman just came out and said during a live appearance on MSNBC that white people have basically been superior to all others throughout history and invented everything worthwhile.
His comments came about after host Chris Hayes asked a question about the racial makeup of the GOP.
Charles Pierce of Esquire was there and said: "If you're really optimistic, you can say this was the last time that old white people would command the Republican Party's attention, its platform, its public face."
That did not sit well with King. "This whole 'old white people' business does get a little tired, Charlie," he said, all buddy buddy. "I'd ask you to go back through history and figure out where are these contributions that have been made by these other categories of people that you are talking about? Where did any other subgroup of people contribute more to civilization?"
Co-panelists were stunned. Hayes asked for clarification. Did he mean what it sounded like he just said?
He did.
We know this because, one, he said it really clearly, and two, he doubled down on his assertion of the superiority of the white European "subgroup" the next day. The man who tried to block Harriet Tubman from being on the $20 bill recently was 100 percent on-message for his party, as you'll see if you read on.
Republicans are so good at the fear game. This go around, Drumpf and others have whipped up a frenzie of fear which is unfortunate because they are turning neighbour against neighbour. Back in November 2015, according to Crooks and Liars, Trump said
"The real greatest resource is all of you, because you have all those eyes and you see what's happening," he told listeners in Myrtle Beach, S.C.

"People move into a house a block down the road, you know who's going in," Trump continued. "You can see and you report them to the local police.

"You're pretty smart, right?" he asked his audience. "We know if there's something going on, report them. Most likely you'll be wrong, but that's OK.
And of course, Steve "Cantaloupe Calves" King of Iowa is doing his best to increase fear and racism. This is the second of five appalling right wing moments this past week. Click through for the others.