It turned out that my physio appointment was today, and not yesterday. That said, yesterday was still a very busy day and I was so tired that I didn't have the energy for an Open Thread. I did get to visit my mother for half an hour and sat brushing her hair. She, like me, has always liked that and found it relaxing. Today after physio, I had lunch with a friend and then spent some time reading a novel. Very relaxing!
Short Takes
Huffington Post — The majority of Canadians say they're worried if Donald Trump becomes U.S. president, according to a new poll.
The survey conducted by Leger for Montreal dailies Le Journal de Montréal and Le Devoir asked 1,524 Canadians from across the country about the upcoming U.S. presidential elections.
While Trump was among the most well-known contenders, 70 per cent of Canadians said they held a bad opinion of him. A majority of respondents — 65 per cent — said they were worried about him becoming president.
As I have said before, Canadians do not like this "Ugly American" American. I cannot call Trump "The Donald" because it feels like I am giving in to his demagoguery! If he becomes POTUS, I may build the wall along the 49th parallel myself just to keep that rabid fascist at bay.
Five Thirty Eight — Chris Christie's 2016 presidential campaign had one shining moment: thetripwire he set for Marco Rubio in Saturday's debate (which Rubio somehow tripped over again and again and again and again). …
Christie otherwise made very little headway in the Republican race, and he ended his campaign Wednesday after receiving just 7 percent of the vote in New Hampshire.
Mr Christie, your cookies crumbled . . . thankfully!
Five Thirty Eight — Carly Fiorina dropped out of the presidential race this afternoon, via Facebook message, a day after her seventh-place finish, with just 4 percent of the vote, in the New Hampshire primary. …
But heading into the late fall, winter and the voting contests of 2016, Fiorina had all but disappeared from the conversation. Her ground game was virtually non-existent;…
In her FB post announcing the suspension of her campaign, Mother Jones reports that Fiorina said:
This campaign was always about citizenship—taking back our country from a political class that only serves the big, the powerful, the wealthy, and the well connected. …

Our Republican Party must fight alongside these Americans as well. We must end crony capitalism by fighting the policies that allow it to flourish. …

Republicans must stand for conservative principles that lift people up and recognize all Americans have the right to fulfill their God-given potential.
I like to know, what has this Republican been smoking?
"taking back our country from a political class that only serves the big, the powerful, the wealthy…" — Isn't that the definition of a Republican and the party!

"We must end crony capitalism…

" — Didn't Republicans "invent" crony capitalism?

"conservative principles that lift people up …

" — Republicans are noteworthy for tearing down anything that serves the average American.
​My personal opinion, Fiorina is a whack job that had no business even being in the race. I imagine there are some Hewlett Packard employees and investors that are glad she's out of the race.
Mother Jones — On Wednesday, Attorney General Loretta Lynch announced that the Justice Department was filing a lawsuit against Ferguson one day after the city council rejected a proposed settlement that sought to "remedy literally years of systematic deficiencies." The Justice Department spent more than six months negotiating a settlement with local officials after it identified widespread civil rights violations and racial discrimination in the Ferguson Police Department's stops, searches, and arrests. It also alleges that local court proceedings violated the due process of residents. The city council's rejection of the agreement, Lynch said, "leaves us no further choice." …
…the residents of Ferguson have suffered the deprivation of their constitutional rights – the rights guaranteed to all Americans – for decades.
Conservative intransigence! When will they learn?
My Universe —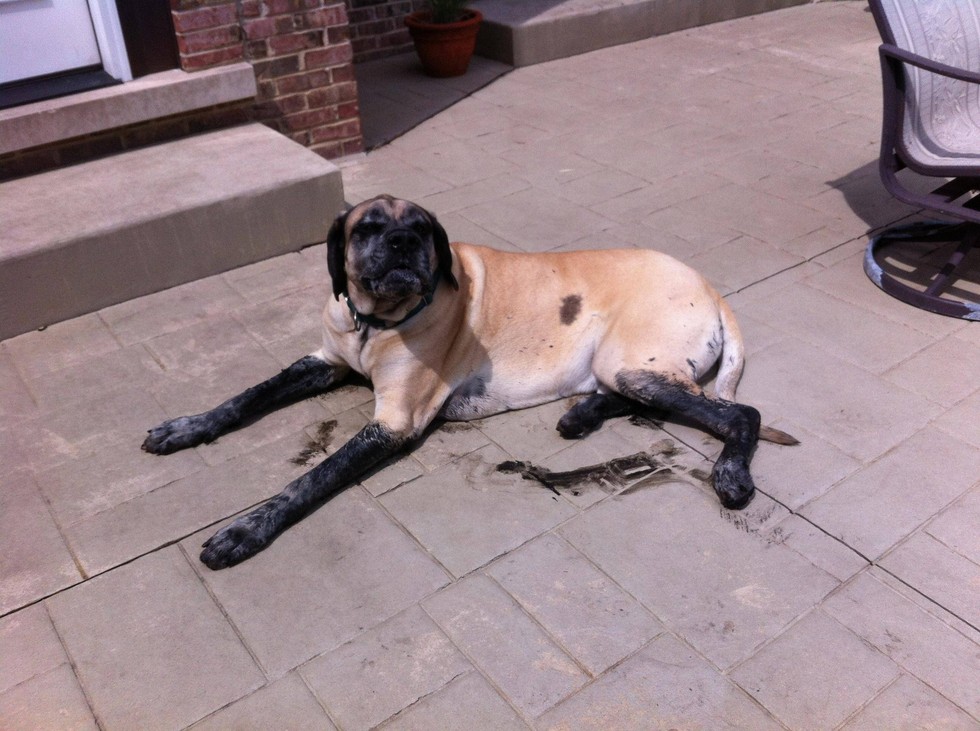 "Something on my face? What are you even talking about?"