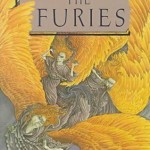 I have so many items this week which seem to call for the efforts of the Greek Furies (Erinyes) to come and deal with them that I won't be able to share them all. As a reminder, though no one really knows how many there were supposed to be, the three names we have are Alecto, Megaera, and Tisiphone. These roughly translate as "unceasing," "grudging," and "vengeful destruction."
Barely had I posted #46 and started to read my email inbox than I had been alerted to three new stories, and during the week two more came to my attention. Seriously. I don't even have to look for them. They come to me. I think I will skip the one about the police officer who was acquitted of negligent homicide in the death of an unarned veteran, and the one about the Florida Ballot Initiative which would amend the Florida Constitution to make abortion first-degree murder (in a state which still has the death penalty) and would criminalize not just pregnant women and doctors but also people who use certain forms of birth control. The former has, alas, become commonplace, and the latter – well, let's not panic till after the votes are in. I do provide the links in case anyone wants to dig deeper.
But the one about the terrorist truck driver, and the two involving young children, must be told.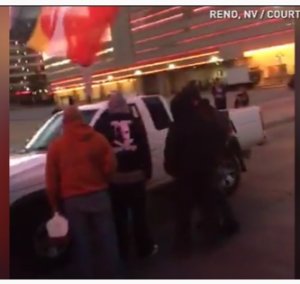 In Reno, NV, about forty people were holding a peaceful protest against the Dakota Access Pipeline and, at the same time, against a holiday (Columbus Day) being dedicated to a mass murderer. At about 7 p.m. Monday they were getting ready to go home, but stopped for a photo under the Reno Arch when two men (well, apparently 18 and 17 – I would have said technically a man and a boy) in a white Nissan pickup stopped. The driver approached the protestors, presumably yelled at them, and they yelled back ("heated words"). The man in the truck then drove through the crowd, butting one woman in the hospital – Kitty Colbert, 59, of Carson City.
A fellow named Taylor de Lao got a video and posted it on Facebook. I'm not on Facebook, but I know many here are and won't have any trouble seeing it. Ms. Colbert suffered several pelvic fractures, a sacral fracture, and a fractured hip. She was listed in serious condition the following day, but was able to talk, so we have her story – which is that he could have gone to either side of the protestors, but instead rammed right through. She feels it was attempted vehicular homicide. I agree.
Alecto, do find this guy – well, both of them – and do some schooling, won't you?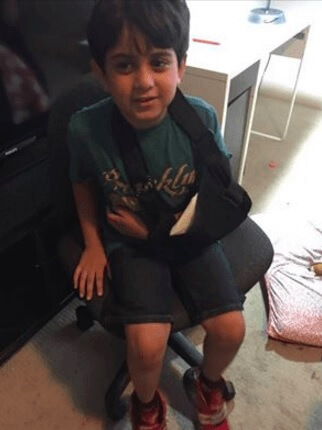 You may have heard about the seven year old boy, Abdul Aziz Usmani, a first-grader, who was bullied by his classmates, and, eventually, beaten up by them – hence the arm sling in the photo.
His father, Dr. Zeeshan-ul-hassan Usmani, an acclaimed writer, scientist and TED Talk speaker, is in the United States working on combating the effects of terrorism. He
has worked with the UN's Special Envoy for Global Education on a safe school initiative in Pakistan. In fact, Usmani has developed software to "model the effects of suicide bombings" in order to create safer environments and reduce injuries in the event of an explosion, according to the Wall Street Journal.
Now, his wife and kids are returning to Pakistan at least until after the election. They will wait to see if it is safe to come back to the United States. Incidentally Abdul Aziz is an American citizen, having been born here. Megaera, maybe you could school some of these bullies? Yes, I know there are a lot more where they came from. Them too.
The other child to have made the news is a ten-year old special needs child from Kerrville, TX. His name is Kayden Culp. I say made the news, but I think maybe he ought to have made news a little more. My main source for this is a webpage specifically for firefighters. Why firefighters you say? Did this poor child get burned? Well, yes, he did.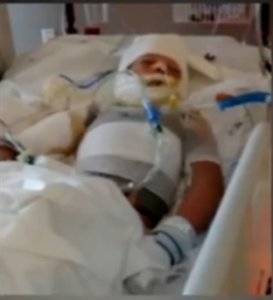 As of October 6, he was in the University Hospital in San Antonio in critical condition, on life support and a feeding tube, and under sedation, with first ans second degree burns over 20% of his body (though in the picture it looks like more to me. Of course there is always smoke inhalation too.)
Also as of October 6, a Kerrville teenaged boy is under arrest on suspicion of having started the fire. There was a second pre-teen boy also injured in the fire, but his injuries were less extensive.
The boy's family say that Culp was lured to a shack in the town of Kerrville on the afternoon of October 2. He had been under the impression that he was playing with three boys, ages 9, 10 and 11. At the shack, the bullies doused Culp in gasoline and set fire to him.

Culp's family are adamant that the victim was targeted because of his autism. Another of his aunts, Kelly Mack, told News4 San Antonio, "The other kids are saying that he was going to be riding his bike like he always is, my nephew Kayden is going to be riding his bike, and they said we're going to grab him and take him inside and burn him. If it wasn't premeditated, it still is attempted murder."

Meanwhile, Tanya Kasper, told Fox News, "All the kids are talking, saying, 'Hey, they set out to do it on purpose.' We want to keep in mind that these are kids, and they do need help. We just want the proper justice done."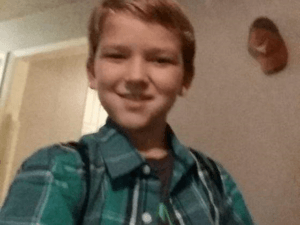 Earlier this year, Kayden's mother was very active in raising funds for another Kerrville resident and her family who had lost their home to a fire. The house had been paid off within the last year, and the insurance had been cancelled by the owner's ex-husband. Sounds to me as if it may be a case of no good deed goes unpunished. Tisiphone, this one's for you. Anything additional I might say would probably be unprintable.
The Furies and I will be back.
Cross posted to Care2 at http://www.care2.com/news/member/101612212/4015885