Today is the Ides of March or Idus Martiae in Latin, a day for religious observances in ancient Rome, but also an inauspicious day for Julius Caesar. He was assassinated in 44 BCE on the Ides of March. Let's hope your day goes much better for you than it did for Caesar all those years ago!
Well tonight, we are having thunder and lightning which is relatively unusual for here. It was very close to my house, just north in the mountains, and the house shook with the display. TC is still feeling significantly under the weather but he did post an Open Thread today.
Short Takes
Maclean's — As for who first noticed that Moscow was gunning for Freeland, that's something that has yet to show up in any banner Canadian headlines. It was the European Union's East StratCom Task Force, a unit of the External Action Service (the EU's foreign ministry and diplomatic branch). The Task Force was set up in March 2015 as a kind of early warning system to detect incoming Kremlin disinformation campaigns.
In its January 26 Disinformation Digest, the Task Force specifically identified the "Freeland Lied About Her Family's Nazi Past" hoax, which by then was already circulating within the nether regions of the pro-Kremlin web, under the category of "pro-Kremlin disinformation" and "fake media stories that support Russia's policies." The Task Force flagged the Freeland smear project under the campy headline "And you are a Nazi, too!" along with several ongoing efforts to affix the Nazi tag to "anyone opposing the Kremlin's interests," especially in Ukraine and the Baltic states. Canadian Forces personnel are active in both arenas.
Usually, Moscow enjoys a degree of marginally plausible deniability by circulating its nastiest propaganda via merely Kremlin-admiring webzines and usefully idiotic "anti-imperialist" pseudo-news operations. But the effort to attack Freeland's character and undermine her credibility first came straight out of Russia's embassy in Ottawa, on January 11, the day after Prime Minister Justin Trudeau appointed Freeland to the foreign-affairs post.
In Squatch's Open Thread 10 March 2017, I included another Maclean's article about how Russia was turning its predatory disinformation sights on Canada, and I made reference to an article in the Ottawa Citizen about Chrystia Freeland, Canada's Minister of Foreign Affairs. Maclean's has now covered this aspect beginning with how some western journalist aided and abetted Putin's disinformation ritual. But why Freeland? The article goes into detail on that point. I urge you to read the entire article. The new Russian Czar, Vladimir Putin, is certainly busy trying to destabilise western nations.
CBC — Girl Guides of Canada has announced it will not be taking any trips to the United States in the near future, citing concerns about inclusivity.
"While the United States is a frequent destination for Guiding trips, the ability of all our members to equally enter this country is currently uncertain," international commissioner Sharron Callahan and director of provincial operations Holly Thompson wrote in a joint advisory issued Monday afternoon.
"This includes both trips that are over or under 72 hours and any travel that includes a connecting flight through an American airport," the advisory says.
The statement does not directly mention — but appears to be a reaction to — the executive orders U. S. President Donald Trump has signed restricting travel to the United States.
More fallout from Drumpf's travel ban. Interesting that a group of young Canadian girls can show up Drumpf when it comes to ethics, loyalty and inclusivity.
YouTube — Trump Can't Even Watch TV Correctly | The Resistance with Keith Olbermann | GQ
Kudos to Keith! Spot on as usual! Is this what the "age of television" has become?
CBC — For the second time, a federal court on Wednesday blocked President Donald Trump's efforts to freeze immigration by refugees and citizens of some predominantly Muslim nations, putting the president's revised travel ban on hold just hours before it was to take effect.
This time, the ruling came from a judge in Hawaii who rejected the government's claims that the travel ban is about national security, not discrimination. U.S. District Judge Derrick Watson also said Hawaii would suffer financially if the executive order constricted the flow of students and tourists to the state, and that Hawaii was likely to succeed on a claim that the ban violates First Amendment protections against religious discrimination. …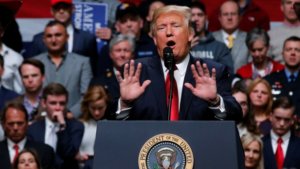 U.S. President Donald Trump held a rally at Municipal Auditorium in Nashville on Wednesday, vowing he would not stop defending the security of Americans despite the latest legal setback, which the government will likely appeal. (Jonathan Ernst/Reuters)
Trump called the ruling an example of "unprecedented judicial overreach" and said his administration would appeal it to the U.S. Supreme Court. He also called his new travel ban a watered-down version of the first one, which he said he wished he could implement. …
The hearing was one of three held Wednesday in federal courts around the country. U.S. District Judge James Robart in Seattle, who blocked the initial travel ban last month, did not immediately rule on a request from an immigrant-rights group to block the revised version. Neither was there a ruling from U.S. District Judge Theodore Chuang in Maryland in a challenge brought by the American Civil Liberties Union and other groups.
In all, more than half a dozen states are trying to stop the ban. A case brought by Washington state argues that the new order harms residents, universities and businesses, especially tech companies such as Washington state-based Microsoft and Amazon, which rely on foreign workers. California, Maryland, Massachusetts, New York and Oregon have joined the claim.
Judicial overreach? What a load of horse pucky! It is only judicial overreach to Drumpf because he isn't getting his way! I am glad that there are some members of the judiciary and legal profession that see this Muslim travel ban for what it is — outright discrimination on ethnic and religious grounds. As Drumpfenfarten said when US District Judge Robart of Washington state turned aside the first ban, "See you in court!" While Robart and US District Judge Chuang of Maryland both heard arguments today, neither has announced their ruling.
My Universe
OK, so I am almost 3 months behind the times but this commercial for Temptations cat treats is "so cat"!