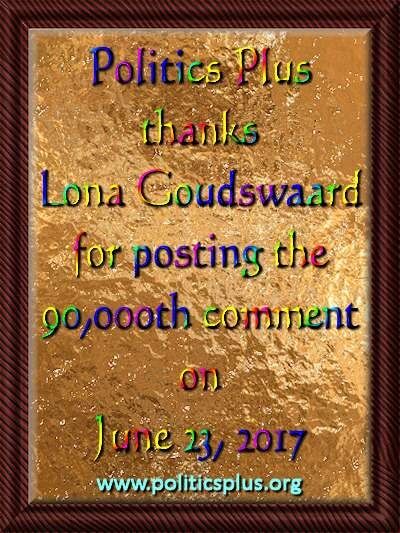 Lona is still a denizen of Care2, a daily participant here, and a multinational treasure, who spends her time in the Netherlands and Queensland, Australia,  This is her fifth award, the first on 8/6/2015, shortly after she started commenting here, the second on 3/11/2016, her third on 4/4/2016, and her fourth on 7/30/2016.  Her knowledge of US Politics remains far greater than that of the average American voter. She enjoys sending me naps, when I am tired. She has also become an Author here, at Politics Plus, writing her "A View from Afar" series, in which she puts a European twist on current events, until she flips herself upside down, and switches her viewpoint to Oztralia, Before long, that will be a permanent flip.
Because the comment Lona Posted was an even multiple of ten thousand, I will be sending her a Politics Plus coffee mug.  She just sent me her shipping address, so I shall be customizing and ordering it later this week.  We ask that when she receives it, she will send us a picture of herself holding her mug.
Please join me in inundating her with hugs and kudos. I look forward to her sixth.