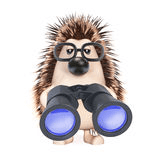 If you're a regular reader of TomCat's blog and articles, I'm sure you're quite aware of the fact that both Ted Cruz and John Kasich have suspended their campaign in the Republican primaries and Donald Trump seems to have secured the GOP's nomination. Or as the BBC analyst said last night on the 10 o'clock news: "Donald Trump has now completed his hostile takeover of the Republican party."
This rather negative take on Trump's victory in Indiana and the subsequent departure of his last two opponents is one that has been in the make not only in America, as TomCat's blog has been witness to for quite some time now, but also across many countries across the globe. Chief foreign correspondent of The Sydney Morning Herald, Paul MCGeough, headed his article with: Donald Trump's victory over Ted Cruz is more about Republican failure than candidate's success. ABC news also quickly focused on Trump's most likely Democratic opponent for the presidency, Hillary Clinton, and on the fact that presumptive nominee Trump will have a hard time trying to unite a fractured party around his bid for the White House. Others think Trump's going to have a difficult time ahead of him in getting the GOP to support him (His biggest challenge yet: Anti-Trump Republicans consider the ultimate betrayal)
My own the Dutch newspaper, NRC Handelsblad, sketched the situation yesterday (May 4, 2016) with just a hint of amusement: "What started as a comedy number less than a year ago, became a revolt in the party and ended Wednesday night with a Republican seizure of power by Trump. He demanded instantly victory on. 'We're going after Hillary Clinton now,'" but the paper doesn't fail to note that while "The Republican party goes to do battle with (probably) the Democrat Hillary Clinton with an uncontrollable, polarizing presidential candidate," this probable Democratic candidate is equally unpopular. Both the BBC news and the Dutch media came up with numbers quoted on fivethirtyeight.com: American's distaste for both Trump and Clinton is record breaking, where Trump is disliked by 10% more Americans than Hillary is, or as the headline in my newspaper read: "The Contest Is Between Who Has The Least Hated Candidate."
You might wonder why people abroad are so negative about the possibility of Donald Trump sitting behind the desk in the Oval Office in November. We're only looking at it from afar and as Ben Carson said "we're only looking at four years" if Trump's a bust, right? That negativity may have something to do with his foreign policy which he read from teleprompter only last week. I'll give you the translation of almost the full article my newspaper carried on its front page (NRC Handelsblad, Thursday, April 28, 2016) to show how it was received here in The Netherlands.
" Trump Promises An America That Thinks Predominantly Of Itself
'America first ', will be the foundation of his foreign policy, Donald Trump said Wednesday in a speech about his probable foreign policy, after he increased his lead in the battle for the Republican presidential nomination on Tuesday.
In the speech, clearly intended to provide the almost-candidate with a presidential allure, he unfolded a predominantly isolationist views on America's role in the world. The political and economic motivation came at the end: "We will no longer surrender this country to the false tune of globalization. The US are the true foundation for happiness and harmony. I am skeptical about international treaties that bind our hands."
America will no longer get the chestnuts out of the fire when other countries, as for example NATO partners, spend insufficiently on defense, said Trump.
Details on Trump's many notorious loose statements such as building a wall along the border with Mexico were missing from the speech. Trump tried to present an overall vision by contrasting America's role at the end of the second world war and the cold war with what he called the 'complete disaster' of the foreign policy of the Presidents Clinton and Obama.
He assured the relationship with Russia and China will improve. He promised 'a deal' with Russia, China will start to respect America's power. To combat IS the US should develop both a 'coherent plan' as well as become 'unpredictable'. Trump wants to strengthen the army with 'the best equipment in the world' but also said that the US want peace."
Trump's maiden policy speech wasn't all that well received in other countries either. Pundit for The National Interest in Australia, Mark Beeson, professor of International Politics, think president Trump, following his own course on foreign policy, would be devastating to Australia: "The point to emphasize is that any country that relies too heavily on another for its security is potentially hostage to its protector's policies—no matter how ill-conceived, dangerous or inappropriate they may be. That possibility was realized in entirely predictable and disastrous fashion when Bush was president. A Trump administration threatens to be even more catastrophic on a number of levels."
Even Peter Foster in UK's conservative The Telegraph comes to the same negative conclusion in his analysis for the United Kingdom and Europe: "No US president makes good on all their campaign-trail promises, but from ripping up America's security alliances in Europe and the Asia-Pacific to threatening a trade-war with China, Donald Trump has promised to put "America first" by instituting an ultra-isolationist US foreign policy."
Some Brits, like the Independent, didn't beat about the bush, not even in their headlines: Donald Trump's incoherent speech on foreign policy shows why he's unfit to be president, while a very serious Aussie in Financial Review slowly build up his case to end with a Trump quote which really says it all: 'Responding to recent criticisms that Mr Trump's current informal foreign policy advisers were not well known, he said "we have to look to new people because many of the old people frankly don't know what they're doing".' Trump will be 70 by the time he expects to be in the White House.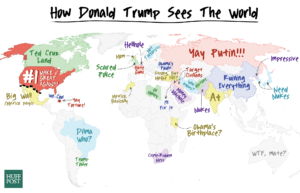 I think most other nations have a problem with Donald Trump's vision on the world and the role America plays in it, because it is inconsistent and varies from day to day. In other words, Trump is inconsistent, untrustworthy and unpredictable, the latter to which he actually aspires in his foreign policy. America shouldn't be so predictable, he maintains. The day after the NRC Handelsblad published the front page article cited above, it carried an article on the advisors Trump has let himself be influenced by and the inconsistencies that followed, titled Candidate without ideology with the subtitle "Trump is advised by people who want to make him ' presidential '. They give him conflicting ideas." Paul Manafort, Roger Stone and son in law Jared Kushner should make Trump 'presidential'. But they also feed him with ideas. Those ideas are often contradictory, and that was noticeable in Trump's speech:
"Trump wants to build a wall on the Mexican border, and Mexico has to pay for it. In the speech he did not come back to these famous statements.
Trump said that 'promoting Western civilization will contribute more to positive reforms in the world than military interventions'. But he also turned against the 'dangerous idea' that Western values can be impose on non-Western countries.
Trump promised to turn 'old enemies' into fiends, even allies by making good deals. But, he also said, a country like Iran 'will always remain our enemy'. Obama should never have negotiated with Iran.
Trump received a lot of criticism on other statements he made about his Democratic rival Hillary Clinton last Wednesday: 'If Hillary Clinton were a man, she would get less than 5 percent of the votes,' said Trump, who believes that Clinton is campaigning on women issues. He then immediately contradicted himself: 'the great thing is that women don't like her.'
Perhaps Trump should have stuck with his first advisor:
http://www.msnbc.com/morning-joe/watch/trump-my-primary-consultant-is-myself-645588035836
Of course these are only a few of the inconsistencies as seen from afar. But Australian media were quick to point out that closer to home some people also had problems with Trump's take on foreign affairs as in Madeleine Albright unleashes on Donald Trump's foreign policy speech, who by takies to Twitter to poke holes in Trump's first attempt at a foreign policy speech, "something I have experience with," and tackles his doctrine's flaws head on a la Trump himself.
If the political future of America looks a little bleak after reading this, cheer up, because I've saved the best for last. In an excellent analysis of the current political climate, history, polling data and demographics, independent pundit Anthony J. Gaughan, maintains in his article President Trump? Not likely that "The evidence suggests that Trump will likely suffer a crushing defeat in the general election" to conclude with "The bottom line is Republican leaders with an eye on the future don't want anything to do with Trump. They know the name "Trump" will likely join Goldwater, McGovern and Mondale as names forever associated with crushing presidential election defeats."
Let's hope Mr Gaughan's analysis is correct.