As we all know, White House physician, Dr. Ronny Jackson, has declared that Trump is allegedly in "excellent health" … all 6'-3" & 239 pounds of him.
But doubts about the accuracy of this assessment have swept through the Twittersphere & Internet.  And thanks to Chris Hayes, we now have the mocking rise of the "Girther Movement".
Has anyone coined "girther" for those who belive the president weighs more than his doctor reports?

— Chris Hayes (@chrislhayes) January 16, 2018
Well, you can count me as a card-carrying "Girther"!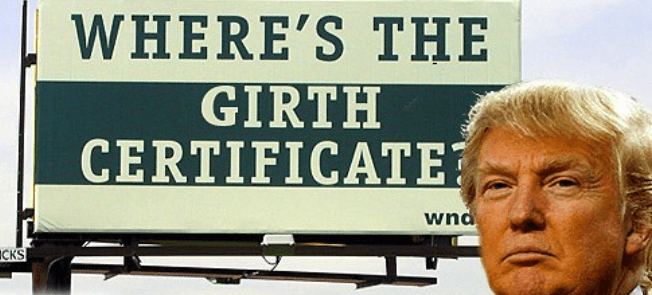 And I'm joined by some famous folks …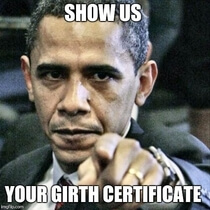 And speaking of Pres. Obama and health, let's start the comparisons with this one:
So President Obama is 6' 1" and Trump is supposed to be 6'3". Does everyone in @realDonaldTrump administration just straight out Lie about everything #Girther pic.twitter.com/KhVPSl0SRG

— PBN (@realsoulcatcher) January 17, 2018
And to set the record straight WRT his "alleged" 6' 3" height
For the record, @realDonaldTrump said he was 74 inches in 2012. Now his doctor says he's 75 inches. And that one inch makes is BMI "overweight" not "obese." I'm a #girther because old men don't GROW an inch! pic.twitter.com/ehNxF9PjPL

— Gersh Kuntzman (@GershKuntzman) January 16, 2018
Of course much more popular ones compare Trump's height and weight with some well-known sports figures:
Jay Cutler is 6'3" and 233. Donald Trump is 6'3" and 239. What a difference six pounds makes! pic.twitter.com/ECiWtPVtwn

— Ronald Reagan's Spinning Corpse (@SpinningRonnie) January 16, 2018
And this one has especially gotta sting:
Colin Kaepernick is 6'4 230

Trump is supposedly 6'3 235

Something isn't adding up. pic.twitter.com/AEBIwmbFsg

— Matt Rogers (@Politidope) January 16, 2018
But with Trump's rampant narcissism, he no doubt sees it this way:
Meet Philadelphia Eagle Trey Burton. He's 6'3" and 239 pounds.

Trump: "It's like lookin' in the mirror!" pic.twitter.com/mVn8nqc9ob

— ReallyDon'tTrump🐩 (@ReallyDontTrump) January 16, 2018
I would never call in to question the physician's veracity – but others might …
Listen, Dr. Ronny Jackson seems like an honest enough guy, but Trump's 2nd chin ALONE has gotta weigh around 50lbs…#Girther pic.twitter.com/ts9KJe5Mkr

— TrumpsTaxes (@TrumpsTaxes) January 16, 2018
[OK – that one's Photoshopped … but still funny]
And it's not like Trump doesn't have a long history of playing fast and loose with facts and the truth …
His diet.
His wife.
His wife.
His wife.
His taxes.
His country.

All things trump has cheated on.

— Joe Bought-acola (@joetstat) January 17, 2018
But beyond the spurious height and weight is that mental acuity test he "aced" …
Trump's medical exam says he's 6'3" and 239 pounds. Albert Pujols is 6'3" and 240 pounds. If the dementia tests are equally accurate, we are doomed. pic.twitter.com/fn0u1xzzjI

— James Gunn (@JamesGunn) January 17, 2018
And about that Montreal Cognitive Assessment Test?  Well, there was this exchange during the test …
"Technically it's a rhinoceros, sir.  But 'pointy-nose horse' will do just fine, Mr. President."
And the challenge from James Gunn has been made to Donald …
I will give 100 thousand dollars to Trump's favorite charity if he will step on an accurate scale with an impartial medical professional, okayed by both of us. For real. #Girther #GirtherMovement

— James Gunn (@JamesGunn) January 17, 2018
That's great, but I fear this is the likely outcome: