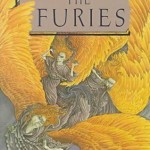 Experts in autocracies have pointed out that it is, unfortunately, easy to slip into normalizing the tyrant, hence it is important to hang on to outrage.  These incidents which seem to call for the efforts of the Greek Furies (Erinyes) to come and deal with them will, I hope, help with that.  Even though there are many more which I can't include.  As a reminder, though no one really knows how many there were supposed to be, the three names we have are Alecto, Megaera, and Tisiphone. These roughly translate as "unceasing," "grudging," and "vengeful destruction."
I know we have a number of people who follow Politics Plus who have backgrounds in health care.  I'm not sure how many are still active, or how many of those work with surgical patients or chemotherapy patients or any other specialty that works with intravenous fluid delivery.  So this may or may not be news to you.  It was news to me.  Let me start with a quote from a Tweet:
My wife's nurse had to stand for 30 mins & administer a drug slowly through a syringe because there are almost no IV bags in the continental U.S. anymore. See, they were all manufactured in a Puerto Rican factory which still isn't fixed. Meanwhile that stupid swollen prick golfs  11:09 AM – Dec 28, 2017
The firm, owned by Baxter, also manufactures surgical equipment and other medical supplies.  The FDA understands the problem, but under this regime has very limited power indeed.  Here, from an FDA press release of 11/17:
Most significantly to date, hospitals across the country are reporting shortages of IV fluids, particularly sodium chloride 0.9% injection bags – a type of saline bag. Saline IV fluids, which are used to inject drugs intravenously in hospital and outpatient settings, have been intermittently in shortage dating back to 2014. However, despite our best efforts, the situation in Puerto Rico has greatly exacerbated this supply issue. The FDA understands the concerns and impact of the ongoing shortages of IV solutions. These products have been on the list of approximately 90 medical products (which includes biologics, devices and drugs) that the FDA has been monitoring since the storm hit, and the FDA is actively working to address the shortage. Among the steps the FDA is taking, in conjunction with manufacturers of these products:
•temporarily allowing the importation of IV saline products from facilities outside of the U.S.;
•encouraging the expansion of production at existing facilities to meet shortfalls; and
•expediting our review of new product applications that will help address this shortage.
"[T]emporarily allowing the importation of IV saline products" and "expediting the review of new roduct applications" both make me nervious with regard to the products to be used meeting existing Federal standards.  I am not a huge fan of the FDA in many ways, but "meeting existing Federal standards" still has to be more desirable than "falling below existing Federal standards."  If you click through to the article and read the comments, you will learn some things about the uses of IVs which you may not have known unless you actually work with them.  This is truly scary.
Alecto, once again I am giving you an assignment that has so many things slipping through the cracks that you may feel scattered.  But I believe you can handle it.
And another problem involving the Orange Regime is rearing its ugly head.  I will just let John Soltz, an Iraqi War veteran and the founder of VoteVets, explain it clerly and concisely:
Every summer, hundreds of veterans head to Bristol Bay, Alaska to earn a living as commercial fishermen.

It's not easy work and it separates them from their families — again — but in this tough economy it pays well and takes care of things back home.

A few years ago, we ran a massive campaign mobilizing support for these veterans when a Canadian Company attempted to build a mine to extract gold beneath the fishery.

And we won. The Environmental Protection Agency found that the damaged caused by Pebble Mine would be "irreversible" and results in the "complete loss of fish habitat due to elimination, dewatering and fragmentation of streams, wetlands and other aquatic resources."

Well, now there's a new man at the head of the EPA, and after Scott Pruitt met with the head of the Pebble Mine project, he ordered the regulations be scrapped and that the mining company could begin acquiring permits.
VoteVets has started a petition on this, and I hope it will be widely signed and shared.  But I'm confident other action will be needed as well.  Megaera, can you be sure to keep us up to speed on what else we can do?
Finally, I know I have written before about the practice by municipalities of giving one-way bus tickets to the homeless.  If I recall correctly, the last time was about a homeless person in Nevada who was given a ticket to Los Angeles, which was no more able to support the person's mental health issues than Nevada was, and in some ways less.  But, in fact, many places have been doing this, some for as long as thirty years.
Now, the Guardian has published a new report just on this practice, and Amy Goodman of Democracy Now has published an interview with the editor responsible for this report.  Some interesting trends have emerged … and some of these were probably predictable.
Fact:  Most people who are homeless in any given city are actually from that city.  The myth of homeless people being drawn to certain cities by weather or services is just that – a myth.
Fact:  The cities which have and administer these programs have pretty much zero idea of whether their own programs are actually working.  "[F]or instance, for a 5-year period, between 2010 and 2015, when the city offered thousands of people bus tickets and thousands of people left the city, the city could only provide us records showing that it had been able to follow up with only three of those people to find out if their situation at the other end had improved."

Fact:  Many of the tickets are given out through shelters, and acceptance of the ticket bans the recipient from ever receiving services from the shelter in the future.  And many people who accept tickets are not aware of that condition.  (Not all shelters do this, of course.  The one in Key WEst, FL, however, is notorious for it.)
I can't help feeling that the lack of good data on this subject is because people don't WANT to know – they just don't want to see homeless people.  Anything that takes the homeless away from their sight is fine with them.  Tisiphone, what would you suggest?
The Furies and I will be back.
Cross posted to Care2 HERE.