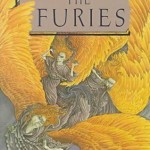 Experts in autocracies have pointed out that it is, unfortunately, easy to slip into normalizing the tyrant, hence it is important to hang on to outrage.  These incidents which seem to call for the efforts of the Greek Furies (Erinyes) to come and deal with them will, I hope, help with that.  Even though there are many more which I can't include.  As a reminder, though no one really knows how many there were supposed to be, the three names we have are Alecto, Megaera, and Tisiphone. These roughly translate as "unceasing," "grudging," and "vengeful destruction."
In a followup to the murder of Philando Castile, the "Mr. Phil" who, as the nutrition services supervisor at J.J. Hill Montessori School, was known for using his own funds to pay for students' lunches when someone had to, there is now a fund in his memory.
The Philando Feeds The Children Fund was started by Pam Fergus, a local community college professor who was inspired by stories of Castile having helped pay for student's lunches with his own money.

"We just had this little idea that we were going to help do Mr. Phil's job and make sure you guys have good lunch to eat every day," Fergus told students, according to a WCCO report.

In total, more than 2000 donors helped the fund raise over $72,000 — well above the initial $5,000 goal — which was presented to officials at [J.J. Hill Montessori School where Castile worked] on Friday by Castile's mother Valerie.
That's enough money to cover student lunch debt thoughout all of St. Paul for an entire year.
Click through for information on a couple of other memorials for Mr. Phil.  And here's an unrelated but similar project –
When Sunshine emptied her piggy bank on the floor, her grandmother wasn't surprised, but she was when Sunshine started putting baggies of the coins into her school backpack.
"I'm going to take it for milk money. I'm taking it for my friend Layla," she explained. "She doesn't get milk — her mom doesn't have milk money and I do."
Grandma Jackie Oelfke later helped Sunshine start a GoFundMe page, hoping to raise maybe $700 towards needed milk money.  It turned into almost $8500 at last report.  Click through to this story for a Daily Kos petition on school lunches.
Alecto, maybe you could help these folks to keep all of their good efforts unceasing.
Now, if only we could find out what happened to Sherin Mathews.
The three-year-old disappeared around 3:00 a.m. on October 7 from her home in Richardson, TX.  Maybe.  Her father says, as punishment for not drinking milk, he sent her outside to stand by a tree.  Fifteen minutes later, he noticed she was missing.  He says.  (Did I mention there are coyotes in the area?)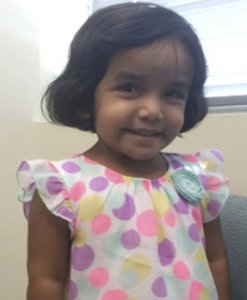 After sunrise, he reported the disappearance. He was arrested on child abandonment and endangerment charges the same day Sherin went missing but has since been released on bond.  Apparently the adults have stopped cooperating with the investigation.
But at some point during the first week after her disappearance, the police learned that the family's SUV had been driven out around 4:00 a.m. that morning and returned within an hour.  Her father had said he was doing laundry.
Sherin is adopted.  The couple also have a biological child, who was immediately placed into foster care.  She is Indian – not Native American, Indian – and the Consul General of India in Houston is following the case closely.  So is the Times of India.
A number of items have been removed from the home by investigators, one being the GPS from the SUV.  Even if directions were not plugged in, the investigators believe they will be able to determine where the vehicle went, and, in particular where it may have stopped.
However, as I am typing this, she has not been found.
Tisiphone, could you help?  She is said to weigh only 22 pounds (10 kg), and to have an eating disorder and a communication disorder.  But none of that makes her disposable.
And now, as I type, I have the radio on to a show about movie scores, and the score currently being played is the one to "Get Out."  How ironic.
I have a first to share – although not first enough for my taste.
A white police officer was found guilty, having been tried on a first degree murder charge, of killing a black man.
Only he is no longer a police officer.  Even at the time he was off duty, and he retired shortly after the incident.  And although the charge was first degree murder, he was not convicted of that, but of first degree manslaughter.  And to get that much took four trials – there were three prior mistrials.  And did I mention the young black man was his daughter's boy friend?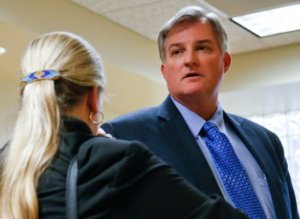 The jury recommended fifteen years in prison for Shannnon Kepler.  We will see.  This was in Tulsa, Oklahoma.  Well, an Oklahoma City jury convicted Daniel Holtzclaw, and the judge imposed the recommended sentence, but he is appealing vigorously.  A Tulsa judge may do the same, although 15 years to me seems like a bad joke after what appears to have been a stalking.
The daughter, Lisa, had been living in a homeless shelter "on and off" since her parents "kicked her out."  A circumstance which leads me to doubt whether "concern for his daughter's safety" was even a miniscule factor in his actions.  They sound more like control to me.  He had stalked his daughter through Facebook to learn she was dating the victim, Jeremey Lake.  He had stalked Lake through the police department files and found an old (juvenile) incident.  He stalked the couple by driving near Lake's address.  When the two walked nearby, and Kepler asked what she was doing there, she walked away.  Lake then attempted to introduce himself and, per his aunt, to extend a hand in friendship, when Kepler shot him.
Kepler then shot Lake, he later admitted, claiming that he thought he saw him reach for a gun.

"He's bringing it, I'm bringing it," Kepler told the courtroom on Wednesday, according to the AP. "It was either him or me. I'm not going to stand there and get shot."
I am not the only person who sees stalking here.  The prosecutors alleged in their closing arguments that Kepler "hunted" Lake down.  And there is no argument
that Kepler left the scene without calling 911 or attempting to giving medical attention to Lake, the Tulsa World reported. Kepler turned himself in about 2½ hours after the shooting, and retired from the force after being charged.
Megaera, I hope you will follow up on this to ensure that the penalty, small as it is, gets imposed.  And I feel for Lisa Kepler, who may have problems, but I don't see from the story as given where she did anything a normal person wouldn't do.  But, normal or not, I believe she needs help.  Your Eumenides hat?
The Furies and I will be back.
Cross posted to Care2 HERE.