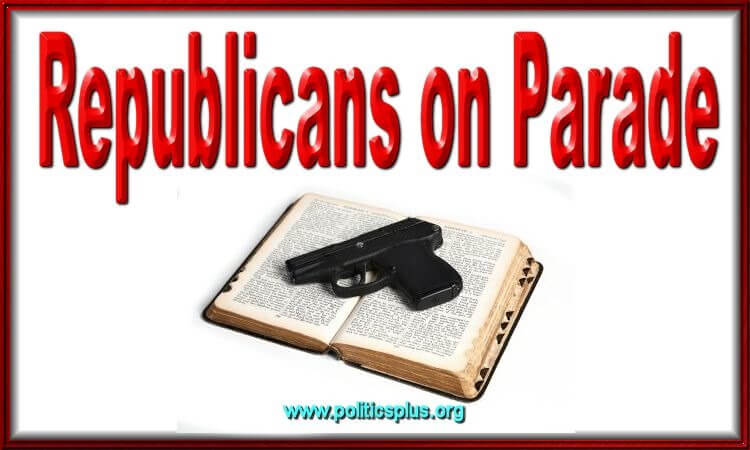 This article is bogus.  Daily Kos is usually an impeccable source, but not this time.  The author depended on a report from Alliance for Justice, which I have now read.  It contains only unattributed claims.  Barrett clerked for and sings the praises of Antonin "Sizzling" Scalia, so she should not be confirmed, but if she made the statements below, I can't find evidence. 

I apologize to you all  for posting fake news.  When I'm wrong, I say so.
Here is the ninety-fourth article in our Republicans on Parade series, featuring individuals who personify what the Republican Party has become. Today's honoree is Republican 7th Circuit Court of Appeals nominee Amy Coney Barrett. She is so honored for saying that the US Constitution must be ignored to mandate the antichristian dogma demanded, but never obeyed, by Republican Supply-side pseudo-Christians.
Anyone serving in the U.S. Government has to abide by the U.S. Constitution as the supreme law of the land, but that is not the ardent belief of Trump's nominee to the Seventh Circuit Court of Appeals.

The idea that the Constitution is secondary to a judge's religious belief has been a growing threat for a decade or so, but now that threat is becoming reality as America lurches toward an evangelical theocracy. For far too long politicians have looked the other way as theocracy-minded evangelicals have infected the government hoping to spread their bastardized version of Christianity like a virulent plague.

At least now some members of the Senate realize the danger of a religious fanatic serving as an appeals court judge, but it is likely far too late to stop a serious threat to the rule of law by a Trump nominee who said judges have a duty to put their faith above the Constitution.

Amy Coney Barrett is a practicing conservative Catholic, and is an extraordinarily enthusiastic opponent of a woman's right to choose. She has written extensively on the Catholic Church's need to dismantle an American long-standing legal medical procedure adjudicated as constitutional in Roe v. Wade.

Barrett also does not subscribe to the idea of adhering to long-established legal precedents if they conflict with her religious belief that laws, or High Court rulings "were gross mistakes" because they are not founded on her Christian religion…
Inserted from <Daily Kos>
Barrett claims, falsely, to be a Christian.  A Catholic, she opposes Pope Francis, like her more liberal judicial example, Sizzling Antonin Scalia.  She is a Republican Supply-side pseudo-Christian, and that makes her an antichristian.  But none of these things disqualify her for a seat on the 5th Circuit.  What does is her belief in Theocracy, because she is directly and openly opposed to the establishment clause in the First Amendment to our Constitution.  That is also what qualifies her for a parade.
RESIST THE REPUBLICAN REICH!!