As sorrowful as this day was in 2011, and as sorrowful as the memories still are, I want to share with you a story about a small Canadian town, population 11,688 (2016), who rose to the occasion in 2011 with little notice.  I say 'who' in referencing the town because this is about the people of Gander, Newfoundland and their response to the tragedy unfolding in New York 16 years ago.
From USA Today — They still don't know what all the fuss is about.
Sixteen years ago, this small Canadian town on an island in the North Atlantic Ocean took in nearly 6,700 people – almost doubling its population – when the Sept. 11, 2001, terror attacks in New York and Washington forced 38 planes to land here.
Their simple hospitality to the unexpected house guests drew worldwide accolades and even inspired a Broadway musical.
"Everyone looks at us and says that's an amazing thing that you did, and the bottom line is I don't think it was an amazing thing, I think it was the right thing you do," says Diane Davis, 53, a now-retired teacher who helped 750 people housed at the town's elementary school.
In a world today seemingly fraught with division, terrorism and hate, they'd do it all over again. Kindness is woven into the very fabric of their nature — they don't know any other way to live.
"What we consider the most simple thing in life is to help people," says Mayor Claude Elliott, who retires this month after serving as the town's leader for 21 years. "You're not supposed to look at people's color, their religion, their sexual orientation — you look at them as people."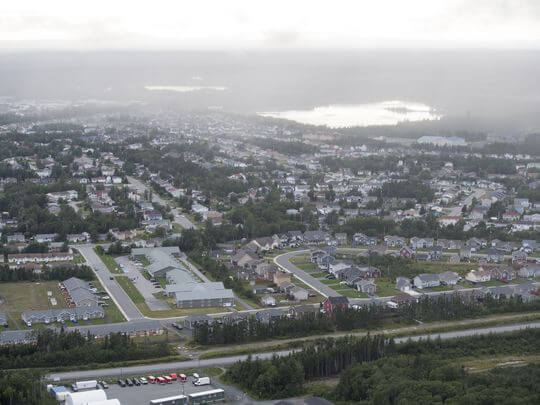 An aerial view of the town of Gander. (Photo: Jasper Colt, USA Today)
Read the rest of the story.  Now you might wonder what can a little Canadian town seemingly on the edge of nowhere do?  First you should know that Newfoundland is one place where hospitality reigns.  Although Newfoundlanders have been the butt of a number of jokes over the years, they are a very warm and giving people.  Gander, as small as it is, has an international airport because of its proximity to Europe.  Wikipedia explains:
Gander was chosen for the construction of an airport in 1935 because of its location close to the northeast tip of the North American continent. In 1936, construction of the base began, and the town started to develop. On January 11, 1938, Captain Douglas Fraser made the first landing at "Newfoundland Airport", now known as Gander International Airport, or "CYQX", in a single-engine biplane, Fox Moth VO-ADE.

During the Second World War, as many as 10,000 Canadian, British and American military personnel resided in Gander. The area became a strategic post for the Royal Air ForceAir Ferry Command, with approximately 20,000 American- and Canadian-built fighters and bombers stopping at Gander en route to Europe.
I am a proud Canadian, and even prouder to know that Newfoundland joined Canada on 31 March 1949 becoming Canada's 10th province bringing their caring and generosity with them.  Newfoundland's name was official changed to Newfoundland and Labrador by constitutional amendment in December 2001.  Wikipedia gives some background to the name.
The name "Newfoundland" is a translation of the PortugueseTerra Nova, that is also reflected in the French name for the Province's island part (Terre-Neuve). The influence of early Portuguese exploration is also reflected in the name of Labrador, which derives from the surname of the Portuguese navigatorJoão Fernandes Lavrador.[9]

Labrador's name in the Inuttitut language (spoken in Nunatsiavut) is Nunatsuak, meaning "the big land" (a common English nickname for Labrador). Newfoundland's Inuttitut name is Ikkarumikluak meaning "place of many shoals".
A big Thank You to the people of Gander!!!