Well, I'm going to accost you with my lamentations – because this has NOT been a particularly fun week.
It started out fine with taking my pseudo-aunt (my aunt's sister) to the Kansas City Zoo. She uses a walker, but we went last year in April and had a great time. We only got about half the Zoo visited last year, so we did the other half this Monday.
On leaving my VSA (Vehicle Stability Assist) warning light came on and stayed on. It does that when you spin tires on ice – but goes out once everything is back to normal – and it was a gorgeous spring day So I pulled off the road and read Owner's Manual. It said turn off the engine and then restart the car – if it lights up again, take it in for a service.
NO LIGHT – YIPPEE!
But then not 30 seconds later, the Engine Malfunctioning Indicator light came on – and stayed on. (At least it wasn't blinking, which means it needs immediate attention.) So I called to get a service appointment – but since it wasn't an emergency, they gave me Wednesday.
And by Wednesday, the light had gone out – but since I'm going to Illinois next week for Mom's cardiology appointment, I decided to take it in.
It was $79 for the diagnostic test to learn it was some "computer glitch" – probably the best I could hope for.
BUT they also said from the diagnostics that my left rear wheel bearings were shot and needed immediate replacing! That was $809 of ouch!
I will say my pseudo-aunt had heard something odd from the right rear last year on a trip that led to my replacing the right rear wheel bearings. And on the trip to the Zoo on Monday said she hear something similar but fainter from the left rear.
Then yesterday when I went to mow the lawn, my Toro would not start. So I had to rent one (hate asking the neighbors), and will take it into the shop today. There goes another boatload of money, I'm sure.
GRRRR
So this will be very brief – and there'll be none next week when I'm in Illinois. (I'll be taking my pseudo-aunt up, too, so she can visit her sister – my real aunt.)
Thought we could all learn a lesson in the difference between class (Thanks, Obama!) and crass (ahhhh … that'd be YOU, Twitler!).
As you probably know, Twitler invited Sarah Palin to dinner at the White House this week, and Palin brought along Ted Nugent & Kid Rock. They decided to post a couple of photos with the Hillary portrait. To contrast their demeanor, compare it to the respect Pres. Obama shows the Reagans.
Pres. Obama's official White House photographer, Pete Souza was ever so subtle, but effective, with his Instagram response: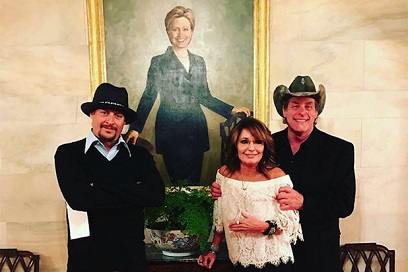 Now compare that to this …
And to at least include a little fun, how about some feline critters demanding food service