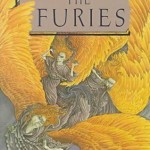 Experts in autocracies have pointed out that it is, unfortunately, easy to slip into normalizing the tyrant, hence it is important to hang on to outrage. These incidents which seem to call for the efforts of the Greek Furies (Erinyes) to come and deal with them will, I hope, help with that. Even though there are many more which I can't include. As a reminder, though no one really knows how many there were supposed to be, the three names we have are Alecto, Megaera, and Tisiphone. These roughly translate as "unceasing," "grudging," and "vengeful destruction."
The Marshall Project has a series called "Case in Point," in which Andrew Cohen examines a single case or character which sheds light on the criminal justice system. Jules Letemps is such an individual with such a case, and, while it certainly sheds light on how people may be sentenced and spend years in prison for stuff they didn't do – and there are way too many of those cases – this one also sheds light on immigration in the United States.
The article gives a good deal of backstory, which is, if depressing, worth reading. But the gist of the case is this:
Letemps came to Florida in 1981 on "humanitarian parole," a temporary status granted to those fleeing their country for urgent humanitarian reasons. He had fled Haiti on a boat with his father and sister, among thousands of Haitians who emigrated due to political unrest and economic turmoil….

When he arrived in Florida, Letemps moved in with his mother (shown right) in Miami's Little Haiti neighborhood, where she had arrived the year before. He got jobs picking tomatoes and selling food at an airport kiosk. He soon left Miami to work at an orange grove near Orlando. There he started dating a woman and in 1986, she got pregnant. Letemps claims this was what led to his drug charge. "I couldn't help her because I didn't have a good job," he said. "I bought 20 dollars worth of dope so I could sell it and make some money, but then the police arrested me."

Letemps pled guilty to delivery of cocaine, and was sentenced to the five months he had already spent in jail. Immigration officials took no action against him. It was [a] later sexual assault conviction that brought him to ICE's attention.
When he came to Florida, he was 17. When he was 26, he left his home, his (pregnant) partner, and his two daughters to go to work at a dealership where his job was washing the cars. He never got there. Nor did he ever come home. He was stopped by a police officer, fingered by a crying woman as her rapist, arrested, and charged.
He was assigned a public defender but no interpreter. He was found guilty and given four concurrent life sentences, and has been in prison ever since. He gradually lost contact with everyone except his mother, Pierrecina Aureus. Siblings, nieces, nephews, his partner, his daughters – none knows him now.
In 2010, Centurion, a non-profit legal service which has works on exoneratatons, took on his case. Their lawyers discovered in the file of the trial a seroligical test of a semen stain on the victim's robe, which completely excluded Letemps as the rapist. THE EVIDENCE HAD BEEN IN THE RECORDS ALL THE TIME. Apparently the public defender misunderstood it. It was never presented to the jury.
The Florida State Courts initially ruled that Centurion's appeal came too late, but the Eleventh Circuit Court of Appeals granted them permission. In July 2015, a federal district judge ordered a new trial. And in October 2016, the state dropped all charges.
Centurion knew there would be immigration issues, so they brough on immigration attorney John Pratt. Since his initial entry status was "humanitarian parole," and the felony conviction would have revoked that, he is now categorized as an "arriving alien" in court proceedings, not entitled to a bond hearing before a judge. Only DHS can let him go. Or not. In November they denied that, so he will likely be detained until his immigration status is resolved. He is now 53, so he has been in prison a little over half his life.
"Based on Mr. Letemps' criminal past, ICE determined that his detention is warranted," wrote [ICE} spokesperson [Tammy] Spicer in an email.
Alecto, I think this has been going on long enough.
Speaking of immigration, the Baltimore Sun raises a question about all the – stuff – that happened last week, when the executive order/Muslim ban was thrown into the mix at every United States airport.
When we worry and wonder about authoritarian regimes that inflict cruelty on civilians, we often imagine tyrannical despots unilaterally advancing their sinister agendas. But no would-be autocrat can act alone. As a practical matter, he needs subordinates willing to carry out orders. Of course, neither Donald Trump nor Steve Bannon personally detained any of the more than 100 people held at airports over the weekend pursuant to the administration's executive order on immigration, visitation and travel to the United States. They relied on assistance.
They refer to incidents such as the 5-year-old child handcuffed and detained, separated from his mother, for several hours. The mother traveling with two children who was handcuffed, detained for 20 hours without food, separated from her children (who were US citizens.) The 65-year-old mother of a US serviceman detained for 33 hours and denied the use of a wheelchair. I expect we all heard about all of these. They point out: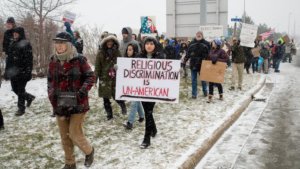 The men and women who work for the federal government completed these and other tasks and then returned to their families, where perhaps they had dinner and read stories to their children before bedtime.
Authoritarians don't need monsters. They need people who will follow orders dutifully, even if the orders are monstrous. And the Sun continues that we all need to ask ourselves what we will do. Because it's so much easier to do nothing than to do something. "If we do nothing, that is a choice. It means we accept a government that has demonstrated it is capable of inflicting cruelty on the innocent and defenseless."
Megaera, Tisiphone, come and visit all of us this week. Help reinforce our spines so that we will have the backbone to keep resisting all the way.
The Furies and I will be back. We are considering adding a special, one-time, "delusion edition" between Saturdays.
Cross posted to Care2 at http://www.care2.com/news/member/101612212/4036175