I'm writing for tomorrow, day 104.  After sleeping late, I've spent the entire day so far collecting the data tor the Monthly Report, and will spend most of the rest of it preparing the report itself.  The downside is that I made a mess yesterday and today.  Tomorrow I'll need to clean up after myself.
Jig Zone Puzzle:
Today's took me 2:59 (average 5:22).  To do it, click here.  How did you do?
Short Takes:
From The New Yorker: Republicans who were angered to learn on Wednesday that the former I.R.S. official Lois Lerner had referred to them as "crazies" and "assholes" responded later in the day by voting to sue the President of the United States.
"Calling us crazy assholes is insulting, derogatory, and beneath contempt," House Speaker John Boehner told reporters. "And now if you'll excuse me, ladies and gentlemen, I have to go sue Obama."
Determined to burnish their reputation as extremely sane people who are not assholes at all, House Republicans in their lawsuit accuse the President of "coldly and arrogantly seizing power granted to him by the United States Constitution."…
With respect to Andy, I am also angry at Lois Lerner. There is no justification for her to refer to Republicans in terms so much kinder and more generous than they deserve.
From Daily Kos: Ain't freedom grand? And what says freedom better than being free from government mandates like the guarantee that you can't be denied health insurance because of a pre-existing condition?
As we all know, the South has forever been a place where people value freedom and liberty for everyone.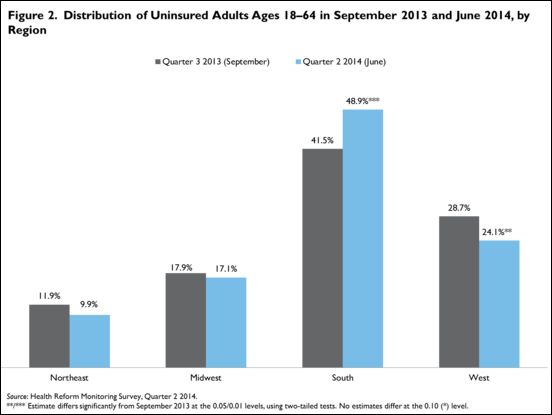 Aren't those people lucky to be covered by the RepubliCare Death Benefit? They get to die for free, if they can't pay.
From NY Times: \House and Senate lawmakers scrambled to leave town on Friday night for a five-week recess, with a failure to address the refugee crisis at the southern border only the latest indignity in a year that may redefine congressional dysfunction.
The 113th Congress this week took another step toward ignominy as one of the least productive, most divided in history. Vocal Republicans were empowered, virtually dictating terms of two House border security bills even after party leaders had spent much of the year trying to marginalize them.
The results were bills with no chance of becoming law, and ones diametrically opposed to the direction party elders had advised Republicans to go after their losses in 2012.
That's nothing unexpected.  The Republicans have sown the wind. May God grant a November whirlwind, but in case she doesn't, get out the vote!
Cartoon: