Here are the results of our Campaign Volunteering Poll.  Politics Plus Polls are not scientific, because those who respond are not balanced according to demographic categories.   Therefore, we do not accurately reflect the makeup of the US population.  Nevertheless, our polls are often both accurate and indicative of the nation's view.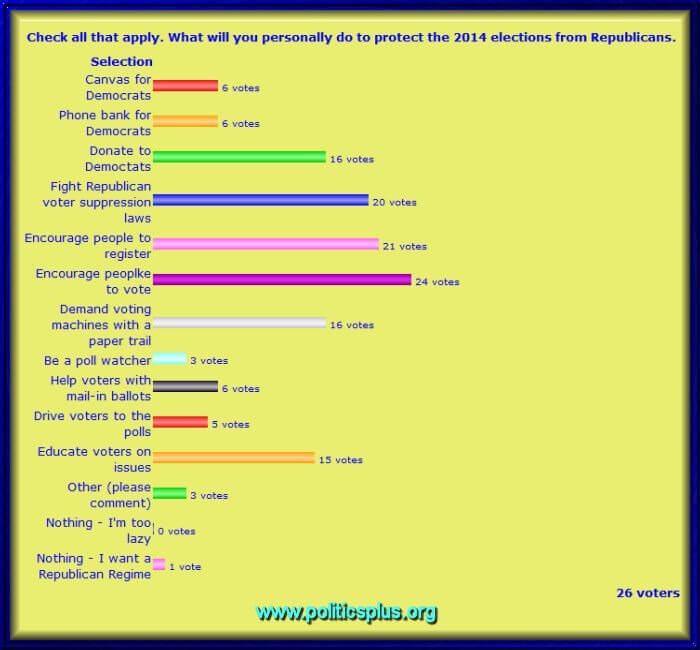 And here are your comments.
Showing comments 1–8 of 8.

Posted by Fred L.  April 8, 2014 at 9:41 pm.  

 

Also spread the word about the Koch boys. Give Harry some

credit for doing this as well.

 

Posted by Lynn Squance  April 3, 2014 at 3:59 pm.  

 

Being a Canuck, there isn't much I can do. However, I can talk up a storm on Care2 and Politics Plus giving my view on a number of issues.

 

One thing that disturbs me is seeing our Prime Minister take the Republican route in Canada. Right now he is refusing to deal with healthcare preferring that we go to a "for profit" system like the US. He also has election reform on the front burner to prevent voter fraud, but it is Conservative election fraud (think robo calls etc) that is the problem. Tinkering with voter ID etc. The damn Republicans are a communicable disease that is infecting other places outside the US!

 

So I'll talk and be opinionated!

 

Posted by misstexaskitty  April 3, 2014 at 7:05 am.  

 

I do these things every voting cycling and this one will be no different. I'm not happy with DCCCD deciding to hold money from candidates, but that will not stop me from working on this up coming election.

 

 

Posted by IRH  April 2, 2014 at 7:22 pm.  

 

I also sign petitions left and right in order to benefit all animal welfare, all democratic causes, etc. – BUT – unfortunately I cannot donate, but if it helps, I sign form wherever I am in the world. –

 

– Be well TomCat.

 

Posted by TomCat  April 1, 2014 at 10:17 pm.  

 

My other is that I write Politics Plus.

 

Posted by Edie  April 1, 2014 at 5:12 pm.  

 

I sign petitions left and right, alienate my friends, and talk politics in inappropriate places all the time. Occasionally, I get someone to agree with me. I don't have money to donate or time to spend on the phone, but I can do a little.

 

Posted by Joanne D  April 1, 2014 at 7:14 am.  

 

I am retired on Social Security, I am disabled, I have mild PTSD which takes the form of an extreme aversion to telephones, and I am the world's worst salesperson, which means any attempt by me to educate on issues orally will likely have an opposite effect. I am in a mail-in state so we already have a paper trail. (I do give what I can when I can. For the end of the 1st quarter I made a small donation but it had to be split among 9 candidates and Public Citizen.

Gee, no wonder I feel helpless.

 

Posted by Rixar13  March 31, 2014 at 2:35 pm.  From 72.91.165.x  Report Abuse 

 

All of the above…
Nobody admitted to being a lazy lefty. and we had only one goose-stepper.
Not everyone can do everything.  Canvasing and phone banking exceeds my physical limitations, as would poll watching and driving voters to the polls, were Oregon not 100% vote-by-mail.  What is important is that we all do all we can, and I hope this poll helps identify the areas where help is most needed.
The new poll is posted.  Don't forget to vote, please.