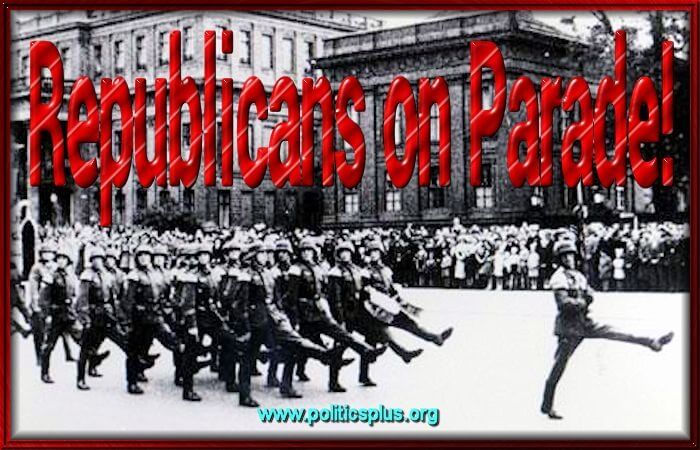 Here is the forty-first article in our Republicans on Parade series, featuring individuals who personify what the Republican Party has become. Today's honoree is Austin Ruse from the Catholic Family and Human Rights Institute. He is so honored for blaming an individual choice on a whole class of educators, and then suggesting to deal with those people the way only Republican Supply-side Jesus would: killing them.
If it were possible for American Family Radio to go too far, it did today.  This morning, regular morning drive-time host Sandy Rios was off, so Austin Ruse of the Catholic Family and Human Rights Institute served as guest host.  Ruse's organization is rabidly opposed to the United Nations.  For instance, when the Convention on the Rights of Persons with Disabilities came up for ratification by the Senate, Ruse blasted out an email claiming that the UN would use it as an excuse to take kids from their parents.  In part due to hysteria stirred up by Ruse and other wingers, the treaty came up six votes short of the 67 needed for ratification.  That should tell you all you need to know about Ruse and his outfit.

But today, Ruse went several miles off the deep end.  As many of you know, a freshman at Duke University recently revealed she's helping to pay her tuition by acting in porn films.  As degrading as that is, Ruse's reaction was even worse.  He claimed that this is evidence liberal academics should just be "taken out and shot."  No, this isn't snark–People for the American Way got a clip.

That is the nonsense that they teach in women's studies at Duke University, this is where she learned this. The toxic stew of the modern university is gender studies, it's "Sex Week," they all have "Sex Week" and teaching people how to be sex-positive and overcome the patriarchy. My daughters go to a little private religious school and we pay an arm and a leg for it precisely to keep them away from all of this kind of nonsense. I do hope that they go to a Christian college or university and to keep them so far away from the hard left, human-hating people that run modern universities, who should all be taken out and shot.

This is unacceptable.  Period, full stop.  There is no way, no how that this sort of talk is protected speech.
Inserted from <Daily Kos>
I not even going to touch the ramifications of a student paying for college with porn, except to say that, no matter how much I disagree with it, it remains her choice to make.  However, I trust I'm safe in believing that the Women's Studies Department at Duke had nothing to do with her decision.  For Austin Ruse to propose murdering secular college administrators is hate speech, completely Antichristian, and obviously Republican.