In February, Politics Plus remained dead slow, because for most of the month, I was ill or doing volunteer work.  It was even down from January, and that is completely my responsibility.
Here is our latest summary: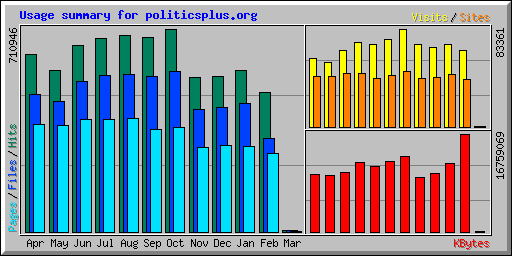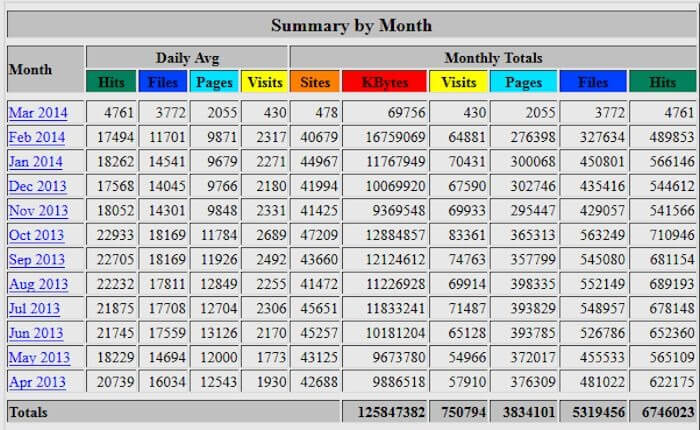 In the monthly totals, a Site is any website from which someone accessed our server, a Hit is every access attempt to our server, and a File is every access attempt to our server that returned data.  The difference between Hits and Files is from access attempts that were sent in error or damaged in transit and failed attempts by hackers, spammers, phishers, and Republicans to access the back end and take control of the site.  Any questions?
Here is our latest Clustrmap:

Our map was archived in February 2013, so what you see is from March 1 to February 28, when it was last updated.  This should be the last map before it resets again
Here are are top five articles:
Jane Smiley: Capitalist Pigs
Wasteful Government Spending
The Report You Won't See on Faux Noise
A Republican Freedom
Why Fox Is Banned in Canada
While pleased that articles from 2010 – 2013 are still bring traffic, it worries me that only one was from last month.
Here are our top non-blog/news referrers.
Care2 3,259
Stumbleupon 272
Facebook 118
Thank goodness for Care2!!
Here are our top blog/news referrers.
http://frieddogleg.blogspot.com/
http://bildungblog.blogspot.com/
http://rixar13.newsvine.com/
http://oakcreekforum.blogspot.com/
http://theleftinme.blogspot.com/
http://zenman1550.tumblr.com/
http://hamsandwich66.blogspot.com/
http://www.synapticstew.com/
http://alterx.blogspot.ca/
http://annette-justmylittlepieceoftheworld.blogspot.com/
http://infidel753.blogspot.com/
http://mockpaperscissors.com/
http://reconstitution.us/rcnew/
http://disaffectedanditfeelssogood.blogspot.com/
http://jackjodell53.wordpress.com/
Putting their links here increases the ratings of their sites, so this "linkey love" is our thank you for their support.
Here are our top commentators:
Lynn Squance (87)
Patty (81)
Joanne D (52)
rixar13 (50)
Edie (49)
Jerry Critter (37)
SoINeedAName (20)
Pat A (18)
misstexaskitty (12)
Arielle (7)
Avril Lomas (7)
Phil Hanson (7)
Yvonne White (7)
Lee Evans (6)
Angelica (3)
Deb E (3)
john dasef (3)
Those who leave their URLs in their comments, also get "linkey-love" here.
We have 357,997 links on other websites.
Our Technorati rating is 113, down 1 from last month, but still low on the B list.  These ratings yo-yo and do not depend on our traffic or our overall links, but only links on sites registered with and recognized by Technorati.  If only Care2 would register their front page of C2NN news with Technorati, we'd be A list again every month, once I started posting in sufficient quantity to justify it.
As of Midnight, March 1, we have 4,722 articles and 50,875 comments.
I recommend using your own avatar. Go to Gravatar.  Sign up using the email address you use to post comments here and upload the image you want to use as your avatar.  Whenever you comment under that email address here or on any WordPress blog (several others too), that image will become your avatar.
We see Republicans running further and further to the right, and rejoice, because the further right they go, the more voters they alienate.  We need to maximize gains while we can, because it will change as soon as primary season ends.  At that point they will shift to the center.  If elected they will continue the same extreme policies, and their war against the American poor and middle classes will continue, but they will move heaven and earth to fool voters.  For the most part, media will parrot their lies, so we need to stand ready to confront them with the truth and to educate and energize voters.  Thank you for everything you do to make Politics Plus part of that effort.