Here are the results of our Debt Ceiling Poll.  Politics Plus Polls are not scientific, because those who respond are not balanced according to demographic categories.   Therefore, we do not accurately reflect the makeup of the US population.  Nevertheless, our polls are often both accurate and indicative of the nation's view.  This time, however, only two of us got it right.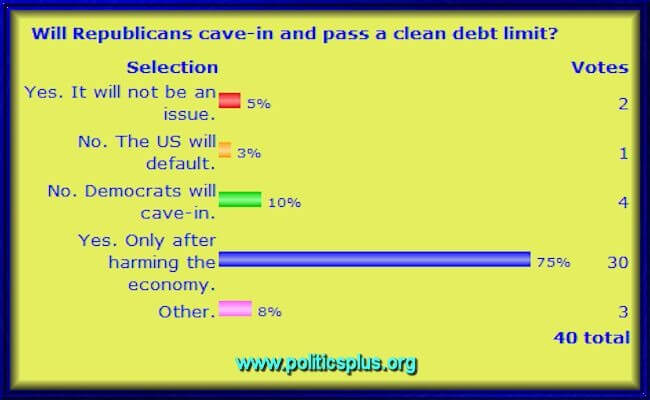 And here are your comments:
Showing comments 1–7 of 7.

Posted by SoINeedAName  February 9, 2014 at 2:28 pm.  

 

Harming Americans?

It's what they do.

What can you expect? It's in the Repubican DNA!

 

Posted by Joanne D  February 2, 2014 at 5:29 am.  

 

Actually right now I am sweating getting my last 1099 to file taxes before they freeze everything. I won't starve, I have savings, but it could be an inconvenience. I know, first world problem.

 

Posted by Edie  February 1, 2014 at 5:02 pm.  

 

They will have to posture and show their "strength" before they will pass it, in the meantime the rest of us will suffer.

 

 

Posted by Lynn Squance  February 1, 2014 at 9:27 am.  

 

I truly believe that the Republicans are so blinded by their ideology that they are incapable of learning from their past actions and mistakes.

 

Posted by mamabear  February 1, 2014 at 4:48 am.  

 

I voted other but yes after they do more to brainwash the country. After all Tom Obama is the one who is "Alien from another country."

 

 

Posted by dave c  February 1, 2014 at 3:25 am.  

 

no clue….can't figure out the brainless

 

Posted by Patty  February 1, 2014 at 2:17 am.  

 

Of course they will have to hurt the country before they do anything even slightly positive.
I was one of the two people who voted correctly that Republicans would cave-in and pass a clean debt-ceiling.  This is an election year, and the Republican leadership remember what happened the last time they shut down the government.  Provoking another major public outcry, this close to an election,  would have worked at cross purposes to their highest goal, establishing a permanent, totalitarian Republican Reich.  As humiliating as the cave-in was, the alternative was even worse for them.
A new poll is up.  Don't forget to vote.