I'm writing for tomorrow, and as I trust you gathered from the lead article, it finally came together on my new place.  As a result, my schedule will be quite erratic over the next month, and I may or may not be blogging on any given day, with or without notice.  Tomorrow I will be going for my disabled transit interview. Friday I will be getting the key and undergoing the whole rental process at the building owner's office.  From there I will go to the building, measure, and check out a few more details.  Saturday and Sunday I will be planning what to buy and what will go where.  Next week I will be making like a Republican: spend, spend, spend! For the next two weeks, I shall be there during the day on and off to get deliveries and arrange things.  Shortly after the 1st, I'll be moving the most difficult thing: me and my kitty box.  Then I will have a load of things to do like get new checks change my ID, update my voter registration, and change my address with a boatload of people with whom I do business.  then there are the hundreds of things I haven't thought of yet.  If I got this busy digging in my kitty box, I'd hit China!!
Jig Zone Puzzle:
Today's took me 4:07 (average 4:34).  To do it, click here.  How did you do?
Fantasy Football Report:
Here's the latest from our own fantast football league, Lefty Blog Friends.
Scores: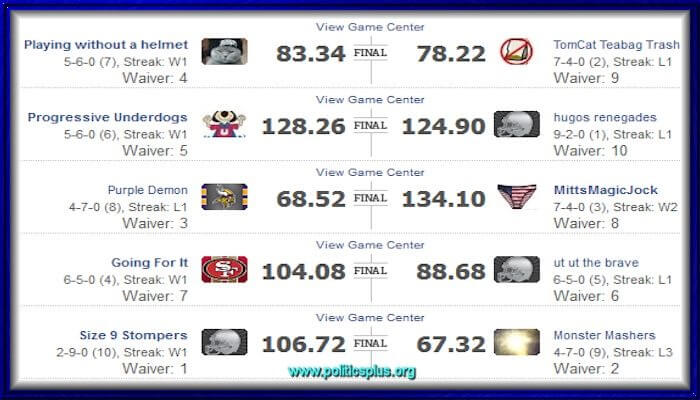 Denver played a very conservative offensive game to protect Manning from the Chiefs' powerful defense.  Winning the game and keeping him healthy was worth the fantasy loss.
Standings: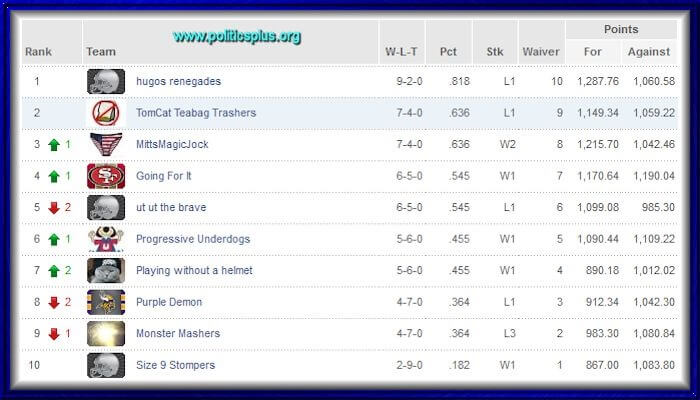 I'm two games out again.
Short Takes:
From Upworthy: A Famous Columnist Has Trouble Defining Racism. Colbert Eats Him For Dinner.
Richard Cohen is not a GOP racist, the Pope is not Catholic, and bears never, ever shit in the woods!
From YouTube: Sarah Silverman To Chris Hayes: I Think Vaginas Really, Really Scare People.
I'll say one thing for certain! The one on Wendy Davis sure scares the Republican Party!!
From MSNBC: TEAbuggering ObamaCare at the state level
Visit NBCNews.com for breaking news, world news, and news about the economy
Don't be a vicious Koch Sucker Support ObamaCare, dump Republicans, and then, support Medicare for all.
Cartoon: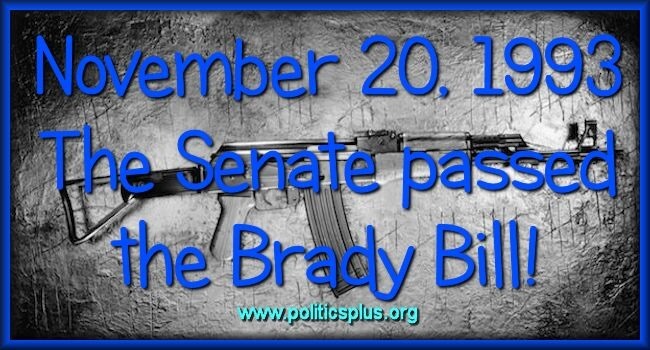 Version 2 is long past due!!