I'm writing for tomorrow and running very late, because Stuck on Stupid went on a tear with the buildings power last night.  I overslept and then had to put groceries away.  I'm pooped!
Jig Zone Puzzle:
Today's took me 3:38 (average 5:32).  To do it, click here.  How did you do?
Fantasy Football Report:
Here's the latest from our fantasy football league, Lefty Blog Friends.
Scores: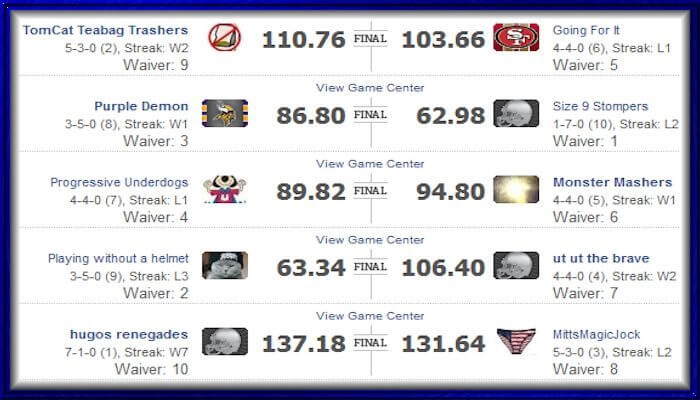 Judy almost got me!
Standings: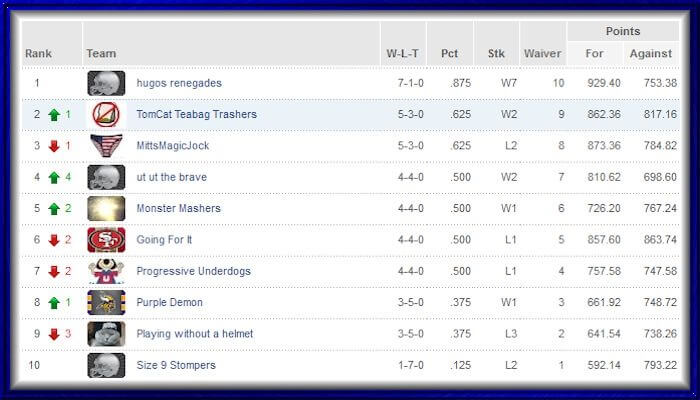 I'm coming up, but I'm in trouble this week, because Peyton is bye.
Short Takes:
From The New Yorker: Responding to the firestorm of controversy over its spying on European allies, the head of the National Security Agency said today it would do everything in its power to avoid being caught doing it in the future.
"There are two important jobs for every spy agency: spying on people and avoiding detection," said the N.S.A. chief General Keith Alexander. "Unfortunately, at the N.S.A. we have only done the first job well."
"We have abused the trust of some of our closest allies," he said. "And none of this would have happened if they hadn't found out."
General Alexander said that the agency was instituting strict new practices that amounted to "a zero-tolerance policy on getting caught."
Given the level of incompetence that burrowed-in Republicans bring to the NSA, that's a promise they just can't keep.
From NY Times: The House is scheduled to vote on two bills this week that would undercut new financial regulations and hand Wall Street a victory. The legislation has garnered broad bipartisan support in the House, even after lawmakers learned that Citigroup lobbyists helped write one of the bills, which would exempt a wide array of derivatives trading from new regulation.
The bills are part of a broader campaign in the House, among Republicans and business-friendly Democrats, to roll back elements of the 2010 Dodd-Frank Act, the most comprehensive regulatory overhaul since the Depression. Of 10 recent bills that alter Dodd-Frank or other financial regulation, six have passed the House this year. This week, if the House approves Citigroup's legislation and another bill that would delay heightened standards for firms that offer investment advice to retirees, the tally would rise to eight.
Both the Treasury Department and consumer groups have urged lawmakers to reject the bills, warning that they could leave the nation vulnerable again to excessive financial risk taking. The House proposals stand little chance of becoming law, having received a much chillier reception in the Senate and at the White House, which on Monday threatened to veto the bill on investment advice for retirees.
If your Rep or Senators vote for these, hit them with a cactus suppository!
From Bing Video: Idiot is sooooooooo original!
Idiot, Son of Idiot, Named after idiot approaches elections and speeches in the same way: he steals them.  (Those of you who are out of country, let me know if this works.  I'm trying to source Rachel from outside of MSNBC, when I can, so you can see it too.)
Cartoon: