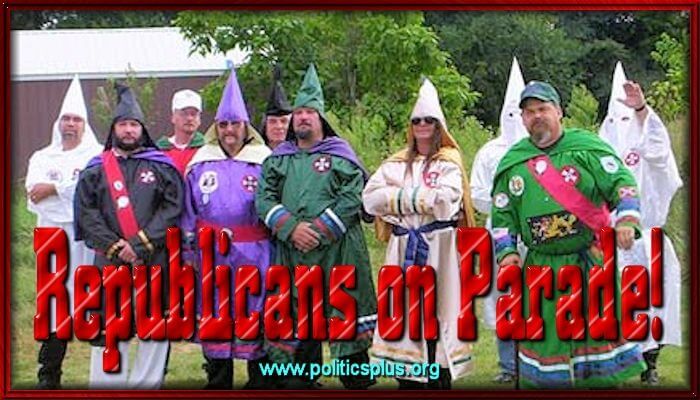 Here is the thirty-third article in our Republicans on Parade series, featuring individuals who personify what the Republican Party has become. Today's honoree is former [just resigned] Republican Party official Don Yelton.  He is being honored because of the Republican manner in which he demonstrated Republican outreach to minorities.
Last night, The Daily Show's Aasif Mandvi introduced the world to Don Yelton, the Republican precinct chairman for North Carolina's Asheville area.

Don Yelton is an unashamed, blatant, in-your-face racist. Listening to him talk about 'lazy blacks' and how you used to 'have' to 'call them negros' but now they get to say 'nig-er this and nig-er that' but he doesn't get to but it's all good because one of his best friends is black…on national TV mind you…my jaw dropped. When Mandvi asked if he understood that 'we could hear him' (as in, you do know that you are saying these things out loud…right?), I cheered.

Today, Don Yelton resigned. Good riddance to bad trash. Despicable man.

He did, however, open the door to what is really happening in North Carolina regarding voter suppression. Sure, we all know the real motives behind the new voter ID laws but accusations are never as powerful as admissions. And at a time when McCrory is making it clear that he is not happy that the Attorney General responsible for defending the new measures is 'out' as being very opposed to them himself. Ha!…
Inserted from <Daily Kos>
Rachel Maddow covered this story and a few other related ones. (If this embed will not play in your country, you can follow the link to her show and find the video on her Friday night show.)
If nothing else Yelton demonstrated perfectly how Republicans reach out to minorities.  Republicans in power SAY they are not racist, but they DO racist things.  Yelton is not the rare exception, beyond being stupid enough to brag about it on TV.