I'm writing for tomorrow, having just returned from a local meeting.  After Thursday's meeting I was so wiped out that I went to bed and stayed there, taking a few short breaks, until this morning.  Sorry I've been so scarce, but I needed to recharge. Tomorrow is a holy day in the Church of the Ellipsoid Orb.  My Broncos are worshiping with the misnamed Redskins.  It's the same as calling a team the Texas Wetbacks or the Jerusalem Foreskins.  It will be televised here.  Wooo Hooo!!
Jig Zone Puzzle:
Today's took me 5:04 (average 5:36).  To do it, click here.  How did you do?
Short Takes:
From Upworthy: Don't Worry, This Is Only A Movie! Except It's Not And We're All Going To Die.
What do we do now? We remove every Republican from office and support Democrats who are environmentally friendly over DINOs in primaries.
From Daily Kos: It's been a long time coming, but Tea Baggin' Conferderates Secessionist Slavery Deniers are coming openly out of the closet more and more as time goes on.
There have been numerous examples from South Carolina's (Now) Lt. Governor Glenn McConnell posing with mock-slaves in a Civil War Uniform during the "Southern Experience" event for the National Federation of Republican Women. Virginia Governor Bob McDonnell's Celebration of "Confederate Day", Texas Governor Rick Perry's not-so-veiled threats of secession to the Rand Paul Staffer who called himself the "Confederate Avenger"…
…And yet, there's more.
Click through for a fascinating article about seditious Republican secessionists.
From Think Progress: On Friday, the Association of American Medical Colleges (AAMC) announced that a record number of students applied to American medical schools in 2013 and that a record number of first-year students has enrolled in medical schools this year. Experts say that's an encouraging sign in the face of a primary care doctor shortage that will likely be exacerbated by an influx of newly insured Americans seeking medical treatment as the Affordable Care Act goes into effect.
"At a time when the nation faces a shortage of more than 90,000 doctors by the end of the decade and millions are gaining access to health insurance, we are very glad that more students than ever want to become physicians," said AAMC president Dr. Darrell G. Kirch in a press release.
This is certainly good news for Obamacare, and it debunks the Republican lie that there will not be enough doctors to meet the need.   I looked for similar support for RepubliCare, but could find no corresponding jump in enrollment for mortuary students.
Cartoon: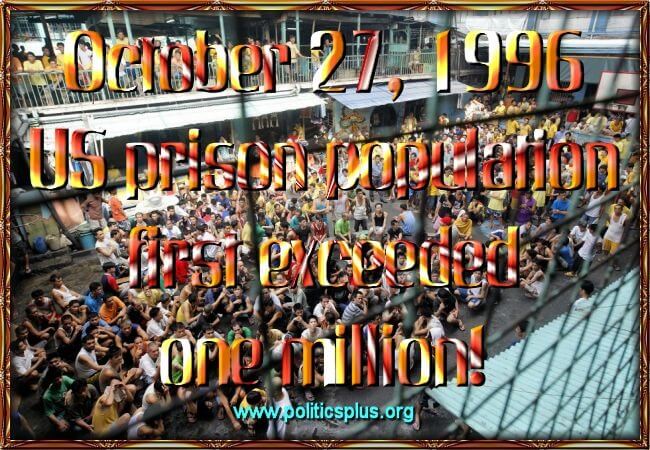 For the American exceptionalism set, at last you get a #1.  America is #1 at locking up our citizens.