Here are the results of our Republican Shutdown or Republican Default Poll.  Politics Plus Polls are not scientific, because those who respond are not balanced according to demographic categories.   Therefore, we do not accurately reflect the makeup of the US population.  Nevertheless, our polls are often accurate.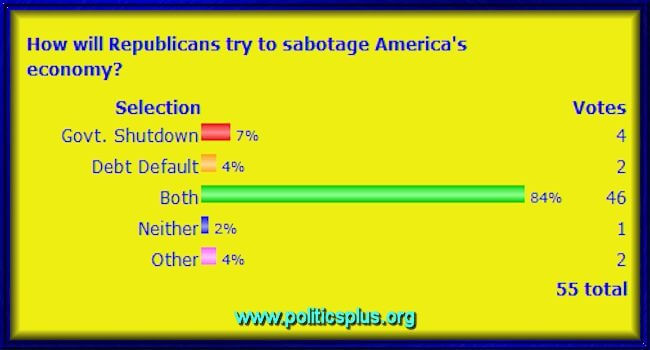 And here are your comments:
Showing comments 1–9 of 9.

Posted by SoINeedAName  September 28, 2013 at 9:24 am.  

 

Both.

Only possible good to come from it will be a better chance for Democrats to re-capture the House in 2014 from the hostage-taking rethuglicans.

 

Posted by Archie  September 25, 2013 at 5:27 pm.  

 

Well the repubbers will be the conjute to disaster,but the REAL CULPRITS are those mega rich acerholes (anag) who are really directing them!javascript:%20smiley("

"

;

 

Posted by Lee  September 23, 2013 at 9:21 am.  

 

I am so fed up with all this. I really hope that with the next interim election, the PEOPLE will finally get these obstructive politicians out of Congress and the Senate!

 

Posted by Sharon Hamrick  September 23, 2013 at 6:50 am.  

 

No matter what happens, WE, THE PEOPLE, will be the ones to lose. The powers that be have enough money to survive a shutdown. Hope to see some good come from this. Guess I'm an eternal optimist.

 

Posted by Lynn Squance  September 21, 2013 at 2:03 am.  

 

I would hope that the Republican/Teabaggers would find the balls to support the country, and not the abyss in which to destroy it!

 

Republican/Teabaggers are snake oil salesmen and hucksters whose only concern is their own power, control and greed. Their attitude towards the potential government shutdown and the debt ceiling shows that they should be charged with sedition, because their actions, if they follow through on their rhetoric, will result in civil unrest.

 

Posted by Yvonne White  September 20, 2013 at 2:16 pm.  

 

RepubliCONs will go to any lengths to Prove we don't need Half of Government..they don't realize THEY are the half we can do without! We MUST get rid of them – does anyone know how to build guillotines?

 

Posted by Lynn Squance in reply to Yvonne White  September 21, 2013 at 1:56 am.  

 

Amen! Yvonne, amen!

 

Posted by Edith Belcher  September 18, 2013 at 10:28 pm.  

 

They will do both, even if they destroy what is left so they can extort the Pres. to get rid of the Affordable care act.

 

 

Posted by Rixar13  September 18, 2013 at 6:46 pm.  

 

Both – Debt Default and/or Govt. Shutdown
I was one of the many who voted Both.  We were at least half right, although in this case, I would have preferred to be wrong on both.  The House Republicans should openly declare war on the American people, so they could legally be charged with treason.  As it is they are guilty of sedition.
Vote in the new poll quickly.  I hope it will not be up very long.