I'm writing for tomorrow, day 78, and the end of another month.  My doctor appointment yesterday went very well.  The doctor took me off the med she thinks is causing edema in my feet and ankles, and she told me that my chest has never sounded so good in the twelve years she has been my GP.
Jig Zone Puzzle:
Today's took me 4:21 (average 4:49).  To do it, click here.  How did you do?
Short Takes:
From Crooks and Liars:
During the tense final days leading up to the deal to avoid the so-called "fiscal cliff," House Speaker John Boehner (R-OH) had some sharp words for Senate Majority Leader Harry Reid (D-NV). Just steps outside the Oval Office, Boehner told Reid, "Go [email protected]*k yourself." In the Speaker's defense, he was only following in the path blazed by Vice President Dick Cheney, who in 2004 similarly told Democratic Senator Pat Leahy of Vermont to "[email protected]*k yourself." (Of course, Cheney never apologized for dropping the F-bomb on the Senate floor, explaining to Fox News, "I thought he merited it at the time.")
But with the Speaker of the House of Representatives once again threatening to trigger a U.S. sovereign default and a global economic crisis by refusing to raise the debt ceiling in October, it's time someone said to John Boehner the long overdue words he so richly deserves to hear.
Speaker Boehner, go [email protected]*k yourself!
Or putting it another way, go sit on your Boehner!
From The New Yorker: Attempting to quell criticism of his proposal for a limited military mission in Syria, President Obama floated a more modest strategy today, saying that any U.S. action in Syria would have "no objective whatsoever."
"Let me be clear," he said in an interview on CNN. "Our goal will not be to effect régime change, or alter the balance of power in Syria, or bring the civil war there to an end. We will simply do something random there for one or two days and then leave."
"I want to reassure our allies and the people of Syria that what we are about to undertake, if we undertake it at all, will have no purpose or goal," he said. "This is consistent with U.S. foreign policy of the past."
While Mr. Obama clearly hoped that his proposal of a brief and pointless intervention in Syria would reassure the international community, it immediately drew howls of protest from U.S. allies, who argued that two days was too open-ended a timeframe for such a mission.
This is humorous satire, but it sounds way too close to accurate!
From Daily Kos:
Starbucks CEO Howard Schultz told Reuters on Monday that the company has no intent of cutting back the hours of its workers in anticipation of the implementation of the Affordable Care Act (Obamacare). He said,
"Other companies have announced that they won't provide coverage for spouses; others are lobbying for the cut-off to be at 40 hours. But Starbucks will continue maintaining benefits for partners and won't use the new law as excuse to cut benefits or lower benefits for its workers," Schultz said in a telephone interview. [Source]
The Affordable Care Act states that companies with 50 employees are more must offer health insurance to employees who work 30 or more hours a week. Starbucks' business lends itself to many part time employees. It would be easy for them to loophole themselves out of the law. They have decided to continue doing the right thing. After-all, Starbucks provides health insurance to all their employees who work 20 or more hours per week.
Kudos to Starbucks. That earned some coffee business from me!
Cartoon: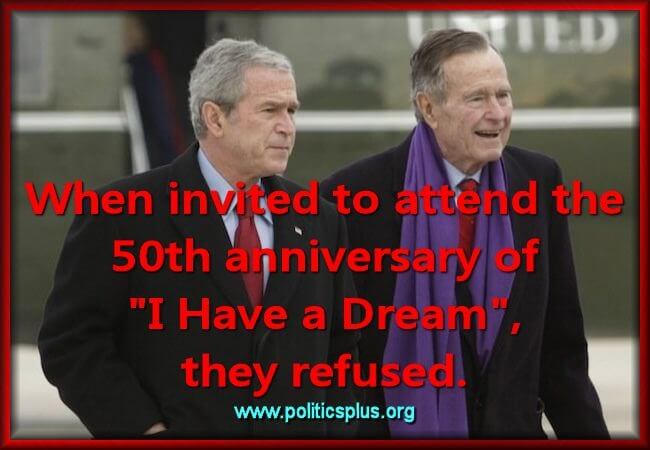 …as did every other prominent Republican invited.  Now the Republican Reichsministry od Propaganda, Faux Noise, is whining about it being all Democrats.