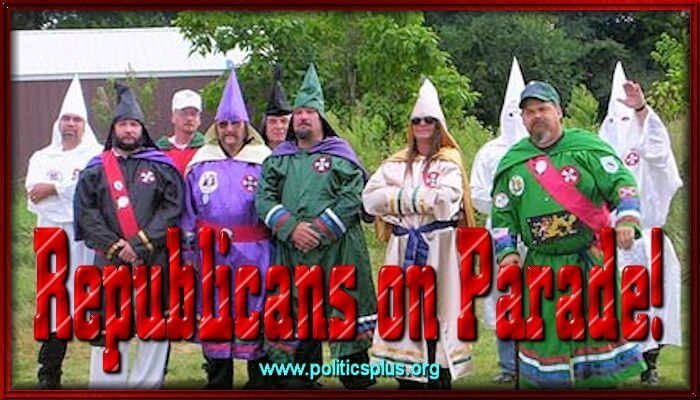 Here is the nineteenth article in our Republicans on Parade series, featuring individuals who personify what the Republican Party has become. Today's honoree is infamous Republican Supply-side pseudo-Christian, Pat Robertson, for accusing Obama of making a deal with the Muslim Brotherhood in Egypt.
Pat Robertson kicked off today's edition of the 700 Club [pseudo-Christians delinked] by interviewing Christian Broadcasting Network contributor Raymond Ibrahim, who spent most of the time rehashing a claim he said he heard from the Egyptian press that "Obama is in bed with the Muslim Brotherhood."…

…Robertson said that it's "appalling" and "shocking to think Obama may have made a deal with the Muslim Brotherhood."

Robertson, who has previously warned that Obama has a Muslim "inclination" and might be a "crypto-Muslim," lamented that "we've got a president, you wonder about where he is coming from." He also warned the Obama administration is trying to aid the Muslim Brotherhood's drive "to establish an Islamic super-state." [emphasis added]
Inserted from <Right Wing Watch>
I trust you need no convincing that Robertson is a Republican.  Many highly partisan Republican incompetents, who who were political appointees under Texas Torquemada, burrowed-in. They were transferred to non-partisan permanent posts.  Hundreds of these are Roberts' Regents University graduates.
My favorite Robertson story is how he "prophesied" that a hurricane would hit Disney World to punish them for adopting a policy of non-discrimination against LGBT employees.  The next hurricane that hit the US did considerable damage to Robertson's Virginia Beach HQ instead. 🙂