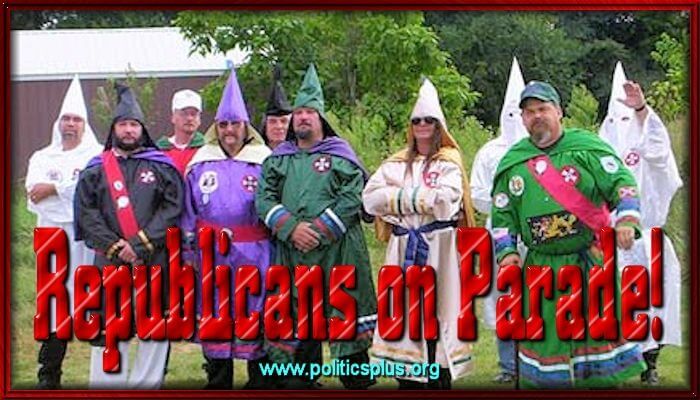 Here is the tenth article in our Republicans on Parade series, featuring individuals who personify what the Republican Party has become. Today's honoree is Republican Pat Buchanan, for his pseudo-Christian hatred and extreme bigotry with respect to immigration reform.
Pat Buchanan continues to go all-out in his opposition to new bipartisan immigration policy, claiming in a recent interview with conservative radio host Andrea Tantaros that immigration reform will cause the United States to break apart like the Soviet Union.

The Daily Caller posts a clip of Buchanan warning that if "you put 100 million Hispanic folks in the United States," the southwest will become "as much a part of Mexico as it is of the United States."

"If they have a different language, different culture, different faith, basically you get two peoples and two peoples eventually become two countries," he said.

Buchanan went on to offer an alternate history of the United States, which he said became "one nation back around 1960, when all the immigrants who had come from eastern and southern Europe 1890-1920 had been assimilated and Americanized" through the Depression, World War II and television programming. "That brought us all together, and now we're falling apart," he said… [emphasis added]
Inserted from <Right Wing Watch>
Buchanan fails to acknowledge that Europeans coming here also had different cultures, languages and religions, but have merged to form one people.  It is racist to assume that the same will not happen with Latinos.
In this case, there is little Republicans can say.  Buchanan is clearly a Republican and a long term white nationalist.  He even said, "Those who believe the rise to power of an Obama rainbow coalition of peoples of color means the whites who helped to engineer it will steer it are deluding themselves. The whites may discover what it is like to ride in the back of the bus."