I'm writing early in what should (hopefully) be a one day heat spell.  It's just after Noon, and the temperature as already 86° at my desk.  Not fun!  I wish these patches would stop sputtering out.  I'm running out of matches.
Jig Zone Puzzle:
Today's took me 3:36 (average 5:36).  To do it, click here.
Short Takes:
From Think Progress: Parts of Alberta, Canada were hit by extreme flooding the size of New York State on Friday, forcing 75,000 to evacuate their homes. Hit by heavy rain, people have abandoned their cars and low-lying residences in flooded waters Mayor Naheed Nenshi described as "an ocean at the moment."
Across the world, cities in Germany have also been wrecked by flooding — one estimate puts the damage as high as $7.7 billion. Climate science explains that global warming leads to a 5 to 10 percent increase in rainfall, and subsequently leads to a higher risk of flooding.
As Climate Central notes in its reporting on the Calgary floods: "A study published in the journal Nature Climate Change on June 9 found that flood frequency as well as the number of people at risk of inundation from flood events are both likely to increase as the world continues to warm."
Gee! Increasing temperatures that melt ice caps, putting more water into the world's weather system actually increases flooding? Who would have imagined!! I know who wouldn't have!  Scheeeesch!!
From Raw Story: A federal judge slashed 10 years off of his prison sentence of former Enron Corp Chief Executive Jeffrey Skilling on Friday, a decision that could set him free as early as 2017.
U.S. District Judge Simeon Lake reduced his term to 14 years from 24 years, accepting a deal struck between prosecutors and Skilling's lawyers that will end years of appeals.
Under the deal, more than $40 million of Skilling's fortune, which has been frozen since his conviction in 2006, will be distributed to victims of Enron's collapse.
It would have been better to increase Skilling's sentence each time he refused to return stolen funds to his victims, instead of allowing him to buy a shorter sentence with his ill gotten gains. That's unequal justice favoring a 1% vulture capitalist.
From YouTube: Senator Jeff Merkley speaks at Netroots Nation 2013.
I promised to bring you Jeff's keynote speech, when I could. Here it is. It's worth the 25 minutes. Oregon leads the way!
Cartoon: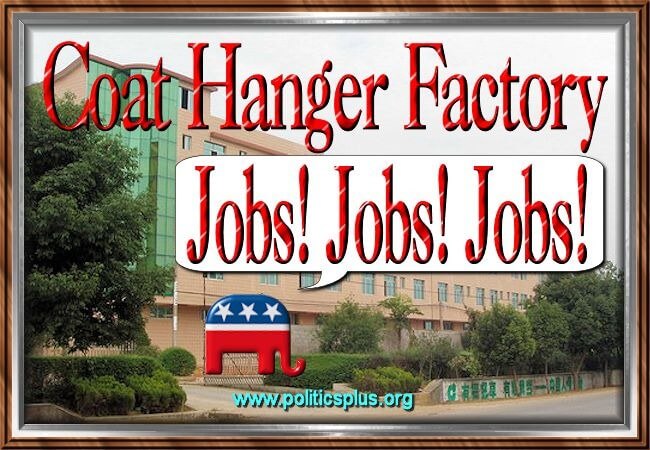 Note that even the Republican Jobs, Jobs, Jobs from coat hangers have been offshored.