I'm making an attempt at a normal day.  Wish me luck.  I'm current with replies, however briefly.  Let's hope this lasts into tomorrow.
Jig Zone Puzzle:
Today's took me 3:56 (average 5:02).  To do it, click here.  How did you do?
Short Takes:
From MoveOn: Ever Wonder Where The $50 You Fill Up Your Gas Tank With Goes?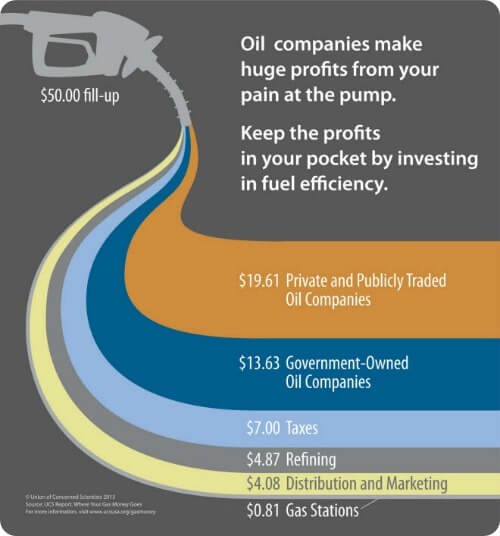 With such huge revenues, not to mention outlandish profits, Big Oil does NOT need subsidies and/or loopholes. Say no to Republican terrorism.
From Public Integrity: During a heated exchange Tuesday night, Rep. Keith Ellison, D-Minn., accused Fox News host Sean Hannity of being "a shill for the Republican Party."
Hannity's response: denying the charge and betting Ellison $10,000 that he is not a registered Republican.
Incidentally, that's about the same amount of money that Hannity donated to Republicans in 2010.
If Hannity were not a total liar, he would be working somewhere else.
From my email: In December 2010, a majority of Canada's MPs voted in favour of a motion to permanently ban bulk crude oil tanker traffic through Canada's North Pacific coast, including the waters of the Great Bear Rainforest. The motion was symbolic — Prime Minister Harper was under no obligation to act — but it sent a clear signal that Canada's political parties were willing to co-operate to protect our coast. The NDP, Liberals and the Bloc Québécois all stood up that day to vote for the motion.
Today, we risk losing some of that hard-won ground.
The federal Liberal party is choosing a new leader, and so far only one of the eight candidates is staying true to the party's historic commitment to protect B.C.'s coast from oil tankers and oil spills. The one candidate standing up so far is B.C. MP Joyce Murray. In fact, Murray is taking an even stronger stand, by clearly opposing Kinder Morgan's oil tanker plans for our south coast as well.
Would you be willing to sign up to participate in the federal Liberal leadership vote to help hold this ground? It doesn't cost anything and you can sign up in less than five minutes.
This action alert is for Canadians only.  We support their efforts to protect the environment.
Cartoon: