Yesterday my COPD remained very severe, so today, I'm limiting myself to this and the Presidents Day greeting.  I'm current with replies and hope to be back tomorrow.
Jig Zone Puzzle:
Today's 100k me 3:14 (average 4:58).  To do it, click here.  How did you do?
Short Takes:
From MoveOn: Surely, 'Rambo' Is All For Assault Rifles, Right?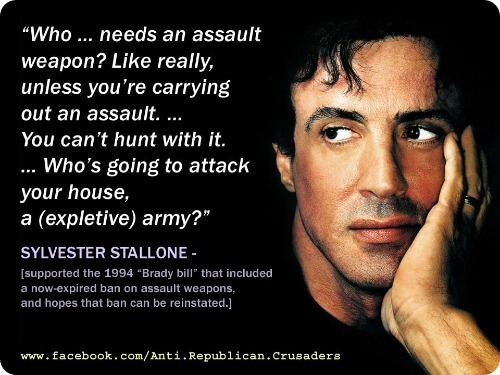 The problem here is that Republicans, especially those in the InsaniTEA wing of the intended regime, think THEY are Rambo!
From The New Yorker: The chairman of the House Committee on Science, Space, and Technology said today that the committee would hold hearings next week "to settle the question, once and for all, of whether meteors exist."
"The media has been in something of a frenzy recently on this whole topic of meteors," said chairman Lamar Smith (R-Texas). "I think it's irresponsible of them to frighten the public about something that, at the end of the day, may be about as real as unicorns."
Of course, this is satire, but were Republicans to actually do this, it would have to compete for space with several of their equally absurd positions.
From NY Times: President Obama's second Inaugural Address used soaring language to reaffirm America's commitment to the dream of equality of opportunity: "We are true to our creed when a little girl born into the bleakest poverty knows that she has the same chance to succeed as anybody else, because she is an American; she is free, and she is equal, not just in the eyes of God but also in our own."
The gap between aspiration and reality could hardly be wider. Today, the United States has less equality of opportunity than almost any other advanced industrial country. Study after study has exposed the myth that America is a land of opportunity. This is especially tragic: While Americans may differ on the desirability of equality of outcomes, there is near-universal consensus that inequality of opportunity is indefensible. The Pew Research Center has found that some 90 percent of Americans believe that the government should do everything it can to ensure equality of opportunity.
That also proves that Republicans oppose equal opportunity, simply for the reason that Republicans oppose EVERYTHING that 90% of Americans support.
Cartoon: