Yesterday I called my pharmacy, and they me that they cannot get the antibiotic my doctor prescribed.  There has been a run on it, because of the flu epidemic, and the wholesalers are sold out.  They said that, if my doctor called in a different prescription, they could not mail it before today, so I would not receive it until Tuesday.  I felt very angry and told them off like Republicans.  I understood that they cannot get the drug.  I could not understand that they sat on it since Monday without letting me know.  I called my doctor, and she found a pharmacy that could mail me a different antibiotic yesterday, so I will have it today.  I'm current with replies.  ARGH!
Jig Zone Puzzle:
Today's took me 5:58 (average 5:06).  To do it, click here.  How did you do?
Short Takes:
From MoveOn: The Utter Hypocrisy Of John Boehner And The House Republicans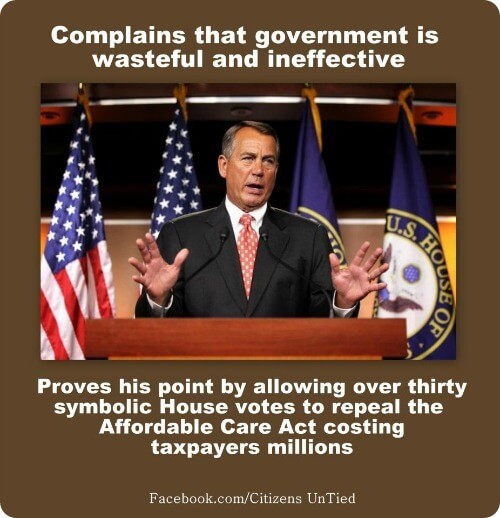 The only cut to entitlements should be to an entitlement that has not been earned, making the recipients unentitled to receive them. Eliminate the salaries of House and Senate Republicans.  If anything they should pay an extra Screw America Tax.
From NY Times: Backing down from their hard-line stance, House Republicans said Friday that they would agree to lift the federal government's statutory borrowing limit for three months, with a requirement that both chambers of Congress pass a budget in that time to clear the way for negotiations on long-term deficit reduction.
The new proposal, which came out of closed-door party negotiations at a retreat in Williamsburg, Va., seemed to significantly reduce the threat of a default by the federal government in coming weeks.
Republicans seem to be learning that the days of Obama caving-in to their most absurd demands are over, but not quickly enough to keep them from looking like the cowardly fools they are.  Today's cartoon is Cantor making the announcement.
From MSNBC: Tell Harry Reid to Man Up!
Visit NBCNews.com for breaking news, world news, and news about the economy
Harry made an agreement with Senate Republicans two years ago. They broke their word within two weeks. Tell Harry Reid to grow a pair! The talking filibuster must be the MIMIMUM in filibuster reform.
Cartoon: