I'm feeling quite pooped, because yesterdays trip to the doctor was a trial, involving over 1 1/2 miles of walking and long waits for transit in blowing snow.  At least it didn't stick.  I do have mild pneumonia. and will have new antibiotics by tomorrow. I'm current with replies.  It looks like I'll be down for a few more days.
Jig Zone Puzzle:
Today's took me 3:56 (average 4:59).  To do it. click here.  How did you do?
Short Takes:
From MoveOn: The Shocking Reality About Guns And Vaginas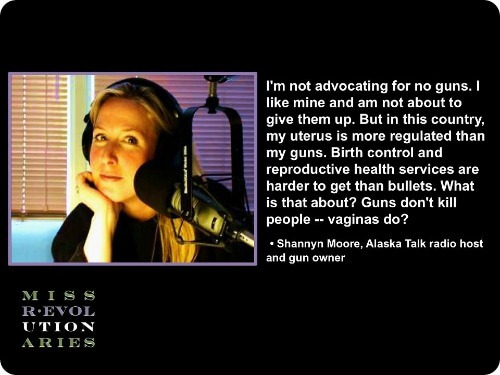 When the vagina in question belongs to Sarah Palin, aka Bullseye Bimbo, who targeted Gabby Giffords, the answer to that last question just may be affirmative.
From NY Times: With each side claiming popular support, President Obama and Congress's Republican leaders on Monday dug in on their conflicting positions about raising the nation's debt limit, indicating that the president's second term will open with a potentially perilous budget showdown.
The key difference, of course, is that every Republican claim to popular support on this issue is a lie.
From MSNBC: Support from the most southern Republican HQ.
Visit NBCNews.com for breaking news, world news, and news about the economy
In return for support from his followers, I understand that the Republican Ministry of Propaganda, Faux Noise, will be hiring Satan as a guest commentator. As "the father of lies", he may be their most honest personality.
Cartoon: