I'm still down, and it's particularly frustrating today, because it's a prison volunteer day, and I have to stay home.  I'm current with replies.  Maybe tomorrow.
Jig Zone Puzzle:
Today's took me 3:54 (average 4:47).  To do it click here.  How did you do?
Short Takes:
From MoveOn: Just When You Thought Sexism Was On The Way Out, 2012 Happened
The best way must be to end the Republican War on Women by sending the Republican Party the way of the Whigs. Here's the link to MissRepresentation. (This is the first 'Daily Share' I have received in many days.)
From NY Times: Chuck Hagel has been nominated to supervise the beginning of this generation-long process of defense cutbacks. If a Democratic president is going to slash defense, he probably wants a Republican at the Pentagon to give him political cover, and he probably wants a decorated war hero to boot.
Ed Schultz, Joe Sestak and Richard Wolfe agree.
Visit NBCNews.com for breaking news, world news, and news about the economy
Since Bought Bitch Mitch, McConJob, and Lindsey Poo all have their panties in a bunch, it must be good for America. While there are times that I have disagreed and will disagree with Hagel. I think Obama made a good choice here.
From Daily Kos: We are seeing a measurable fracture, a two-part breakage to the Republican Party. This results from infiltration of the GOP based on contributions from the same families and sources of money that financed the John Birch Society from the beginning. Birchers in the House are pursuing JBS goals and recycling JBS slogans.
This is the Birch Society, not the populist Tea Party from 2009.
Effectively, based on "Fiscal Cliff" votes and the changeover to 2013, we have three distinct caucuses in the House of Representatives:
— Regular Democrats (now 201 Members)
— Business Republicans (84 Members)
— Birch Society Republicans (150 Members)
Birchers are anti-government, anti-immigration, anti-compromise, and opposed to taxes in all forms and appearances. The Bircher billionaires' agenda is not the mainstream Republican businessmen's agenda.
The Koch family helped found the John Birch Society. They have financed Birchers since 1984 and remain the prime backers for these Bircher Republicans. They assure that JBS ideological slogans and xenophobic paranoia define Bircher campaigns.
I have long said that the top-down Birchers were the original source for top-down Teabuggery, because of the many absurd conspiracy theories and propensity for Koch sucking they have in common.
Cartoon: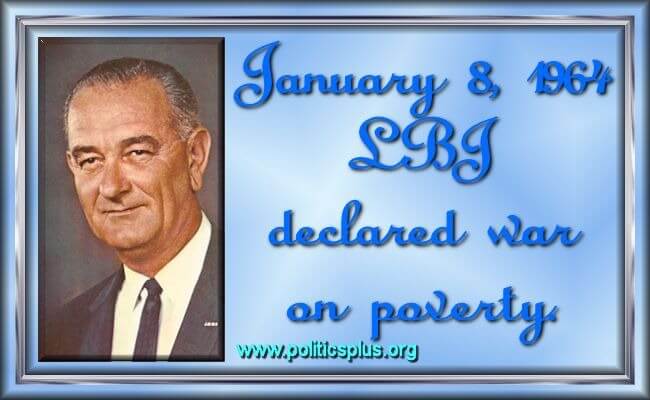 The following day the Republican Party declared war on the war on poverty.