Yesterday evening my COPD flared up, and I coughed all night, unable to sleep.  Therefore, I'm limiting today's blogging to catching up on replies and posting this Open Thread.  Tomorrow I should be back to normal, but it depends on the day.
Jig Zone Puzzle:
Today's took me 3:45 (average 4:53).  To do it, click here.  How did you do?
Short Takes:
From MoveOn: 6 Cut-Through-The-Bullsh_t Reasons To Support The 99%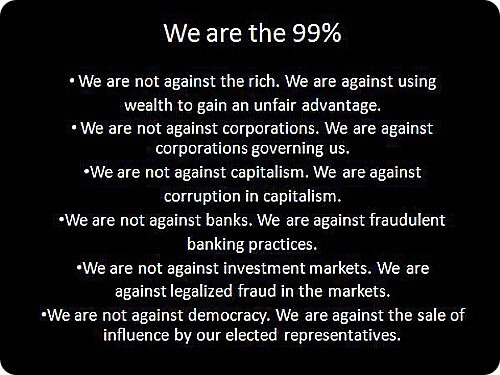 These are the epitome of what the occupy movement has been about from the beginning.  Sadly some others have promoted some rather extreme ideas, falsely claiming to represent the occupy movement and the 99%.
From Click Orlando: An unidentified entrepreneur admits he is trying to profit off Trayvon Martin's death by selling gun range targets featuring the teen who's death has sparked a nationwide controversy.
Although Martin's face does not appear on the paper targets, they feature a hoodie with crosshairs aimed at the chest.
This is best described by the three Rs: Revolting, Racist, Republican.
From NY Times: It was nearly 10 p.m. on Wednesday when Paul Broun, a Republican congressman from Georgia, rose on the House floor to propose that no more money be spent enforcing a section of the Voting Rights Act of 1965.
The act is one of the most momentous laws ever passed by Congress, removing the discriminatory barriers that had blocked generations of African-Americans from the polls. Yet a Southern representative tried to slip in an amendment to an appropriations bill that would prevent the Justice Department from supervising election-law changes in his state and in 15 others where there has been a history of discrimination.
The Voting Rights Act needs to be expanded to include all states in which  Republicans, the party that is trying to bring back Jim Crow or worse,  control the state house and the legislature.
Cartoon: