Tuesday I went to the prison and met with a small group of the prisoners most dedicated to change.  Because the guys dig deeply into personal issues, I can say no more, except that I could not be any more proud of them.  When I returned home, having missed my afternoon sleep, I felt exhausted, ate and went to bed.  Yesterday I listened to the SOTU speech, caught up on comments, and prepared today's articles.  I'm current with replies.  Today is another prison volunteer day, and I'll be working with about one hundred prisoners.  I will get home late again and will be even more tired, so it is doubtful that I will have articles for tomorrow.
Jig Zone Puzzle:
Yesterday it took me 4:03 (average 5:10).  To do it, click here.  Today it took me 3:27 (average 4:42).  To do it, click here.  How did you do?
Short Takes:
From Milwaukee Journal Sentinel: A new round of criminal charges is coming soon against at least a couple of Gov. Scott Walker's former county staffers for doing extensive campaign activity while on the taxpayers' dime, sources say.
The charges – which should be filed by District Attorney John Chisholm's office in the next week or two – will be part of the long-running John Doe investigation of Walker's aides and associates during his tenure as Milwaukee County executive.
Already, the probe has led to multiple felony charges against Walker's onetime deputy chief of staff, Tim Russell, and former county veterans official Kevin Kavanaugh. They are accused of taking more than $60,000 in donations intended for Operation Freedom, an annual event at the county zoo for veterans and their families.
Goodie!!! 😀
From Business Week: New Jersey Governor Chris Christie said he would veto a bill to allow same-sex marriage, even as Democrats in the Senate said they have enough votes to pass it.
For Republican politicians hate trumps what America wants.
From The Hill: Senate Republicans slammed their Democratic colleagues on Tuesday for not passing a budget in exactly 1,000 days, accusing Democrats of shirking their duty in a period of soaring deficits.
How ironic!  These Republican liars are accusing Democrats for not passing bills that Republicans filibustered and blocked.
From SPLC: A Georgia administrative law judge has ordered President Obama to appear at a hearing on Thursday regarding a "birther" complaint challenging the president's eligibility for office.
Deputy Chief Judge Michael Malihi issued his decision Friday, writing that the president's legal team "failed to enlighten the court with any legal authority" to back up its argument that no U.S. president should be compelled to attend a court hearing. They also failed to prove that attending the hearing would be "unreasonable and oppressive" and that the president's testimony would be "irrelevant, immaterial or cumulative," he wrote.
Orly Taitz, who filed one of the complaints and has for years led the farcical battle to prove that the president is constitutionally unqualified for office, called Malihi's decision a "major victory."
Teabuggery most foul!
From MoveOn: About that liberal media.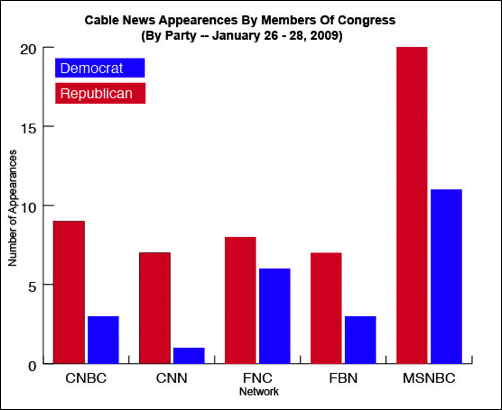 This was immediately after Obama took office with a Democratic majority in both Houses, so by rights, there should have been more Democrats on TV that weekend.
Cartoon: