With all the criticism of Obama's performance on the economy, and reaffirming my own dissatisfaction with several facets of it, I have to admit that the American Recovery and Reinvestment Act (ARRA), aka the stimulus,  even grossly watered down by concessions to Republicans trying to prevent recovery, kept us from being far worse off than we would be, had it not been done.  The bikini graph does not lie, and neither does the CBO.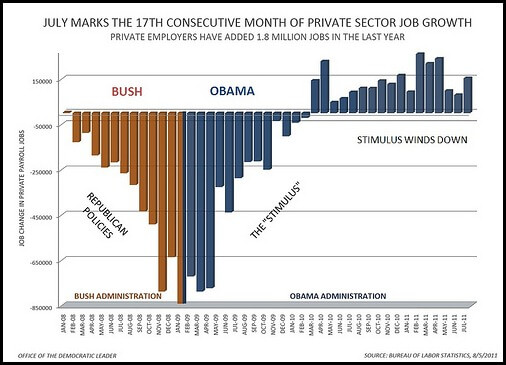 According to a new report from the nonpartisan CBO, the stimulus saved up to 2.9 million jobs:
A new Congressional Budget Office (CBO) report estimates that the American Recovery and Reinvestment Act (ARRA) increased the number of people employed by between 1.0 million and 2.9 million jobs as of June.
Naturally, Rick Perry is therefore against any new stimulus:
Republican presidential hopeful Rick Perry said Monday that no new economic stimulus package is needed to "get America working again," but he declined to give specifics about how his still-unannounced plan to jumpstart the nation's economy would create jobs. […] "You won't have stimulus programs under a Perry presidency. You won't spend all the money."
…
Inserted from <Daily Kos>
How ironic  it is that Governor Perry has been wallowing in the very stimulus money he condemns, but I do not doubt for a moment that a President Perry would create millions of jobs too… in whatever third world countries are willing to have their people exploited.
America needs to spend on infrastructure, education, R&D, and green energy to stimulate the economy and increase revenue by ending welfare for millionaires, billionaires and corporate criminals.