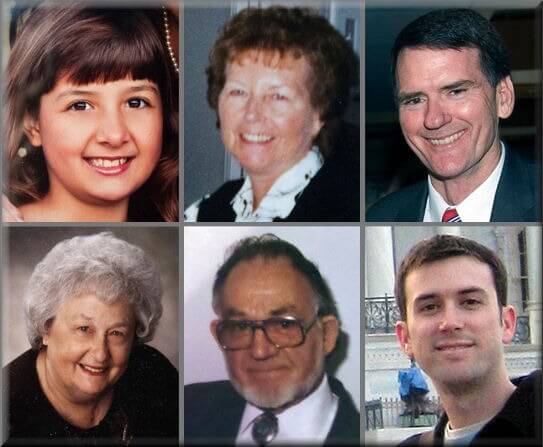 Republicans are angry that we on the left have linked repeated Republican use of violent imagery and direct calls for violence to violence that has followed.  While, so far, there is no direct link between the shooter and any of the Republicans involved, the indirect evidence between such acts and the culture of violence Republicans have nurtured is compelling.  It is not surprising that the responses to this criticism have ranged from one honest responsible statement by two men to depths of hatred that are hard to even imagine.
Lets start with the good one from Joe Scarborough and Pat Buchannan.
…And on MSNBC this morning, former GOP congressman Joe Scarbrough and conservative stalwart Pat Buchanan agreed that right-wing firebrands like former Alaska Gov. Sarah Palin and Rep. Michele Bachmann (R-MN) should "apologize" for their violent rhetoric — not to assume any culpability for the tragedy, but to simply acknowledge that "they've been irresponsible in their rhetoric"… [emphasis added]
Inserted from <Think Progress>
It does not go so far as I would like to see, but at least they admitted that the violent speech has been irresponsible.
Some Republican legislators fear for their own safety, like Peter King (R-NY).
Rep. Peter King, a Republican from New York, is planning to introduce legislation that would make it illegal to bring a gun within 1,000 feet of a government official, according to a person familiar with the congressman's intentions…
Inserted from <Huffington Post>
What about the rest of us that are not government officials?  I guess the Republican view is that we're on our own.
Sarah Palin has had little to say, but one of her aides claimed that the bullseyes she used to target Giffords and others were really surveyor's marks.  Let's put that lie to rest right now.
…Finally, here's what Palin herself tweeted on Nov. 4 when the election results came in and all but two of those lawmakers on her list had either quit or been defeated: "Remember months ago "bullseye" icon used 2 target the 20 Obamacare-lovin' incumbent seats? We won 18 out of 20 (90% success rate;T'aint bad)"… [emphasis added]
Inserted from <Washington Post>
Do surveyor's use bullseyes?
Limbaugh, as expected, blames us for the level of violent speech.
"It is our right and our duty to criticize the people who have put the fate of our country in peril," Rush Limbaugh said this week on his syndicated radio show.

Although our country's leading shock jock spoke in the aftermath of the massacre that left a federal judge and five others dead and Congresswomen Gabrielle Giffords critically injured, he was not referring to Jared Loughner or any of the many other well-armed gunmen who increasingly try to hold our democracy hostage. Instead, he typically assured his massive audience of self-described "ditto-heads" that the country is most imperiled by anyone who dares suggest that the daily hate fest on leading right-wing radio talk shows such as Limbaugh's might have any connection with the violent acts that sometimes follow…
Inserted from <Alternet>
When most elected Republicans regularly make pilgrimage to kiss this man's ring, it follows that his ideas drive the Republican love of hate and violence.
Glen Beck's response is, as expected, insane.
It sure seemed that everyone — and I mean EVERYONE — at Fox News was focused yesterday on beating down the horrifying idea that somehow Fox News' incendiary rhetoric might have played a significant role in fomenting Saturday's horrifying tragedy in Arizona.

Of course, Glenn Beck — being one of the chief purveyors of said incendiary rhetoric — was out there leading the attack, devoting his entire hour to his newfound desire to prevent political violence. Indeed, he iussed [sic] a "letter to America" [Beck delinked] yesterday containing a pledge he wants everyone else to sign decrying any attempt to connect political violence to the rhetoric that precedes it:

I hold those responsible for the violence, responsible for the violence. I denounce those who attempt to blame political opponents for the acts of madmen.

In other words: I denounce people who would like to blame me for inspiring guys like Byron Williams, who openly credit me for inspiring them!… [emphasis added]
Inserted from <Crooks and Liars>
The Tea Party's response was heartless.
The Tea Party Express, a California-based conservative political action committee, sent out a letter to supporters Monday requesting donations in reaction to Saturday's shooting at a political event in Tucson, Arizona that claimed six lives.

"It is quite clear that liberals are trying to exploit this shooting for their own political benefit, and they used deception and dishonesty to try and smear all of us and our beliefs," the letter reads. "You know what the truth is?  The truth is that the shooter, Jared Loughner is the one responsible for this atrocity.  But liberals are trying to place the blame on society for embracing the tea party movement."… [emphasis added]
Inserted from <Yahoo News>
Have they no shame?  Never does a day go by that I do not get several requests for funding from a wide variety of lefty groups.  But none of these liberal fundraisers have had the audacity to capitalize on this tragedy.
But the worst Republican response I have seen is the decision by the infamous Westboro Baptist Church to picket the funerals of the victims.
The Westboro Baptist Church of Topeka, Kansas — the hate-mongering funeral protesters who've picketed or threatened to picket the funerals of Elizabeth Edwards, soldiers who've died in Iraq, and people who've died of AIDS, among others — are taking their efforts to piss people off in the supposed name of God a step further by announcing they'll picket the funeral of 9-year-old Christine Taylor Green, who was killed during the attempted assassination of Gabrielle Giffords on Saturday.

According to CNN, the people of Tucson are prepared, and will implement a plan created by Romaine Patterson, who saw Westboro Baptist protest the funeral of his friend Matthew Shepherd. People are signing up to wear giant "angel wings" that shield mourners from the picketers… [emphasis added]
Inserted from <Village Voice>
I do not have words to express the disgust I feel for this group of Republicans.
All things considered, this is what I expected from Republicans, because they have no remorse for the lives the culture of violence they created to distract their base from issues that matter.  Unless they turn 180° from their present course, something I do not foresee, they must be eliminated from the political life of this country, not with bullets, but with ballots.