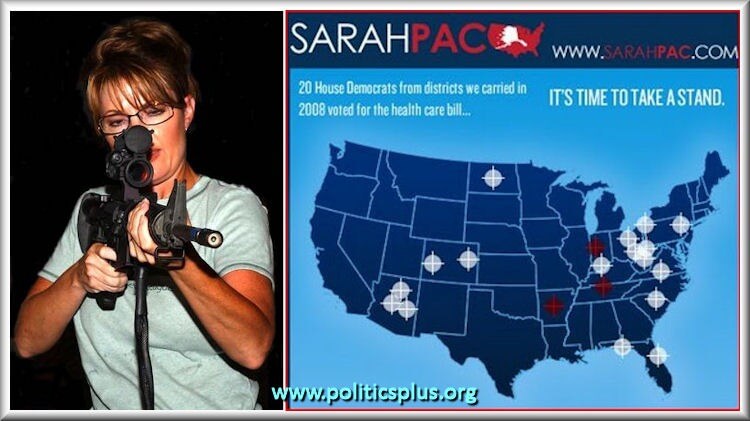 Sarah Palin has scrubbed the images from her website and her Facebook page targeting Gabriel Giffords and others with the crosshairs of a gun sight.  As I watched in horror yesterday, and as it became apparent that the shooting of eighteen people, the death of six, including a nine year old girl and a Federal Judge, is a direct effect of the Republican litany of hatred and calls for violence, I wondered if Palin and her republican co-conspirators can wash the blood from their hands.  This time they cannot.  I railed against this in December in Second Amendment Solution Gone Bad.  I had done so before in October in Rand's Republican Brownshirts Strike.  I predicted it way back in March in Potential High for Right Wing Violence.  This has been coming for a long time.  The Republican Party is responsible from Mitch McConnell and John Boehner down.  No McConnell and Boehner were not behind calls for violence, but they refused to object to those within their own leadership that have.  Lets explore this issue in depth.
This is not the first time that Gabby Giffords was targeted by Republicans.  Here she is in an MSNBC interview.
Visit msnbc.com for breaking news, world news, and news about the economy
Even though, as a Blue Dog who agrees with Republicans on the issues as often as not,  that did not protect her.  Republican ideologues demand lock-step purity.
Keith Olbermann interviewed Mark Potok of the SPLC, profiling the shooter.
Visit msnbc.com for breaking news, world news, and news about the economy
The Pima County Sheriff made it as clear as he could, without giving away details needed for prosecution that Arizona's climate of right wing hatred is a factor.
While not stating a motive for the shootings, Pima County Sheriff Clarence Dupnik in Tucson used a nationally televised press conference to condemn the tone of political discourse in his state. He charged that public debate is now "vitriolic rhetoric," which has rendered Arizona "the mecca for prejudice and bigotry."

Dupnik suggested that such rhetoric can have deadly consequences.

"We need to do some soul searching," Dupnik told reporters. "It's the vitriolic rhetoric that we hear day in and day out from people in the radio business and some people in the TV business.

"When you look at unbalanced people, how they respond to the vitriol that comes out of certain mouths about tearing down the government, the anger, the hatred, the bigotry that goes on in this county is getting to be outrageous. Unfortunately, Arizona, I think, has become sort of the capital," Dupnik continued.

"We have become the mecca for prejudice and bigotry," Dupnik said… [emphasis added]
Inserted from <CNN>
Talking about tearing down the government, bigotry and prejudice, he was clearly not talking about Democrats.  His references to media people seemed pointed at Glen Beck, Rush Limbaugh, and their ilk.  The person most responsible for that climate in Arizona is the RepubliCare Death Angel, Jan Brewer.  One of the things that shocked me most, as I watched the coverage was Brewer's speech.  She said the right things, but it seemed that she could not keep the occasional twinkle from her eyes and smirking grin from her lips.  She appeared to be pleased at what had happened.  Here's one frame from that speech that shows what I mean.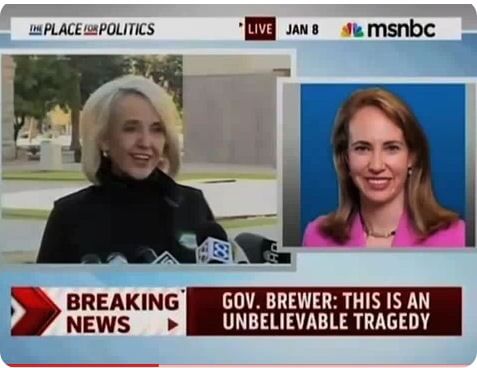 Of course the problem goes way beyond Arizona.  There is a love affair between guns, extreme rhetoric and the Republican Party.  Do you remember when Republicans celebrated the Oklahoma City bombing with an 'open carry' event outside Washington, publicized on Fox and praised by several Republican House Representatives?  I found two quotes on from Broun and Pratt, the organizers, on Alternet.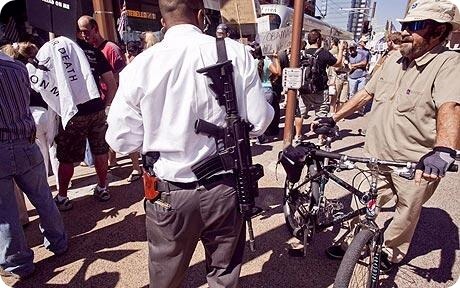 Broun:
Broun, a Republican, sees civil war looming on the horizon. "Fellow patriots, we have a lot of domestic enemies of the Constitution, and they're right down the Mall, in the Congress of the United States — and right down Independence Avenue in the White House that belongs to us," Broun told the crowd. "It's not about my ability to hunt, which I love to do. It's not about the ability for me to protect my family and property against criminals, which we have the right to do. But it's all about us protecting ourselves from a tyrannical government of the United States." [emphasis added]
Pratt:
"I look around: it's so good to see all these terrorists out here," Pratt said. "Janet Napolitano, she figured, as governor of Arizona, that we didn't have a border problem, but she knows who the real enemy is. Ha, ha, ha, ha. And Bill Clinton's been runnin' cover for her, too. Watch out how you guys speak out there, you know, words can have consequences. Remember Oklahoma City? Yeah, I do. And I also remember the Waco barbecue that your attorney general gave us. Thanks a lot…We're in a war. The other side knows they're at war, because they started it. They're comin' for our freedom, for our money, for our kids, for our property. They're comin' for everything because they're a bunch of socialists." [emphasis added]
Is it any wonder that crazed minds respond with insane acts?
As much as I'd like to say that calls for violence are limited to Republican politicians, pundits and wing-nuts, it is not.  Sadly such calls have come right on this site, and recently.
RealityBites says:
January 7, 2011 at 7:36 am  
Time to start shooting repugs on sight. They aren't human nor American. Mankind doesn't want them either.
Parasites should always be stepped on.
Reply

TomCat says:
January 7, 2011 at 7:54 am  
I'm sorry, but your call for violence is no less offensive than when Glen Beck, Rush Limbaugh, Michelle Bachmann and Sarah Palin do it. When you adopt Republican tactics, you put yourself down to their level.
Reply

Marx says:
January 7, 2011 at 10:17 am  
TomCat I agree with you wanting to keep it classy but RealityBites really has a point. The sad fact is, its just time. Enough is enough. AZ is murdering people, PG&E blew up a whole neighborhood and then charged the people extra for their destruction, Monsanto is destroying the earth, corporate bailouts out of citizens' pockets etc. etc. ad nauseum. We need to make them fear us and not the other way around. Personally I have too much to live for and will probably just go to Europe, but for people who really want to stand their ground and protect the true US ideology, well you've got some dirty work to do and it starts with eliminating those infected fuckholes.
Reply

TomCat says:
January 8, 2011 at 8:01 am  
Marx, classy has nothing to do with it. For years I have been railing against Republicans for encouraging their base to commit violent acts against Blacks, Latinos, Gays, Abortionists, Muslims, etc. I have done so because what they are doing is criminally wrong. Wing-nuts from their base have listened and people have died. What kind of hypocrite would I be, if I were to condone calls for violence against Republicans? I'm not saying they don't deserve it. They do. But if we adopt the kind of tactics they use, we will become no better than they are.
Reply
The difference is how we respond to them.  I wrote my second reply just a few minutes before the shooting occurred.  Little did I know how timely this would be, and I take pride in the way I handled this.  By comparison, top Republican leadership ducks with the excuse that it's not their place to interfere with the free speech of their associates, including Sarah Palin, Rand Paul, Michelle Bachmann, Sharon Angle, Adam West, Rush Limbaugh, Bill O'Reilly, Glen Beck and many more.  The blood of these victims is on their hands.
Although I use strong rhetoric, it a condemnation of violence, never a call for it.  But even I am not completely immune.  A few days ago, I quipped that Blue Dogs should be given jobs circumcising conscious gorillas.  We all need to condemn violence as part of political rhetoric, the subject of Keith Olbermann's Special Comment.
Visit msnbc.com for breaking news, world news, and news about the economy
Finally, please keep the victims of this tragedy and their families in your thoughts and prayers.