Madaya is besieged by Assad's forces, and until yesterday (Monday) had not received any food, water or medical supplies since last October. Kefraya and Foah have been besieged by rebel forces since last March and are equally desperate. Starvation is being used by all sides as a tool of war and is being investigated as a war crime by the United Nations.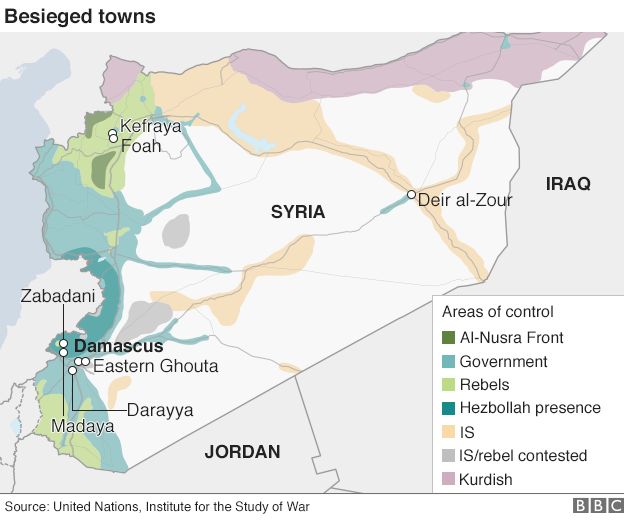 Reuters — Residents of a besieged Syrian town have told U.N. investigators how the weakest in their midst, deprived of food and medicines in violation of international law, are suffering starvation and death, the top U.N. war crimes investigator told Reuters on Tuesday.
An aid convoy on Monday brought the first food and medical relief for three months to the western town of Madaya, where 40,000 people are trapped by encircling government forces.
Another United Nations official who oversaw the aid delivery described on Tuesday how he saw malnourished residents, particularly children, some of whom were little more than skeletons and barely moving.
The U.N. commission of inquiry documenting war crimes in Syria has been in direct contact with residents inside Madaya, the commission's chairman Paulo Pinheiro said in an emailed reply to Reuters questions.
The Guardian — Pawel Krzysiek, spokesman for the International Committee for the Red Cross in Syria, accompanied an aid convoy on Monday to the town of Madaya, which has been besieged by forces loyal to the Syrian regime since July. Supplies were delivered as part of a deal under which convoys also entered two Shia villages, Fua and Kefraya, that are surrounded by rebels. Krzysiek provided the following account, which is excerpted from an audio message he recorded after entering the town and a telephone interview with the Guardian while he was on the ground.
It's really heartbreaking to see the situation of the people. A while ago I was just approached by a little girl and her first question was: "Did you bring food? I hope that you brought food to Fua and Kefraya and to Madaya because we are really hungry." And I believe her, she looked hungry.
It's very dark here as there is no electricity. But I see people on the street, women, children, many of them are coming and thanking us for coming, greeting us. But some of them were shouting and asking "why so late?"
People are asking us: "Did you bring food? Did you bring food because all we have eaten last week is water with spices."
Huffington Post — Rebels opposed to President Bashar Assad are in control of Madaya, a mountain town about 15 miles (24 kilometres) northwest of Damascus. Government troops and fighters from the Lebanese militant group Hezbollah have surrounded the town. Opposition activists and aid groups have reported several deaths from starvation in recent weeks.
Syria's U.N. Ambassador Bashar Ja'afari denied anyone was starving in Madaya and blamed Arab television especially "for fabricating these allegations and lies."
Speaking at U.N. Headquarters, he blamed "armed terrorist groups" for stealing humanitarian aid and reselling it at prohibitive prices.
"The Syrian government is not and will not exert any policy of starvation against its own people," Ja'afari said.
But O'Brien, the U.N. humanitarian chief, said all the evidence the U.N. has shows there has been very severe malnourishment, severe food shortages, and reports of people "who are either starving or indeed have starved and died."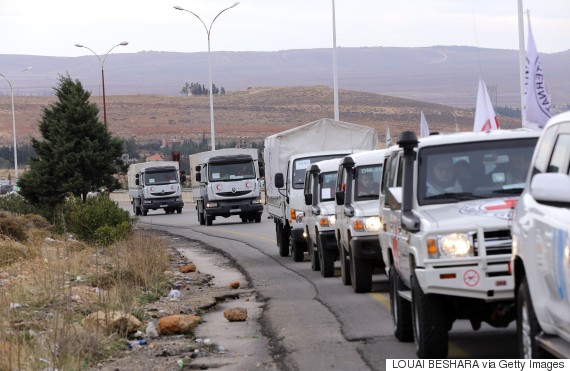 Syrian Red Crescent aid convoys carrying food, medicine and blankets, leave the capital Damascus as they head to the besieged town of Madaya on Jan. 11, 2016. (LOUAI BESHARA/AFP/Getty Images)
BBC — Some 400 people in the besieged Syrian town of Madaya need to be urgently evacuated for medical treatment, says UN humanitarian chief Stephen O'Brien.
Mr O'Brien was speaking after the UN Security Council held an urgent meeting to discuss the crisis in the rebel-held town near Damascus.
Earlier, an aid convoy brought food to 40,000 town residents who have been under government siege for months.
The UN says it has received credible reports of people dying of starvation.
Disturbing images follow
Comparatively few know the horrors that have been visited upon the people of Syria. When I see the images of Madaya, Kefraya and Foah, I am reminded of the atrocities of the holocaust during WWII. Some Syrians have been lucky to be able to get out, but others have not been so lucky. Words fail me. My heart aches for the innocents! Have we learned nothing from the past? . . . apparently not. Ben O, Care2 several years ago shared some wise words with me:
Comfort the disturbed, disturb the comfortable.