I'm writing for tomorrow, say 88.  I'm rushing, because I have physical therapy in the morning, I'm tired, and I'm running out of day.  Depending on how badly the PT wipes me out, I may be AWOL for Saturday articles.
Jig Zone Puzzle:
Today's took me 3:48 (average 4:37).  To do it, click here.  How did you do?
Short Takes:
From Upworthy: Having cash in the bank, stocks, a 401(k), and a house (or houses) full of stuff worth money — that's all wealth. And it's great to have for two basic reasons: (1) It's handy when the goin' gets tough (e.g., expensive medical emergencies, car troubles, making tuition, etc.), and (2) having more wealth means having more freedom to think about and plan for the future, including retirement.
But over the last several decades, rule changes that benefit the rich have made wealth harder to come by for most of us. Take a look below.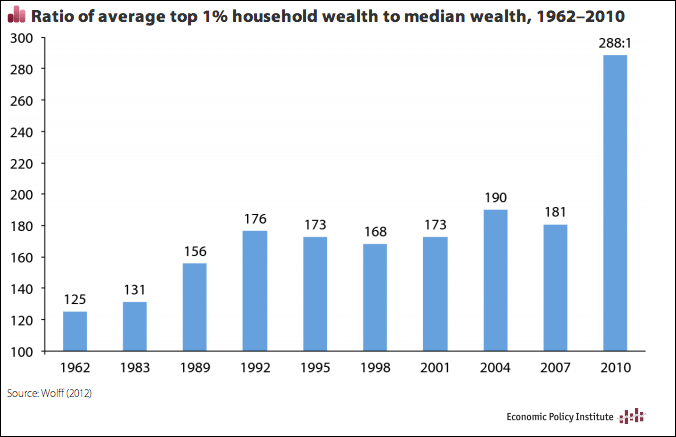 If you haven't guessed, in the GOP War on the poor and middle classes, they're winning.
From Daily Kos: If you think House Speaker John Boehner's pre-impeachment lawsuit against President Obama for failing to implement Obamacare quickly enough makes him look like an obstructionist jackass who is more interested in political stunts than doing the right thing for the country, you're not alone:
A majority of Americans view House Speaker John Boehner's (R-Ohio) lawsuit over President Obama's delayed implementation of ObamaCare's employer mandate as a "political stunt," according to a new poll released Monday.

The survey, commissioned by liberal advocacy group Americans United for Change, found that 51 percent of voters don't believe the lawsuit is legitimate, versus just 41 percent who do.

Moreover, 56 percent say the lawsuit is wasteful spending, with just 36 percent saying it is a good use of taxpayer dollars.
That's exactly what I said, when Agent Orange first announced it.
From AlterNet: The Associated Press is reporting that a Malaysia Airlines passenger plane was allegedly shot down in Ukraine near the Russian border Thursday. An advisor to the Ukraine's Interior Minister confirmed the report at 11:40am. The plane was flying at an altitude of 33,000 feet when it was shot down by a surface-to-air missile, Ukraine officials are reporting on Facebook.
A Russian aviation industry source told Reuters news service that the 777 did not enter Russian airspace when it was expected, but crashed in eastern Ukraine.
The Boeing 777 had 280 passengers and 15 crew members,  Interfax reported citing an an aviation industry source. It is reported that all passengers and crew have been killed. Twenty-three Americans were reportedly on the flight. 
Political tensions and violence have been high in eastern Ukraine near the Russian border. The Ukranian government is alleging that separatist rebels shot down the plane, and the separatists are blaming Kiev. 
My thoughts and prayers go out to the victims' families. Of course Republicans say they know who is at fault.
Cartoon: