My new A/C is certainly powerful enough to cool my tiny place.  It's also very loud, and the noise bothered me last night.  I'm sure I'll get use to it, and after a night of three, I won't even hear it.  I'm about to leave to go to PT with Courtney.  Later.  Back and pooped.  George needs an ankle adjustment.
Jig Zone Puzzle:
Today's took me 2:48 (average 4:45).  To do it, click here.  How did you do?
Short Takes:
From The Guardian (H/T Daily Kos):A group of Polish women walk out of a church service to protest against a proposed tightening of the country's abortion laws. The video, posted on Facebook, shows the women leaving as a priest reads out a letter in favour of the ban. In Warsaw, thousands of people have attended a pro-choice rally outside parliament, after the leader of the ruling party backed a call from Catholic bishops for a full ban on pregnancy terminations.
It looks like Poland has Republicans that hate women too!
From Daily Kos: In disappointing Tuesday news, the Wisconsin Supreme Court race went to Rebecca Bradley, a conservative. Bradley beat progressive candidate JoAnne Kloppenburg in the non-partisan election. Wisconsin residents are now stuck with Bradley for the next ten years.
It's a sad end to an ugly race, and an ugly type of race at that. Judicial elections are rife with problems as a general matter—politics, bias, secret money, and low voter engagement, to name a few. But in Wisconsin the elections have been particularly grimy.
Bradley is so Republican, she makes Nancy Grace seem like a progressive. This is how she won.
From Media Matters: A Media Matters investigation of the discredited right-wing group Judicial Crisis Network (JCN), the main source of baseless smears against, and false characterizations of, Supreme Court nominee Merrick Garland, reveals a familial web of self-dealing between the organization, a major dark money funder of JCN called the Wellspring Committee, and a third nonprofit that also receives funding from Wellspring.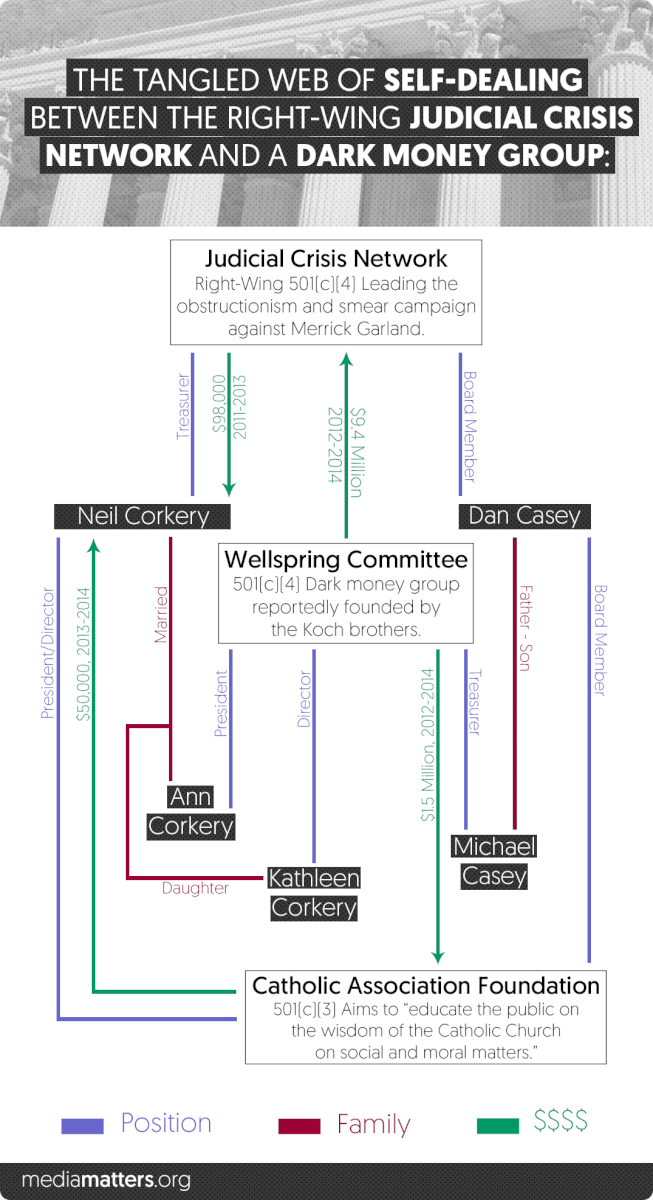 Nepotism'R'Us, Nepotism (R-US), or just plain Koch sucking?
Cartoon: