I'm writing for tomorrow, day 139.  What a rude awakening!  I took a cat nap after breakfast and did not wake up until after supper. :-(  Fortunately, I did my research before breakfast, so all I have to do is compose.  Tomorrow is a Holy day in the Church of the Ellipsoid Orb, and the mighty Broncos will be honored with the first Sunday night meditation.  They hope to dine on small horse, but last time they tried, the small horses' Luck was amazing.  This time, it's our pasture.
Jig Zone Puzzle:
Today's took me 3:55 (average 5:20).  To do it, click here.  How did you do?
Short Takes:
From Upworthy: A special Upworthy partnership with the UN Climate Summit 2014. Made possible by Unilever Project Sunlight. Read more.
When you see photographs of the Earth from far away, the implications may not immediately be clear. This puts it all into perspective.
Amen!
From Daily Kos: Kansas Secretary of State Kris Kobach—the same birther guy who thought it was a good idea to get President Obama's birth certificate before considering a challenge to putting him on the ballot in 2012—is trying to help incumbent Republican Sen. Pat Roberts win reelection by refusing to allow the former Democratic candidate to remove his name from the ballot…
…Taylor, however, says he spoke with the head of the state's elections division who told him that he'd done everything he needed to do in order to withdraw. Taylor's withdrawal boosts the independent campaign of Greg Orman, who has a very good chance of unseating Roberts in November's election.
Assuming Taylor is telling the truth—and given Kobach's history as a bigoted right-wing lunatic I'd trust him over Kobach any day of the week—then Kobach is going to have a hard time explaining what appears to be a nakedly partisan move.
There is no crime Republicans will not commit to steal an election they cannot win legally. Get out the vote!!
From Think Progress: Canada leads the world in forest degradation, according to a new mapping project.
The project, put together by World Resources Institute, Greenpeace and multiple other groups, uses interactive maps to display forest degradation and destruction around the world between 2000 and 2013. According to WRI, more than 104 million hectares (about 401,546 square miles) — a chunk of land the group notes is three times the size of Germany — of the world's remaining large, undisturbed forests, or Intact Forest Landscapes, were degraded in the last 13 years. The Northern boreal region of Canada, Russia and Alaska had some of the largest area of degraded forests, with the Amazon having the second-largest and the Congo basin the third.
In Canada's tar sands region, forest fires and industrial development have destroyed or degraded almost two million acres of boreal forest since 2000, according to Peter Lee, Director of Global Forest Watch Canada. Lee told ThinkProgress in an email that Canada's main driver of forest destruction is an "increased frequency and extent of forest fires" driven by climate change. These fires are likely converting areas that were once heavily forested into shrublands. Logging and road-building are the second-biggest causes of forest destruction and degradation, Lee said, and "massive increases in the pace and scale of energy developments, especially non-conventional oil and gas developments in northern Alberta's tar sands region and also in north-eastern British Columbia with the shale plays," is the third.
I almost always have reason to compare Canada favorably to the US the, but in this case Harper and his Harlots are outdoing us. They must have taken a course in Koch … never mind.
Cartoon: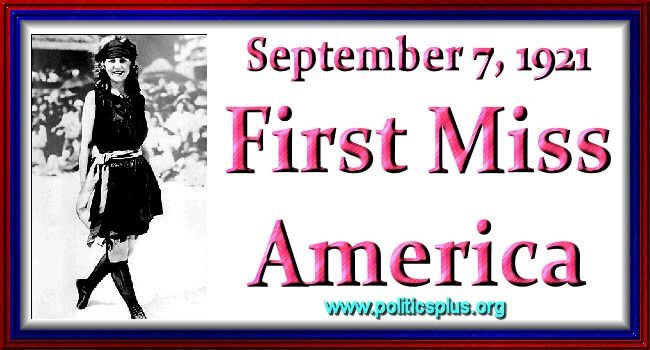 I have mixed feelings about the pageant.  Because I grew up in Atlantic City, it was the source of several pleasant childhood memories adolescent fantasies.  I understand that it tends to objectify women, but at the same time, it provided more scholarship money to women than any other organization in the country.  For me, it engendered respect for the beauty within women, not just without.