Well, here I am again. It's TC's birthday and you may have seen the cartoon on his personal update which says "Crappy Birthday!" He is still under the weather and is curled up in his cat bed where he belongs right now. That means you're stuck with me. Today has been very rainy. I'm in the living room with one cat on the ottoman draped over my feet and my little girl curled up in the rocking chair. I think my other boy is upstairs in bed, his favourite snuggling place.
Short Takes
Second Nexus — Canadian Prime Minister Justin Trudeau further won the hearts of feminists and liberals by pledging $650 million of the national budget to sexual and reproductive health and rights initiatives. The funding would support contraception, reproductive health, legal abortion, sexuality education, and advocacy work worldwide, and it aims to make up for the loss of U.S. leadership and financial support in the wake of President Donald Trump's global gag order.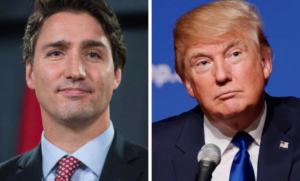 The plan, proposed on March 8, International Women's Day, could use advocacy funds to fight for abortion rights in the 125 countries where abortion is illegal, according to The Globe and Mail. …
Trudeau was clear in his statement announcing the Canadian plan:
"Like men, women should be able to choose when they want to start a family, how big their family should be, and who they want to start that family with. When women have equal power and equal weight and equal leadership influence, the kinds of decisions are better."
This came in an e-mail from George Takei. There sure won't be a bromance between Trudeau and Drumpfenfarten! Trudeau is far from perfect, but I am proud of him for standing up to this insanity called Drumpf's global gag order. Kudos Mr Prime Minister!
Distractify — … there's a good chance that some people are being a little too overly sensitive about Donald Trump's St. Patrick's edition, "Make America Great Again" hats. But then again, considering his overly critical and oftentimes hypocritical speech, can you really blame people?
The green MAGA hat features Reagan's campaign quote that Trump appropriated on the front, and a four-leaf clover on the back. There's only one problem.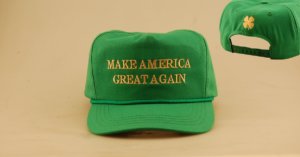 The three-leafed shamrock is the official symbol of St. Patrick's Day. Four-leaf clovers have nothing to do with Ireland.
This too came in an e-mail from George Takei. So much for Drumpfenfarten making America great again, eh! Not only did he steal Reagan's slogan, but he screwed up the shamrock! I wonder if that is anything like breaking a mirror . . . seven years of bad luck? LMAO!!!
The New Yorker — The middle-school student who wrote the Republican health-care bill that was unveiled earlier in the week complained on Friday that he still has not been paid for his work.
Kevin Tenco, a seventh grader from House Speaker Paul Ryan's congressional district, in Wisconsin, said that Ryan hired him two weeks ago to write the American Health Care Act with the promise that it "wouldn't be too much work" and that he would be paid handsomely for his effort.
"He said I would get paid, like, five hundred dollars, and I could buy a Nintendo Switch," Tenco said.
Taking Ryan at his word, the thirteen-year-old, from Twin Lakes, Wisconsin, "pulled several all-nighters" to complete the health-care bill in time for its Monday unveiling.
"I basically went to the Wikipedia page for Obamacare, cut and pasted a bunch of stuff and then threw in some tax cuts and whatnot," he said. "It doesn't sound like a lot of work, but I was super tired by the end of it."
Given the rancour and rush over the American Health Care Act just within the Republican party alone, it would seem to have been written by a 13 year old.
Daily Kos — House Representative Jamie Raskin (D-MD) just nailed the Republican Party with another example of their blatant ACA v. Wealthcare hypocrisy.
In 2009 and 2010, when President Obama and Democrats were seeking the passage of the Affordable Care Act/Obamacare, Republicans including Paul Ryan viciously accused Democrats of trying to ram the healthcare plan through — without any participation from the public. Oh!
Fast forward to the present. The newly elected Maryland Congressman Raskin presents the truth with facts — something America is starving for right now and can't seem to get from Trump-loving Republicans.
Another Republican lie debunked! Kudos to Jamie Raskin (D-MD)!
Think Progress — During the presidential campaign, then-candidate Trump said he would turn down any salary as President. Then, in his first big interview as President-elect in November, he again insisted, "No, I'm not gonna take the salary. I'm not taking it." Instead of accepting the $400,000 presidents get paid each year, Trump would take just $1 a year.
Well, it's been almost two months and President Trump has received at least one paycheck — and he kept it.
Part of his struggle to keep his promise is that the Constitution gets in his way. It requires the president to receive compensation and prohibits the amount from being changed (in either direction) during the course of a presidential term.
In light of this, the White House tweaked the promise in February, with spokeswoman Sarah Huckabee Sanders explaining to Politifact, "He is required to get a paycheck but will be giving it back to (the) treasury or donating."
But there has been no evidence to support this claim, and this week the White House refused to provide NBC News with any documentation that he's taken such actions.
Even I, as a Canadian, know that Drumpfenfarten is restrained by the Constitution from doing anything with the presidential salary other than donating it to charity after the fact. But I'm not holding my breath on this "promise"! As my momma would say, he lies like a rug! Mind, in 7 weeks as POTUS, when ever did an insignificant thing like the Constitution ever stop Drumpfenfarten from doing what he wanted?
Resist and Persist!!!
My Universe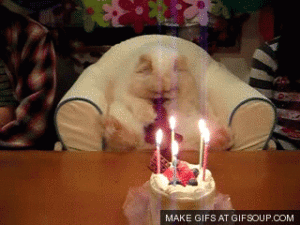 Happy Birthday TC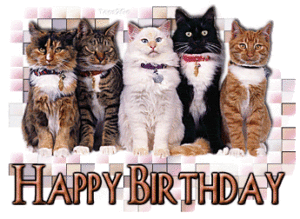 Happy Birthday Uncle TC
from the Squance kids + 2 friends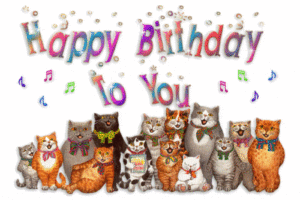 Happy Birthday TC
from all of us!