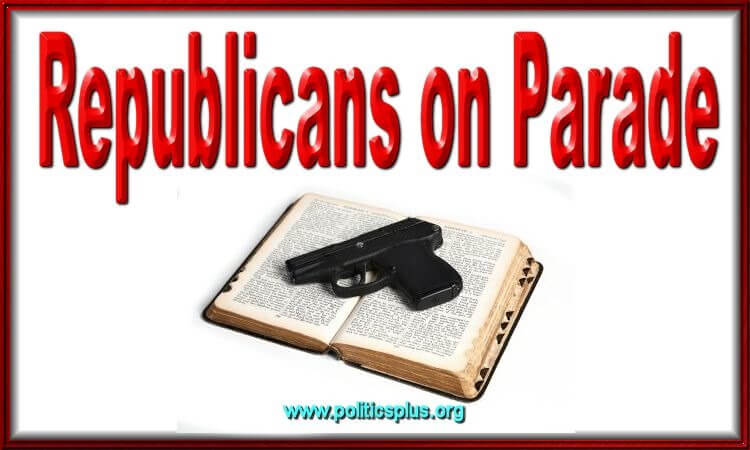 Here is the one hundred fourth article in our Republicans on Parade series, featuring individuals who personify what the Republican Party has become. Today's honoree is Republican US Representative from Arizona, Trent Franks. He is so honored for his highly unusual form of sexual harassment.
Republican Rep. Trent Franks of Arizona announced Thursday night that he is resigning from Congress after being informed that the House Ethics Committee had opened an investigation into allegations of sexual harassment from two female former staffers.
What did Franks do, you ask? Let's let Franks tell you himself. Here's an excerpt from his statement announcing his resignation:

"Due to my familiarity and experience with the process of surrogacy, I clearly became insensitive as to how the discussion of such an intensely personal topic might affect others.

"I have recently learned that the Ethics Committee is reviewing an inquiry regarding my discussion of surrogacy with two previous female subordinates, making each feel uncomfortable. I deeply regret that my discussion of this option and process in the workplace caused distress."
Um, what?…
Inserted from <CNN>
Franks just updated his resignation and resigned effective immediately.
On the surface, this makes no sense at all.  Asking a staffer to consider becoming a surrogate is certainly uncomfortable, but hardly criminal.  However, when Lyin' Ryan asked Franks to step down, Lyin' Ryan said only that he found the accusations of wrongdoing to be credible.  Lyin' Ryan has no problem with the many complaints of serial pussy grabbing by his Fuhrer.  Lyin' Ryan still supports serial-pedophile, Roy Moore.  So, for Lyin' Ryan to force Franks out, he must consider what Franks did even worse than what Trump or Moore did.  What could that be?
There is only one credible possibility.  Franks must have threatened his staffers that, if they didn't bear his child, he would wreck their future in government.  Now, a normal GOP pervert demands the use of a woman's body for long enough to use it for their own pleasure.  But this GOP pervert demanded far more extensive control of women's bodies for a full nine months, and that is why he deserves the parade.
RESIST THE REPUBLICAN REICH!!