I'm writing for tomorrow, day 191.  I'm rushing to get these articles written in before I leave to go to prison for volunteer work.  Pardon my brevity.  Because tomorrow will be a recovery and grocery delivery day, I may have no articles for Thursday.
Jig Zone Puzzle:
Today's took me 3:10 (average 5:54).  To do it, click here.  How did you do?
Fantasy Football Report:
Here's the latest from our own fantasy football league.
Scores: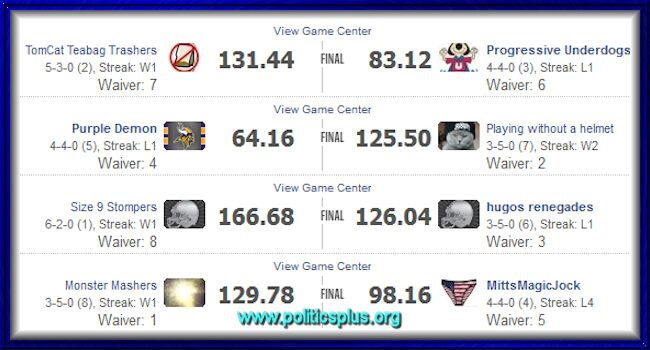 Standings: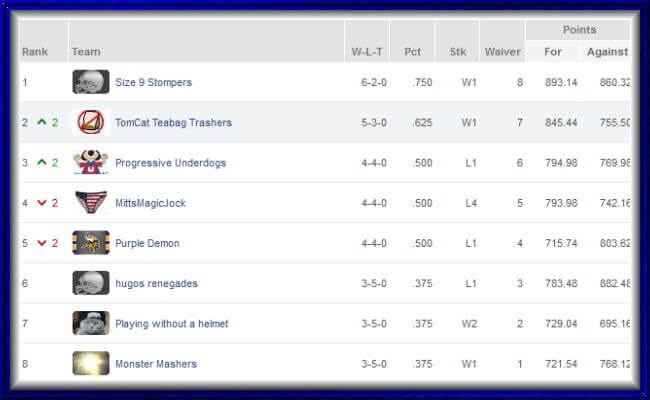 Perhaps I lacked wisdom when I invited a Sasquatch to play FOOTball.

Short Takes:
From The New Yorker: Saying that he was "sick and tired of having my medical credentials questioned," Governor Chris Christie (R-N.J.) had himself sworn in as a medical doctor on Sunday night.
Dr. Christie acknowledged that becoming a doctor generally requires pre-med classes, four years of medical school, plus additional years of residency, but he said that the Ebola epidemic compelled him to take "extraordinary measures, as we say in the medical profession."
Dr. Christie said that, beginning on Monday, he would begin a series of random "house calls" to check New Jersey residents for Ebola and assign them for quarantine. "I can usually diagnose someone with Ebola in under a minute," Dr. Christie said. "Even faster if I don't actually see them."
The doctor said that before moving forward with his plan to quarantine scores of New Jersey citizens he suspects of having Ebola, he consulted with other prominent epidemiologists, including Dr. Rick Perry, of Texas. "He concurs," he said.
Bingo on PIGnocchio, Andy. Of course, Idiot, Son of Idiot, Named after Idiot and his misanthropic father perfected the phony medical certification routine.
From Daily Kos: Can anyone here name a  "news" outlet that would blatantly lie and then continue to lie even after being called out on it?  There are none–because Fox has never been one.  Legitimate journalists try to get to the truth, Fox (and friends) tries to make up the truth to suit their rightwing objectives.
The Republican Reichsministry of Propaganda, Faux Noise, has never been news. It has always been infoganda.
From Upworthy: Even though men can get it, I am not likely to be diagnosed with breast cancer in my lifetime. Regardless, I am dubious of the sea of pink ribbons, products, and promotional tie-ins that inundate our society. That's not to say anyone who wants to wear pink and try their hardest to raise awareness is doing anything wrong — to the contrary! But I do think there's room for criticism.
In other words, check out this funny video about pinkwashing.
Lying Komen Pink Propaganda Barf Bag Alert!!!
Shame on Upworthy for spreading Komen's lying propaganda!! They are a virtual front for the Republican Party. 21% of donations to services is very little. Comparing that to the NFL's charity percentage is apples to oranges. The NFL exists to make money, not to provide charitable services. Boycott Komen and give to an organization that helps women, Planned Parenthood.
Cartoon: