This probably won't be posted, until after I return from my podiatry appointment this afternoon. I'm in hurry up mode while preparing to leave.
Jig Zone Puzzle:
Today's took me 3:15 (average 4:53). To do it, click here. How did you do?
Ultimate Religious Ecstasy:

Woooo Hoooo!!!!
Short Takes:
From Daily Kos: Outspoken musician and activist Natalie Maines of the Dixie Chicks once stated during a 2003 World Tour that she was basically ashamed to be from the same state as then-president George W. Bush. The backlash from her statement was incredible. The well-spun music of the multi-platinum Grammy winning trio was immediately pulled from most radio stations. The all-female band was lambasted by the media, conservative pundits, and disloyal country music fans. More horrendously, all three received death threats for practicing their freedom of speech. The whole experience took a toll on the group (Natalie Maines, Emily Robison and Martie Maguire), and years later they decided to take a hiatus from touring together…
,,,This experience did not silence the anti-war activist who today continues to speak her mind and truth as she continues her solo career. Her latest comment this past weekend, on Twitter, lashes out at Texas senator and GOP presidential candidate, Ted Cruz. By way of Living Blue In Texas and Ashley Iasimone with Billboard Magazine, Maines tweets:
"Just so you know….I'm ashamed Ted Cruz is from America," Maines wrote on Twitter late Saturday night (Jan. 23).
With her tweet she posted side-by-side images of former President Dwight D. Eisenhower and Cruz.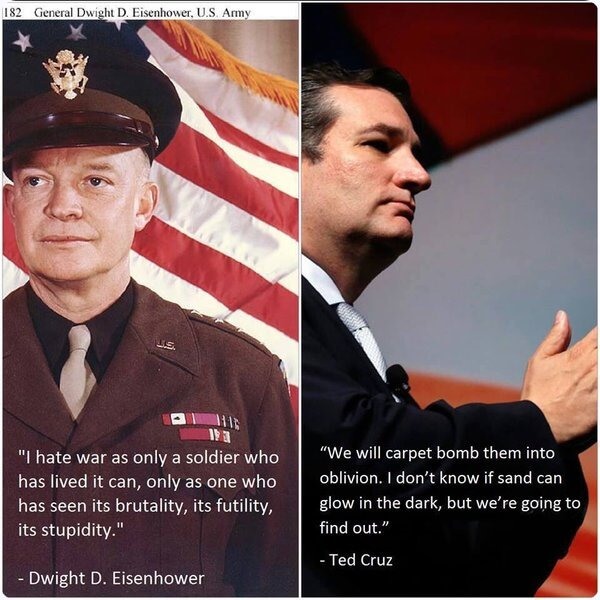 Here's some video.
Kudos once again!!
From YouTube:
Woooo Hoooo!!!!
From NY Times: As Democrats consider Hillary Clinton's candidacy for the second time, women are wrestling with a difficult question: whether they have an obligation to get behind someone who is closer than anyone has ever been to becoming the first female president.
And with her opponent, Senator Bernie Sanders of Vermont, outdrawing her in support among young women, Mrs. Clinton's candidacy has turned into a generational clash, one that erupted this weekend when two feminist icons, Madeleine Albright and Gloria Steinem, called on young women who supported Mr. Sanders to essentially grow up and get with the program.
My estimation of Gloria just plummeted. I'm all for a first woman President: Elizabeth Warren!
Cartoon: