I had another night with little sleep, due to street noise.  Therefore I want to get my articles written quickly, before I run out of gas.  80° highs are forecast today and tomorrow.  I guess this means I'll be complaining about freezing weather in June.
Jig Zone Puzzle:
Today's took me 2:06 (average 4:10).  To do it, click here.  How did you do?
Short Takes:
From Upworthy: A real-life moment of unequal pay turns into a beautiful discussion of hard work, pressure, appreciating yourself, and … BASKETBALL.
Kudos! Why is it that guns and money evoke the most violent responses? The people making them are Republicans. That's why! Her only mistake is that she should have been petting a CAT!
From Daily Kos: Sen. Ted Cruz goes full LaPierre:
"The 2nd Amendment to the Constitution isn't for just protecting hunting rights, and it's not only to safeguard your right to target practice. It is a Constitutional right to protect your children, your family, your home, our lives, and to serve as the ultimate check against governmental tyranny — for the protection of liberty," Cruz wrote to supporters in a fundraising email on Thursday, under the subject line "2nd Amendment against tyranny."

This "insurrectionist" argument, as Second Amendment expert and UCLA law professor Adam Winkler calls it, is popular among passionate gun owners and members of the National Rifle Association.
Second Amendment solutions are being championed by Republican candidates again.
From Alternet: Men's rights blogger: Women with short hair should be monitored by the authorities.
Men's rights nutjob Roosh V,  who blogs under the moniker "Pick Up Artist," always has extremely helpful suggestions for women. He thinks women would take more responsibility for themselves if rape on private property was decriminalized, for starters. Thanks, Roosh! Or should we call you Mr. V? How exactly decriminalizing rape would help women is kind of murky.
This week, the Rooshter made an even more bizarre suggestion for how law enforcement should occupy their time, now that they've been freed up from all that pesky rape stuff. The authorities should be alerted when women cut their hair short. This, he says, is an act of self harm. Worse still, it hurts men (the group Roosh actually purports to care about). When women cut their hair short, they are trying to appear less fertile and therefore less attractive to men, he reasons.
Here it is from the horse's (ass) mouth:
"If a woman cuts her hair to a short length, or shaves it outright in a Skrillex haircut, we can now confidently say that she is making herself appear less fertile, less beautiful, and less healthy. A woman cutting off healthy hair is one step away from literal cutting of her skin with a sharp object, because both behaviors denote a likely mental illness where the woman presents herself to society as more damaged than her genetic condition would indicate, suggesting that she has suffered environmental damage that has reduced her overall fitness. She must be monitored by state authorities so she doesn't continue to hurt herself."
Stupefying, no?
This is just the last of five Republican lunacies from last week alone. Click through for the other four.
Cartoon: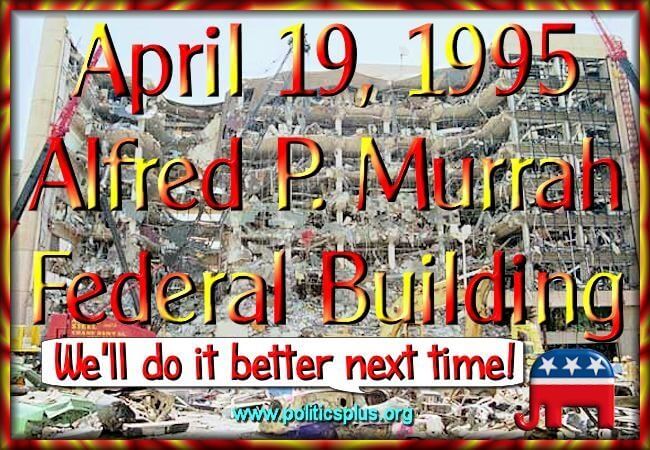 Unlike years past, I have not been able to find Republicans celebrating bombing the Murrah building with open-carry demonstrations this year.