Please pardon my brevity.  I'm hurrying to get done before I have to leave for my appointment with a Radiation Oncologist.
Jig Zone Puzzle:
Today's took me 4:57 (average 5:52).  To do it. click here.  How did you do?
Short Takes:
From KP Daily Funnies: FOD News: Besides Getting Rid Of Minorities, How Would You Make America Great Again?
And they will be voting in November! God help us!!
From The New Yorker: Unless the United States builds a wall, Mexicans will swarm across the border, enroll in law school en masse, and eventually become biased judges, Donald J. Trump warned supporters on Monday.
At a rally in San Jose, the presumptive Republican nominee said that "making America great again" meant preventing the nation from becoming "overrun by Mexican judges."
"We don't win anymore," he told the crowd. "We don't win at judges."
While Trump offered no specific facts to support his latest allegations, he said that he had heard about the threat of incoming Mexican judges firsthand from border-patrol agents.
LOL Andy!! Hilariously believable!!
From, NY Times:
On the night Barack Obama became the nation's first black president, Leah Taylor, a fast-food worker and African-American mother of six, stayed up until 2 a.m. watching the election returns. "I knew that was history, and I wanted to be a part of it," she said. But she did not vote.
Ms. Taylor, 45, has never voted. In 1991, when she was 20, she was stripped of her voting rights after being convicted of selling crack cocaine and sent to jail for a year. So she was stunned when an organizer from a progressive group, New Virginia Majority, showed up one recent afternoon at the church soup kitchen where she eats lunch and said he could register her.
"Your rights have been restored!" the organizer, Assadique Abdul-Rahman, declared with a theatrical flourish, waving an executive order signed in April by Gov. Terry McAuliffe. Ms. Taylor, so moved she nearly cried, promptly signed up.
Thus did Ms. Taylor join a wave of newly eligible voters, all with criminal pasts, signing up in Virginia. But what Mr. McAuliffe granted, the Virginia Supreme Court may now take away.
Top Republicans in the state legislature are seeking to block Mr. McAuliffe's sweeping order, which re-enfranchised 206,000 Virginians who have completed sentences, probation or parole. Last week, the Supreme Court announced a special session to hear arguments in July — in time to rule before the November election.
The surest way the state can tell former felons to adopt crime as a way of life is to deny them a stake in their communities.
Cartoon: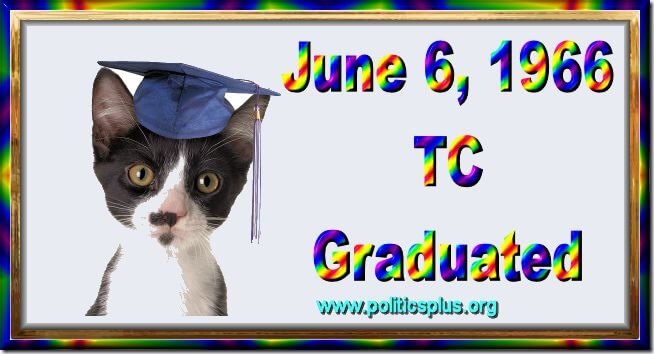 50 years ago I was soooooooo young!