Because it's a holiday, and I really need one, the blog, feeding me, and spending a few hours on George are my only plans for the day.
Special Announcement:
I am very sorry to inform you that JLA has resigned her post as an Author here at Politics Plus.  She said this is no longer the best place for her efforts, because she feels unable to support Hillary Clinton, if she is the nominee, and all the other Administrators and Authors promote supporting the Democratic nominee, whoever that is.  JLA is still welcome here and I thank her for her excellent work on our behalf. We hope she will not be a stranger.
Jig Zone Puzzle:
Today.s took me 3:40 (average 5:41).  To do it, click here.  How did you do?
Short Takes:
From Upworthy:
Myth 1: Higher incarceration rates cause corresponding decreases in crime.
Truth: Imprisoning people isn't always a good way to fight crime.
A study by The Sentencing Project found that simply putting more people in prison isn't an effective strategy for fighting crime.
In fact, states that imprisoned fewer people actually saw significant improvements in crime reduction compared with states who were more aggressive about incarceration.
In the words of the study's authors, "Increasing incarceration while ignoring more effective approaches will impose a heavy burden upon courts, corrections and communities, while providing a marginal impact on crime."
This is the first of five myths about prisons. I agree with the author, based on my many years as a prison volunteer. My only issue is that rather than myths, some are lies to justify continuing the status quo. Click through fir the other four.
From Think Progress: There is no drought in California
Donald Trump told an audience in Fresno that "there is no drought" in California. According to Trump, the state has plenty of water but it's being held hostage by environmentalists in government. The idea that the government is engineering the drought was popularized by professional conspiracy theorists like Alex Jones.
California, in fact, is facing a severe drought of historic proportions that covers nearly 95% of the state.
The state is drier than it has been in at least 500 years.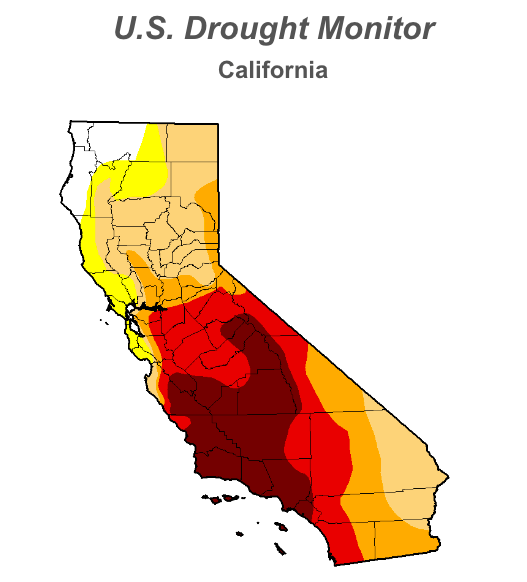 This is one of twelve InsaniTEA based conspiracy theories propagated by Rump Dump Trump. Click through for the other eleven.
From TPM: The Libertarian Party has nominated former New Mexico Gov. Gary Johnson as its presidential candidate just as it did in 2012.
Delegates to the party's convention in Orlando on Sunday picked Johnson on the second ballot over Austin Petersen, the founder of The Libertarian Republic magazine, and anti-computer virus company founder John McAfee.
Johnson got about 1 percent of the popular vote in 2012.
Voting for this and other third party candidates is a great solution for disgruntled neocons, theocons, corporacons, plutocons, and TEAbaggers. Lefties, on the other hand, have only one viable solution:
Vote Blue No Matter Who!
Cartoon: