The Immodium has not kicked in all the way, but my trips are less frequent than yesterday, and I did get a little sleep.  Summer seems to have arrived.  From yesterday's high of 57°, today's is forecast at 81° and extremely humid.  Currently it's 83%.  Needless to say, the AC is going.  I'm waiting for Store to Door to come with groceries.  Wendy will be here this evening.  In this weather the TomCat will need extra destinking.
Jig Zone Puzzle:
Today's took me 3:42 (average 5:00).  To do it, click here.  How did you do?
Short Takes:
From YouTube (GQ Channel): Trump is Panicking About Russia | The Resistance with Keith Olbermann
Amen Keith! To clarify, the minute Obama fired Flynn in 2014, his security clearance died with his job, so when he and his co-traitor Jill Stein joined Putin [R-RU] on RT, it was not on Obama's watch, as Trump claims. RESIST!!
From The New Yorker: A class of fourth-grade students touring the White House on Monday had a chance encounter with Donald Trump and were able to answer several of his questions about the Civil War.
The students, on a field trip organized by their Bethesda, Maryland, elementary school, happened upon Trump outside the Oval Office and "cleared a lot of things up for him," their teacher said.
After Trump invited the children into his office, the ten-year-olds briefed him on the causes of the Civil War, including slavery, states' rights, and regional economic differences.
"It was really cool," Tracy Klugian, who had done a diorama about the Civil War while in third grade, said. "Someday I'll be able to tell my kids that I met the President and taught him about history."
Andy! Are you spreading Republican propaganda? Clearly anything taught at a 4th grade level is way too advanced for Fuhrer Drumpfenfarten to understand! RESIST!!
From Daily Kos: Donald Trump blamed the Constitution for his repeated failures in his first hundred days in office. He told Fox News that the Constitution is  archaic and that the rule of law that has prevented his unconstitutional edicts from being implemented "is a bad thing for the country". www.theguardian.com/…
In an interview with Fox News to mark the 100-day mark, he declared himself "disappointed" with congressional Republicans, despite his many "great relationships" with them.

He blamed the constitutional checks and balances built in to US governance. "It's a very rough system," he said. "It's an archaic system … It's really a bad thing for the country."
Since Trump considers the Constitution a bad thing for the country, we can be sure he will appoint more Injustices like Whoresuch to SCROTUS (Republican Constitutional VD). Fascist pseudo-Christian ideology will be the basis of their decisions. RESIST!!
Cartoon: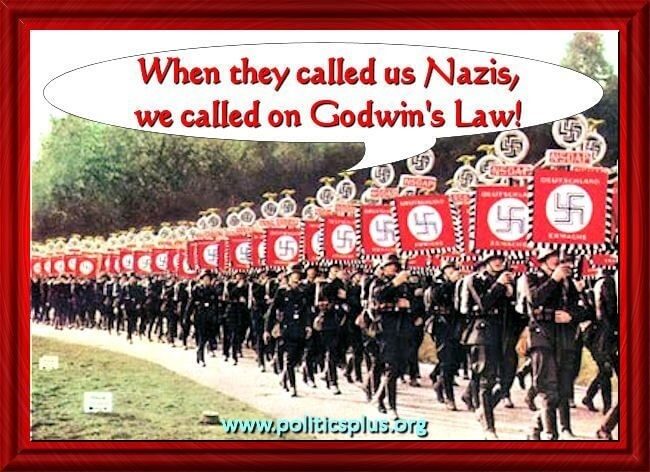 My own definition:
Godwin's Law – a common meme used by Republicans, other fascists, pseudo-intellectuals, and people with their heads in the sand or in smellier places, whenever anyone points out the verifiable commonalities between today's Republican Party and Germany's National Socialist Party, as Hitler became dictator.