I'm writing for tomorrow, day 194.  This is the only article, because I'm completely worn out, after a long difficult week.  I spent most of the day resting, but I've reached the point where I'm too tired to sleep well.
Jig Zone Puzzle:
Today's took me 3:54 (average 5:44).  To do it, click here.  How did you do?
Short Takes:
From NY Times: Eric M. Frein, the fugitive accused of killing one state trooper and seriously wounding another in an ambush, was captured Thursday and brought back to the barracks near Scranton, Pa., where his seven-week flight from the law began.
Mr. Frein surrendered to federal marshals who found him hiding out in an abandoned airport in the Poconos Mountains, ending an intense manhunt that began Sept. 12, officials said in a news conference late Thursday. The marshals turned him over to the Pennsylvania State Police, who placed him in the slain trooper's handcuffs and patrol car.
I'm no fan of this Eric Frein. I even gave him the dishonor of of a parade. Now that he is in custody, I can already see the move to convict him in the minds of all potential jurors to prepare him for execution. Even the extreme right media, like Faux Noise, has stopped singing his praises. I object to this, because even a Republican terrorist has a right to a fair trial.  Now that he is no longer a threat, his life should be preserved. I know more than one prisoner, who has done far worse and will never breathe free air, that have found some redemption in helping other prisoners. Taking vengeance on this man brings us all down to his level.
From The New Yorker: President Obama is coming under increasing pressure to apologize for a controversial remark that he made on Tuesday, in which he said that the nation's Ebola policy should be based on facts rather than fear.
While the anti-fear tenor of Mr. Obama's comment was offensive enough to some, the President made matters worse by suggesting that science would play the leading role in guiding the nation's Ebola protocols—a role that many Americans believe should be played by fear.
Across the country, Democratic candidates have sought to distance themselves from the President's incendiary statement, especially in states like North Carolina, where science and facts have record-low approval ratings.
Andy sadly notes that when Republicans mount absurd, racist attacks, many Democratic candidates cower in shameful fear. Grow a pair of Obamaballs!
From Daily Kos: Democrat Franklin Delano Roosevelt (FDR) was the 32nd President of the United States from 1933 until his death in 1945, elected as our President four times back when that sort of thing was legal (http://en.wikipedia.org/…).  As such, he led us out of the Great Depression with his New Deal reforms, and he eventually led us into World War II. 
Again, please note:  This is the Democratic President whose reforms allowed us to recover from the Great Depression.  I think that may make him the foremost economic expert of all time.
In 1944, at a time when you might think his State of the Union address would focus only on our ongoing fight in World War II, the "deadliest military conflict in history"
(http://en.wikipedia.org/…), astonishingly FDR spoke of much more.  He addressed the vital nature of America's economic security, and proposed a new Economic Bill of Rights.  These rights are so vital that they resonate today as we face losing them, and I hope their consideration will strengthen your resolve to vote.
He had it right way back then. Think where we could be had Republicans not put transferring our wealth to the 0.1% in the way of FDR's moral goals and adopted seditious tactics.
Cartoon: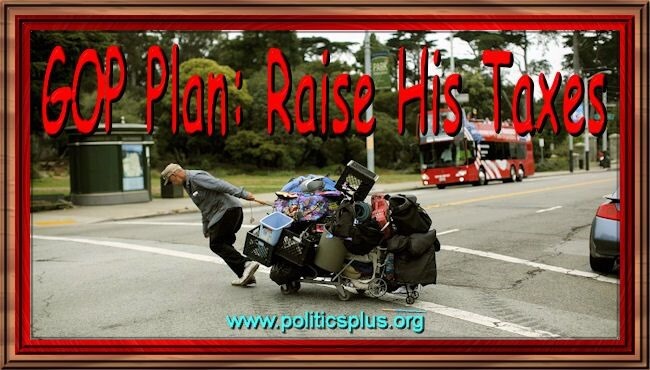 And YOURS!
Get Out the VOTE!!!