Today has been a better day.  It hags been much cooler.  The sun is about to come out, and the temperature will climb to the low 80°s, my outside wall will become a heater, and I'll have to button up the room and turn on the AC, but until is does, I'm enjoying an open window and fresh air.  I took my first trip without using the lift bus in a long time.  I went to the Ubank in a mall two blocks away.  I found getting around much easier with one eye that can see well than it has been in years.  I hope you are having a great weekend.
Jig Zone Puzzle:
Today's took me 3:08 (average 4:37).  To do it, click here.  How did you do?
Fantasy Football Update:
I reset the live draft of our fantasy football league, Lefty Blog Friends, from next Saturday to Saturday, September 2 at 10:00 AM PDT (11 MDT, 12 CDT, 1 EDT).  I did it so we will have a better idea, who the starters will be in the NFL.  However the regular season opener is the evening of Thursday, 9/7, just 5 days after the draft, so set your lineups right away.  I cut the league from ten teams to eight.  Two players stopped playing last year in mid-season.  I think I have confirmation from every player except Rob.  I sent him one last email, and if I don't hear from him this weekend, I'll replace him with Wendy.
Short Takes:
From YouTube (Funny or Die Channel): Mike Pence on Currency
And in a Republican Pence Reich, we would get to be the goats. RESIST!!
From NY Times: The roster of villains in President Trump's world is legion. The list of people he has been willing, even eager, to publicly attack includes not just Mitch McConnell, his latest target, but Jeff Sessions, Chuck Schumer, Paul D. Ryan, John McCain, Hillary Clinton, Bill Clinton and Barack Obama.
And don't forget James B. Comey, Robert S. Mueller III, Andrew G. McCabe, Rod J. Rosenstein, John D. Podesta, Nancy Pelosi, Lisa Murkowski, Arnold Schwarzenegger, Rosie O'Donnell, Meryl Streep, the mayor of London and the cast of "Saturday Night Live." The countries he has assailed include not just North Korea and Iran but also Germany, Canada, Mexico, China and Sweden.
But for all of that feistiness, for all of those verbal and online fisticuffs, there is one person who is definitely not on Mr. Trump's target list: President Vladimir V. Putin of Russia.
My opinion…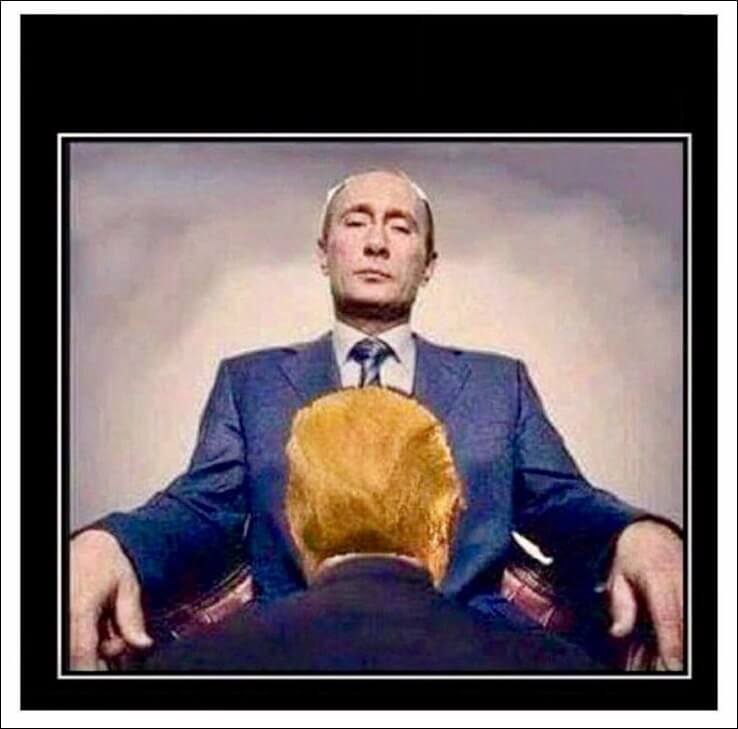 RESIST!!
From Bloomberg: Some White House and Republican officials are exploring the idea of putting West Virginia Democratic Senator Joe Manchin in charge of the Energy Department, according to four people familiar with the discussions, a move that could boost President Donald Trump's stalled legislative agenda.
Manchin is such a DINO, that he would not be a big loss except for one thing, and that thing is huge. It also explains all the hoopla surrounding Gov. Jim Injustice's conversion from DINO to goose-stepping Republican. If Manchin moves to Energy, Injustice gets to replace him with a Republican Senator. The only thing Manchin did right is voting against RepubliCare. Do you see what the Reich are plotting now? RESIST!!
Cartoon: