I rescheduled my Oncologist appointment for next Monday. It's to set up a series of annual exams to make sure there was no metastasis from the choroidal melanoma in my eye, now in remission. In addition I had to make a few other phone calls that burned most of my morning.
Jig Zone Puzzle:
Today's took me 4:15 (average 4:43). To do it, click here. How did you do?
Short Takes:
From Daily Kos (Classic 5/2014): A threatening "Mother's Day" video aimed at women calling for gun. reforms
This clip is three years old, It demonstrates that Trump is just a symptom of the diseased Republican Party. They were hateful and violent long before Fuhrer Drumpfenfarten. RESIST!!
From Think Progress: President Donald Trump outlined a deeply religious vision of America while speaking to graduates of a conservative Christian college on Saturday, invoking his own version of Christian nationalism and touting policies friendly to right-wing faithful.
Trump received a warm welcome at Liberty University, the largest Christian college in America, where most students claim a conservative evangelical faith. The venue was an especially safe one for the president, as white evangelicals offered Trump resounding support on Election Day and still view his presidency favorably. What's more, Liberty president Jerry Falwell Jr. has been a longtime backer of Trump — recently describing him as a "dream president for evangelicals" — and lauded the businessman during his introduction for taking action on issues dear to right-wing faithful such as appointing a conservative Supreme Court justice.
FYI, "Christian Nationalism" is just a sneaky way to refer to Anti-American Dominion Theology. RESIST!!
From Robert Reich: The question is no longer whether there are grounds to impeach Donald Trump. It is when enough Republicans will put their loyalty to America ahead of their loyalty to their party.
Trump's statements last week about his firing of former FBI director James Comey provide ample evidence that Trump engaged in an obstruction of justice – a major charge in impeachment proceedings brought against Richard M. Nixon and Bill Clinton.
It's worth recalling that the illegality underlying Nixon's impeachment was a burglary at the Watergate complex, while the illegality underlying Clinton's was lying to a grand jury about sex with an intern in the White House.
Trump's obstruction is potentially far more serious. It involves an investigation about whether Trump or his aides colluded with Russia in rigging a presidential election – the most direct assault on American democracy in history.
I agree with Robert Reich, but believe that Republicans will never put country ahead of party. That's why every Republican in office is one Republican too many. RESIST!!
Cartoon: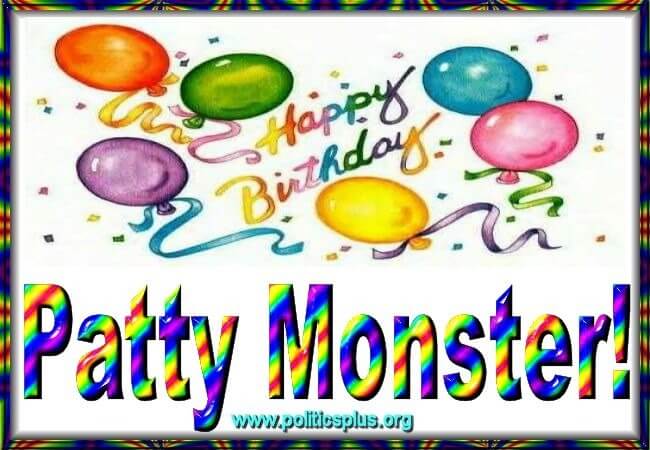 Have you heard from Patty?